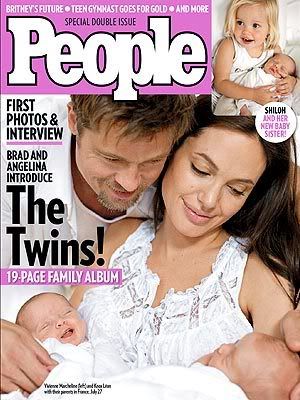 Angelina Jolie has talked about how surprised she was to have twins, saying "We weren't expecting twins! So it did shock us, and we jumped to six quickly." Many people speculated that Knox and Vivienne were conceived by in vitro fertilization, because that seems to be all the rage lately and it's the most obvious explanation when twins and multiples are born to wealthy families. Plus there were tabloid stories ahead of Angelina's pregnancy that she was consulting a fertility doctor in an effort to gain weight and prepare for another biological child. US Weekly even ran a whole "It was In Vitro!" cover story about it last week. In the article in People accompanying the 19 page photo spread featuring her newborn twins, Angelina denies that she had IVF, and said that if she did she would certainly talk about it. That sounds true since she's so open about things in general:
Jolie says she and Pitt were "in shock and could not stop laughing" when they learned they were having twins, and denied speculation that they had conceived the children through in-vitro fertilization.

"If they had been conceived through IVF, we would have been happy to discuss it," she says. "But we have been fortunate never to have had fertility problems."

As for the twins' personalities, Pitt says, "Viv is proving to resemble Ange in spirit, attitude and physicality. And Knox, a bit of me."
[Quotes from People via Huffington Post]
Many of you have pointed out that twins run in Pitt's family as his sister Julie has twins. However, twins run on the mother's side only supposedly, as they're thought to be the result of hyper-ovulation, which can only be passed down to the mother. Maybe someone who is better versed in genetics than I am can explain this.
Regardless I think Angelina is telling the truth. The odds of her conceiving fraternal twins naturally are 1%, according to Us Weekly, but 25% via in vitro, which is why they gambled on that "It was In Vitro!" story. If the gossip magazines should know anything, it's that Brad and Angelina aren't subject to your petty statistics. They've already won the celebrity lottery.