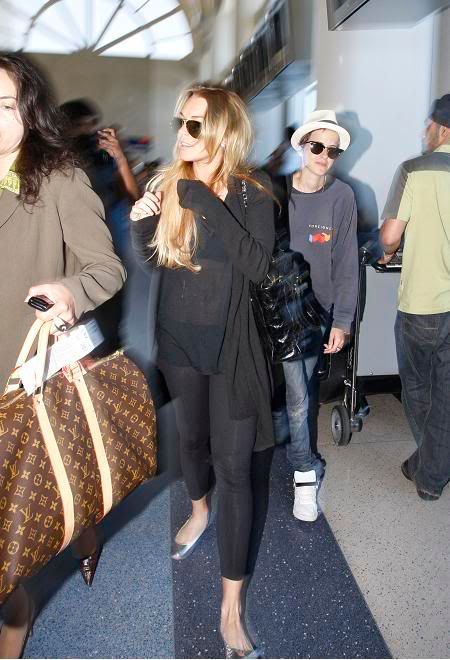 Though Lindsay Lohan could never commit to any one guy (and why should she – she's only 22), apparently she's planning on committing the rest of her life to one woman. News of the World claims that Lohan and still-not-officially-acknowledged-girlfriend Samantha Ronson are getting hitched in the fall.
Lindsay Lohan set to prove she and Samantha Ronson are more than friends – she is reportedly planning to marry the DJ later this year. The pair has long refused to confirm rumours they are in a lesbian relationship, but are now reportedly planning to exchange vows in a Los Angeles commitment ceremony.

And Lohan's mother Dina is said to be planning a lavish reception party to "welcome Sam into the family". A source tells British newspaper The News Of The World: "Dina is still working on the date of the party but it's looking like towards the end of the year.

"Lindsay's new album Spirit In The Dark is out in November, so (the wedding could be held) around then. They've been keeping the relationship quiet for months and trying to pass each other off as 'just good friends'. But they've decided it isn't a fling – it's for life – so they want to make their romance public."
[From Contact Music]
I'm guessing the odds are pretty good that this story is bull, but it's floating around there and people are getting all excited at the potential union. The idea of any Lohan entering into a marriage contract makes me pretty darn nervous, regardless of whom they're thinking about marrying. Lindsay is only 22. And while Samantha is about to turn 31, that doesn't make up for Lindsay's young age. And frankly, Lindsay isn't a mature 22. She's a 22 who generally acts like she's 16.
Something tells me if there is even one kernel of truth to this story, it was something Lohan said in excitement, not something they're actually planning on doing. Though you know if Dina can use it to pimp her crappy reality show, she'll be all over it.
Here's Lindsay and Samantha at LAX on Friday. Images thanks to Fame.