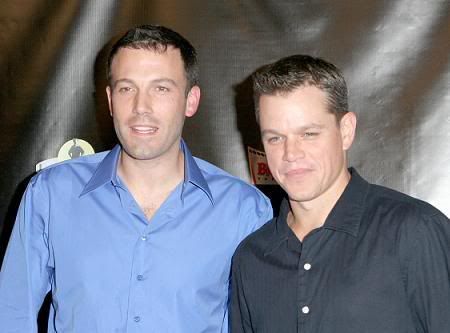 Political celebrities are officially out in full force. Two men whose names have often been bandied about as possible future politicians –Matt Damon and Ben Affleck, along with wife Jennifer Garner – gave speeches at a fundraiser for Barack Obama this weekend. The guys really do everything together. Both Matt and Ben are expecting their second children in the next few months. They support the same political causes. And I'm pretty damn sure that if you checked, they're wearing the same underwear.
Their shared passions definitely benefited a good cause this weekend, as Ben, Jen, and Matt lent their star power to help raise money for Obama.
A pregnant Jennifer Garner gave a "witty, clever" speech supporting presumptive Democratic presidential candidate Barack Obama at a fundraiser on Saturday night, People reported. Joined by husband Ben Affleck, as well as friends Matt Damon and wife Luciana, who's also expecting, Garner reportedly gave the first speech at a $1,000-per-person VIP reception at club SET.

"She was very witty, clever and funny," a SET source told People. "She was followed by her husband Ben, then Matt Damon. The men gave serious political speeches on how the country needs change." The stars were reportedly in good spirits, drinking bottled water and mingling with guests. "They were all in great moods and very friendly to everyone," another source told People.

Damon spoke to reporters outside of SET about his support for the Democratic candidate, saying that he's for Obama "for a lot of reasons. But mostly because I don't like the path this country's on and if McCain is elected we'll be continuing down that same path." At least one of the famous couples may make an appearance at the Democratic National Convention later this month. "I'd like to," Affleck told People.
[From Access Hollywood]
I love election season. Celebrities actually have something more interesting to talk about than Paris Hilton. Unless you're John McCain, then Paris is about all you can come up with. Obama has a lot of celebrities in his corner, and that can be a positive or a negative, depending on how a politician plays it. I think he's done a good job of being gracious towards them, but not overly courting them. So far he has yet to schmooze with Heidi Montag, as far as I can tell. And that's pretty much the bottom of the barrel.
Here's Ben and Jennifer arrive at LAX airport to catch a flight on Friday. Header image is an older file photo of Ben and Matt together in 2006. Images thanks to WENN.