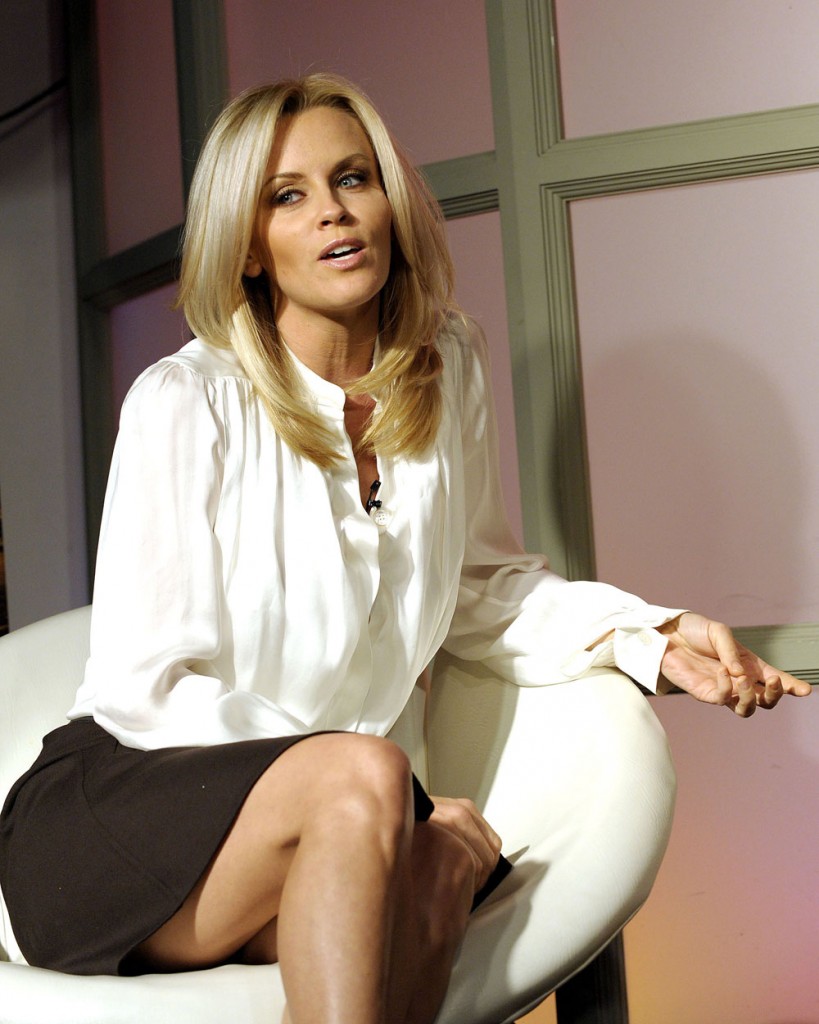 Whenever Jenny McCarthy gets a new boyfriend, it seems the press hears about it. She was with Jim Carrey for years, and then dated some famewhore bodybuilder guy, right around the time her new book came out. She dumped the bodybuilder in December and found a new guy just in time to kiss her at midnight during her gig hosting New Year's Rocking eve. Jenny may roll these guys out to the press after three dates, but she told Ellen Degeneres that she doesn't introduce any boyfriends to her son Evan, 7, until after she's dated them for six months. Good for her. Jenny also explained that she met her new boyfriend on a blind date that her sister set up for her, and that she went through a few duds before she found him.
Ellen: Now, how long have you been seeing Paul?

Jenny: For like, 5 weeks, I think it's been.

Ellen: What do you mean, "I think?" At that point, you know exactly how many days.

Jenny: Okay, it's like 36 days and two hours but I decided to import this time because I wasn't doing a very good job with LA guys. These LA dudes had more make up in
their purse than me. They'd literally pull out their knapsack of concealers and I'm like, it's time to look outside of LA. I found a boy. I went on some blind dates. He was my 5th blind date.

Ellen: Who set you up on blind dates?

Jenny: I told everyone I know, "Please, I can't pick them. As a friend, find me a man." So the first blind dates were these really bizarre dudes that were like, "Do you know Sharon Stone?" And I'm sitting on a date going, "Well, I know of her. I've seen her in movies." "Well, you think you can get an autograph?" I'm like, "Oh my god."

Ellen: What kind of friend set you up with that guy?

Jenny: Not a very good one. So my sister was the one who turned me on to Paul who's a sports agent and lives in Boston. His accent is so strong it's like Good Will Hunting strong that I really can't understand anything he says to me. He could've proposed to me and I could've said yes by now and I have no idea. And I'm really happy.

Ellen: So he lives in Boston so you went on a date here or there? He came here?

Jenny: No, we met up in New York. We had a blind date there. You know that movie, "Up in The Air?"

Ellen: That's what's happening?

Jenny: We've been meeting up in the air in both cities and trying to make it work.

Ellen: So you're very happy it seems.

Jenny: I am. I feel content. Everybody's asking me the magic question, "Has he met [son] Evan?" Evan is, by the way, on the strictest VIP meet and greet which is like 6 months. I don't have guys meeting him on a cycle. That boy is very important to me.

Ellen: Good, because that would be very confusing for him.

Jenny: It would be.
[From The Ellen Degeneres show, received via e-mail]
That's great that Jenny makes sure a relationship is stable before bringing the new guy around her son. I wonder, though, what she does with Evan while she's jetting all over the place to meet up with this new guy. She probably has a nanny who can watch Evan at home so it's not disruptive to him and he can stay in school.
I don't think Jenny is dating too much for a single mom, as much as she'd probably like us to think she is. She's trying to find the right guy for her, and that involves getting out there and meeting people. Her mistake isn't dating, it's telling the press every time she sleeps with a guy. That's better than bringing him around as another dad or "uncle" to her son, though. If Kate Hudson followed this rule her son would never meet her boyfriends.

Jenny McCarthy is shown on 12/11, 11/21 and 10/19. Credit: WENN.com