Yesterday, I covered Jenny McCarthy's recent comments to Us Weekly, which she made while at a Las Vegas event over the weekend. She was oddly, suspiciously overconfident in describing her new single life, all while showing off her completely jacked, Botoxed face. Anyway, turns out all the happy talk about being a single "girl" was just that, bullsh-t. She's got a man! His name is Jason Toohey, and he's a famewhore. How do I know that? Because he's been posting photos of Jenny on his Facebook, and this whole "relationship" just got rolled out like a film premiere in People Magazine:
Jenny McCarthy has officially moved on.

After she teased on Twitter about dating a "mystery man," the identity of the actress's new guy is a mystery no more. His name: Jason Toohey, 35, and he is a Las Vegas resident and former fitness model who has been quietly dating McCarthy for two months.

In fact, things are going so well that the two already live together – temporarily, at least.

"I've been living in Vegas for about a month. My house is under construction right now in L.A., so I very well could be here until it's done," McCarthy, 37, told PEOPLE at Saturday's Midsummer Night's Dream party at Las Vegas's Palms Casino Resort. "It's been awesome here."

While McCarthy didn't offer any details about Toohey, her rep confirmed to PEOPLE that they were indeed an item.

Still, the two haven't been exactly shy about their romance, having been spotted on several dates in Las Vegas. They also shared kisses Saturday as McCarthy hosted the Midsummer Night's Dream bash.

Toohey, who once starred as a pirate in Treasure Island's Sirens of TI show, is the founder of Eyedews, an under-eye mask treatment. Recently, McCarthy began promoting the product via Twitter and on Las Vegas television.

After her April breakup with longtime boyfriend Jim Carrey, McCarthy says she is focusing on "change and growth."

"But I feel really good," she said. "I'm really happy [and] I'm looking forward to the future."
[From People]
Oh, her rep confirmed that they were an item and nothing else! Then how did People Mag find out so much about him so fast? Could it be that Jason confirmed all of the salient details to People, hm? Anyway, in addition to People's whitewash (Jason is "the founder of Eyedews, an under-eye mask treatment"?), he's also on a bodybuilding site with this photo and description: "My name is Jason Toohey I am a male fitness model, actor, and stunt performer. I live in Las Vegas Nv where I perform as a Pirate at the Treasure Island Hotel / Casino." AND he is the founder of an under-eye treatment?!?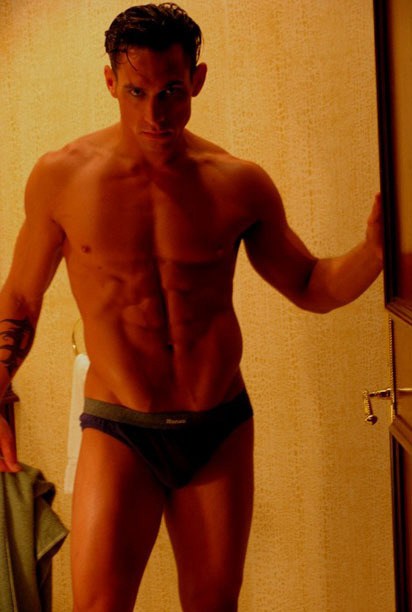 His stomach is creeping me out. Look, I'm not afraid of dudes who are well-built, who take care of themselves and stuff. But whatever is going on around his abdomen is freaking my ass out.
All in all, he seems like maybe he would be fun for a month or two, and then you would get tired of his mouth-breathing, right? So, I hope Jenny hits and quits it.