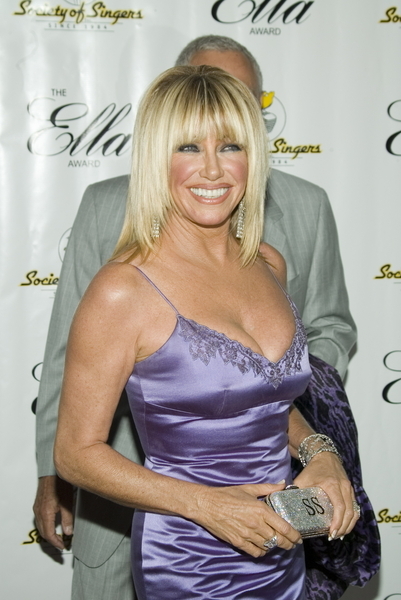 Christina Applegate has received an outpouring of support since last week when she announced that she has breast cancer. It sounds like her prognosis is good and it was caught early. Fellow survivor Suzanne Somers wrote Applegate an encouraging open letter that was published in People. Somers made headlines back in 2001 when she decided to treat her cancer without chemotherapy, instead using radiation, surgery, a treatment made with a fermented mistletoe extract.
Dear Christina,

Cancer is scary, and lonely. You can't ask anyone to make decisions for you because it's just too heavy. There is a lot of 'rush to treatment,' when what you really need is time to research and think about how you want to approach this. Take your time Christina, there is no rush. Take your time and think it through. Use your cancer to learn and grow and as a force to work for you. You might choose to take an alternative approach. There are more options than the ones presented to you in the oncologist's office. You will make it. The success and drive you have had in your career will be the same strengths you will use to win over this nasty disease. And I am here if you want to talk to someone who was 'there.'

Sincerely,
Suzanne Somers
[From People]
I always find it a little odd when someone chooses an open letter instead of writing – or speaking – to a person directly. But I would guess Christina isn't really easy to get in touch with right now. And by writing her letter to People, Somers made others aware of some of the emotional issues of breast cancer. I like that she didn't seem to force her views at all; she just simply pointed out that there are other treatments besides the traditional ones, and each person has to figure out what's best for her. Somers appears to be in pretty good health, and certainly took a less-than-conventional route.
Here's Christina shooting some beach scenes for her hit show "Samantha Who" in May. Images thanks to Fame. Header picture of Suzanne Somers from October 2005. Images thanks to PR Photos.