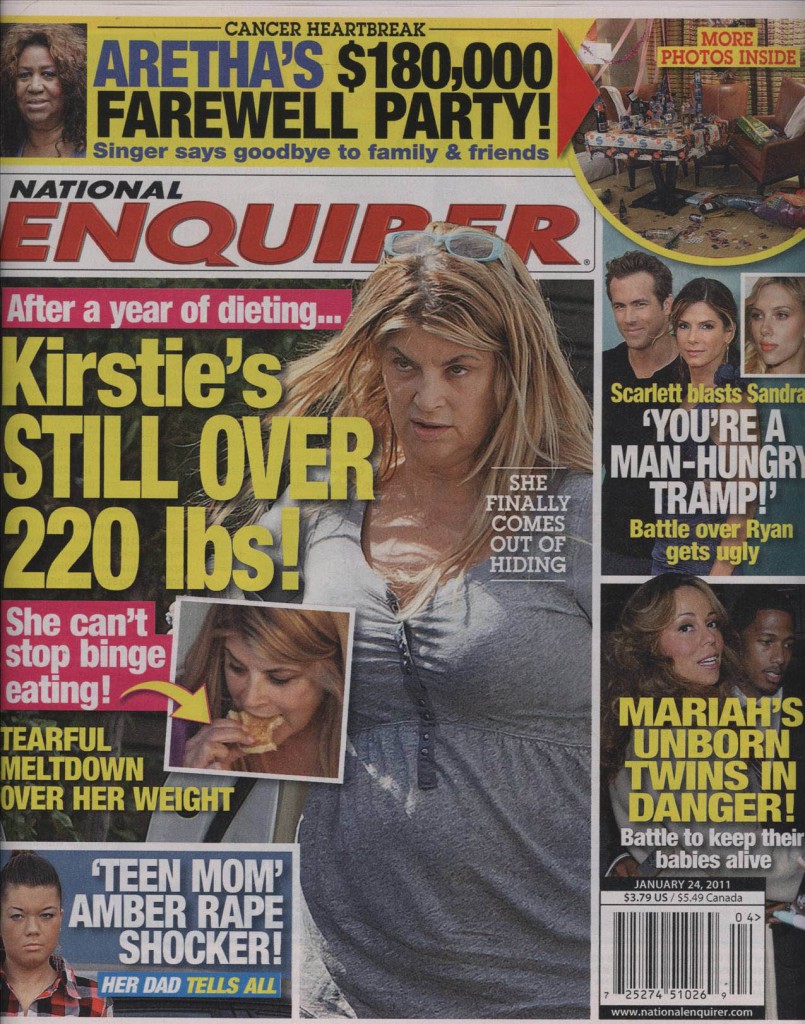 Kirstie Alley launched that "Organic Liaison" weight loss "program" about a year ago, and many pointed out that the vitamins and cranberry water she's shilling are similar to the supplements Scientology uses in their rituals, which of course Alley denied. Alley claimed last September to have lost 50 pounds, and she released a heavily Photoshopped picture in which her legs were mysteriously absent to "prove" that her program worked. Then we saw a candid photograph that showed that she hadn't lost as much weight as she'd claimed. Now the National Enquirer is calling her out on the cover, and saying she still weighs 220 pounds. (She said she was 230 pounds just last year when her reality show premiered.)
I'll echo Kaiser's sentiments on Kristie's weight: a lot of us struggle with our weight and we are not mocking Kirstie for gaining the weight back. We are calling out Kirstie for selling an expensive and ineffective diet program that's a front for a cult, and for continuing to make her weight an issue in every venture she's involved in. She even has a Twitter-style weight-loss social network website called "Phitter."
Before I excerpt some of the Enquirer's story, I just want to say that the photo they're using on this week's cover was probably taken back in October of last year, because she's wearing the same shirt as in these photos. (Unless she's just wearing that same shirt again. We don't have access to all the photo agencies, but among the ones we use there haven't been photos of Kirstie in some time.) Inside, the Enquirer has some blurry photos of Kirstie at a Zumba event in Kansas on December 20, and shopping at a Target on New Year's day. She's still around the same size she was last year. A source claims that Kirstie has been "hiding out in Kansas and Florida" to avoid the paparazzi.
"She lied about her weight a year ago on her reality TV show by saying she was 230 pounds when she actually weighed 250 pounds. And although she's lost some weight, it's not even close to what she had hoped…

"Kirstie yo-yoed throughout the year, and while she claims to weight about 160 pounds, she's really at 221," the source divulged.

The star tried to hide her body underneath baggy clothing while shopping at a Target store in Florida on Dece. 20. She wore a fitted top at a Zumba fitness event in Whichita, Kan., on New Year's Day, but appeared very heavy – and sources say she's devastated at her failure to slim down.

"Even though she weighed herself on her reality show early last year, those closest to Kirstie show the scale was way off her true weight. Since then, she's been hiding out in Kansas and Florida," claimed the source.
[From The National Enquirer, print edition, January 24, 2011]
There's more in the Enquirer about how Kirstie feels like a failure and like she's "washed up." After reading this story I felt sorry for Kirstie, but then I remembered that this woman pitched her diet program on Oprah, that she personally attacks anyone who dares question her, and that she repeatedly lies and stretches the truth to deceive the public. Anyone who questions Scientology is "fair game" and so is Kirstie.
These are the last candids I can find of Kirstie, from 10/1/10. She looks like she's lost weight here. Credit: Fame Pictures