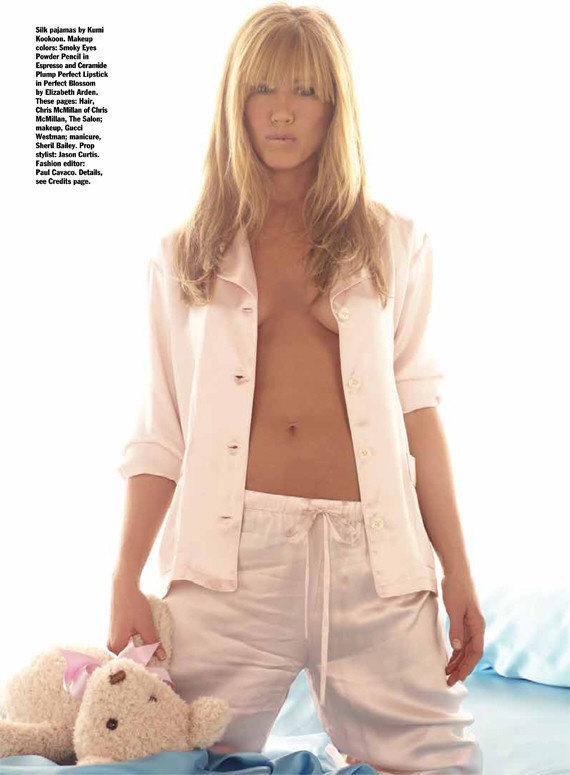 I had a small preview of Jennifer Aniston's February cover of Allure a few weeks ago, and Allure has now finally released some quotes and the photo shoot from the cover story. The Allure slideshow is here – I kind of hate the shoot. The whole thing is styled so that Aniston looks like a 1960s, frost-lipped Ann-Margaret/ Brigitte Bardot type, complete with beachy blonde highlights and little-girl accoutrements, like stuffed animals. Since some of you yell at me when I use the words "bangs trauma" I'll just say that I hate bangs on Aniston in general, and these particular uneven bangs on her specifically. In the interview, Aniston actually discusses her most famous hairstyle – and she's not very nice about all of those girls who got it:
Aniston on her bangs trauma, and "The Rachel": Allure creative director Paul Cavaco drew inspiration for Aniston's shoot from a 1960s photograph of Brigitte Bardot. Hairstylist Chris McMillan used clip-in bangs to fully replicate the look. One hairstyle Aniston never wants to replicate? The Rachel. She told writer Danielle Pergament, "Let's just say there have been moments I'd rather not relive, like that whole Rachel thing. I love Chris, and he's the bane of my existence at the same time because he started that damn Rachel, which was not my best look. How do I say this? I think it was the ugliest haircut I've ever seen. What I really want to know is, how did that thing have legs?"

Aniston on giving herself a blow-out: Hairstylist McMillan gave Aniston a polished blowout with a round brush after prepping her hair with a mixture of volumizing mousse and smoothing oil. "[McMillan] thinks I'm a closet hairdresser," said the actress. "I'll take the hair-dryer right out of his hands. He'll kill me for saying this, but I've surpassed him in that department: I'm faster with the blow-dryer."

On being glammed up: Aniston's style may be laid-back, but she's willing to truly push the limits. "I've been glammed up; I've been glammed down, which is really more me," says the actress. "I didn't wear mascara in [my new movie] Just Go With It. It's fun to transform a little bit—what do I have to lose?"

Aniston doesn't understand The Bachelor: "I was mesmerized by these girls, they meet this guy, they have three dates together or something, and they're weeping as though they've just lost the love of their life. I don't understand that."

Aniston is not a foodie. "My friends and I were in Atlanta, and we went to this restaurant. My one friend is ordering, you know, sweetbreads with foie gras, the bone-marrow pasta, the buffalo tortellini, and I'm like, 'This just doesn't quite do it for me.' You won't see me ordering pheasant or rabbit. You know what I've just started to really love lately is Brussels sprouts. Usually, Brussels sprouts smell like feet to me. But these were sliced and sautéed and really yummy. I'm going to make that."

On Clooney and NBC: The actress recalls the hey-dey of Friends and it's fellow NBC juggernaut, ER. "Look at Baby George," she says. "Baby Clooney. ER was right next door to us on the soundstage. That was really fun. I remember when we sued to do crossovers like that. See, NBC used to be really cool. Then, you know…"

On not taking herself seriously: "I'm actually comfortable in goofdom," she tells the issue. "Not taking myself seriously is one of my favorite things to do, because I don't. Ever."
The problem with "The Aniston" was that it didn't work on most of the girls who tried it. The good thing about "The Aniston" was that is was particularly good for girls who growing out their bangs trauma. And I tend to think Aniston was unnecessarily mean about that – but I understand what she's trying to do. "Look at me, I'm not talking about my ex-husband, and I'm disrespecting the haircut that launched me! It's a whole new Aniston!!" Also, I love that her idea of "transformation" is "not wearing mascara". Ha.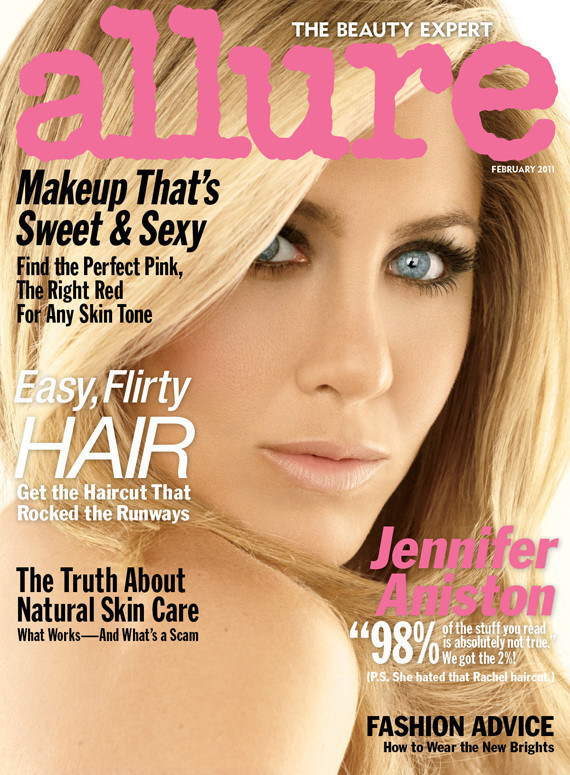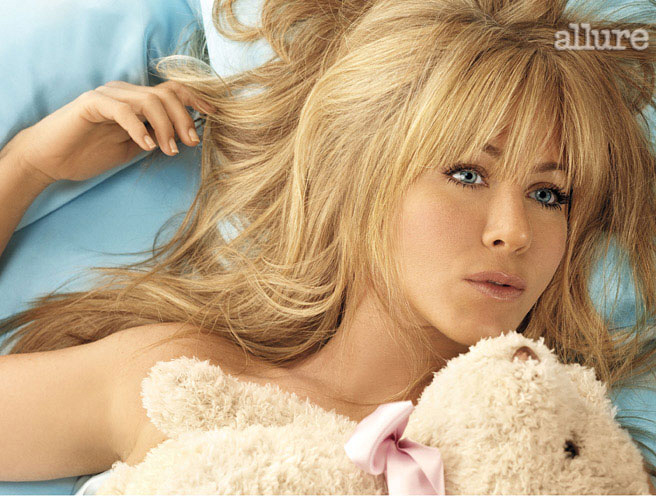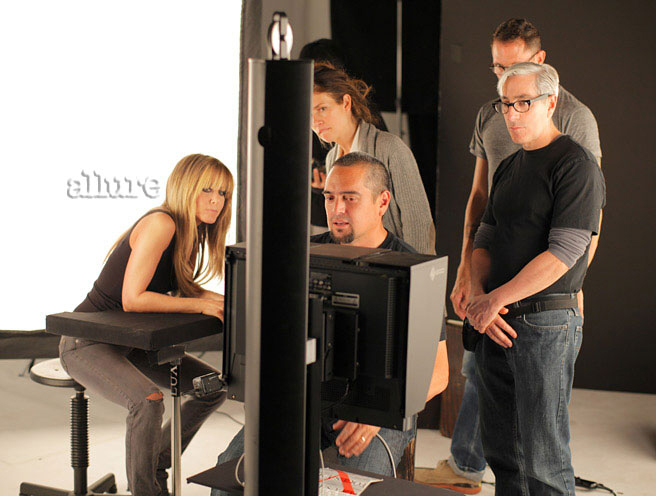 Photos courtesy of Allure.