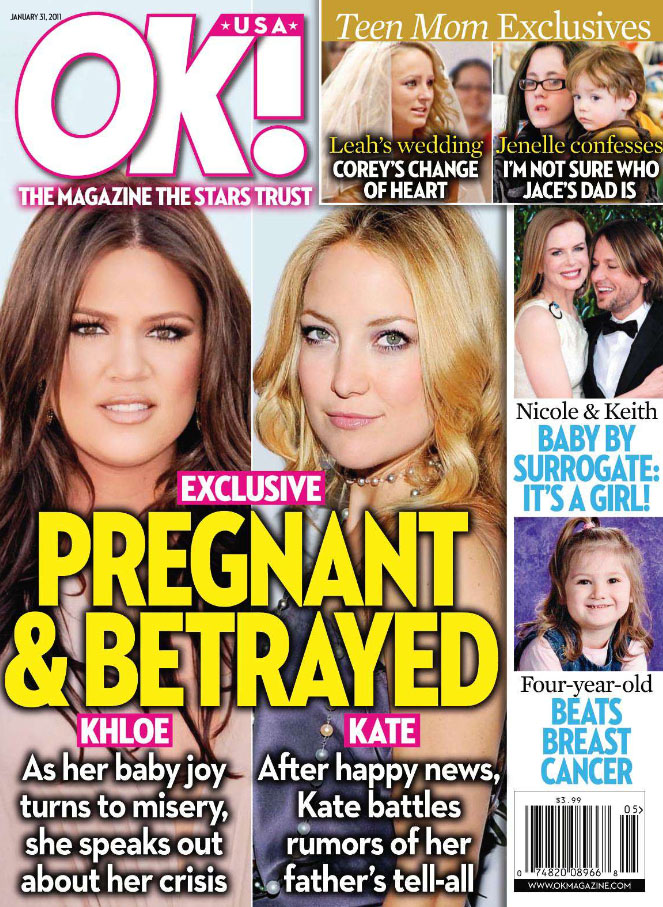 When you read: "Pregnant and Betrayed!" you think that someone cheated on their poor pregnant partner, like Tiki Barber with the intern when his wife was pregnant with twins. Only OK!'s new cover story featuring Khloe Kardashian and Kate Hudson has no cheating at all, and it kind of a letdown. First, there's Kate Hudson, whose biological dad is said to be shopping a tell all that isn't very positive about his time with Kate's mom, Goldie Hawn. (Goldie and Kate's dad Bill Hudson were married from 1976-1980 and had Kate, 31, and Oliver, 34, together.) According to OK!, that's got Kate all bummed out and all, but she's trying to keep a level head about it for the sake of her baby. They quote a source who says "Obviously, she's mortified. She thinks it's a betrayal on so many levels. It's the last thing she needs to be dealing with when she's trying to have a calm pregnancy… she tries to wave off drama and negative energy. She thinks it's bad for the baby."
The real detail in this story is the fact that Kate's partner and the father of her baby, British rocker Matthew Bellamy, 32, is on board with the pregnancy and isn't opposed to marriage. The "source" tells OK! "Matthew wants to [marry Kate] and has made his intentions known, but as of now, it's not happening." It sounds like a vague idea and not a real engagement, but I wouldn't be surprised if they made an announcement soon.
The Khloe Kardashian story is unintentionally hysterical though, because Khloe wasn't betrayed by her professional athlete husband or her jealous sisters – she was betrayed by some mean 'ol executives at E! who made her change back her hair color for shooting purposes! I'm serious, and Khloe is supposedly super pissed off that she was told she'd have to go back to brown to make sure her reality show had continuity or whatever. This story states Khloe's pregnancy as if it's a fact, when all we've heard are rumors so far and no confirmation. Here's the story from OK!, which cracked me up:
Title: Khloe Fights Back
Subtitle: It should be the time of her life – but expectant mom Khloe Kardashian Odom is battling those who've turned against her…

Khloe's life seems the very definition of "having it all."

So why is the star so upset? It all started when Khloe colored her hair. After carrying around a photo of a redhead for months, she finally took the leap. Khloe was thrilled with her new look – until network bosses at E! forced her to go back to brunette.

"She can't dye her hair because it messes up filming and production," a pal tells OK!. "They can't shoot out of sequence or edit later if they have to match her hair. Khloe was p*ssed."

So she tweeted to nearly 2.3 million followers: "I HATE being told what to do… So not happy right now…"

According to a source, E! even ordered her to take a Twitter time-out until she calmed down.
[From OK! Magazine, print edition, January 30, 2011]
So much drama over a haircolor change. Khloe gets paid thousands an episode and is bitching that she can't change her hair because it messes up the fake plotlines producers are trying to create. If I worked for E! and they wanted me to shave my head I would. (Note to E!: particularly if it involves working with Joel McHale.)
I don't mean to totally trash OK! There are some good diet and fitness tips in this week's issue featuring Reese Witherspoon. (They don't say it's from her trainer, but there are still solid tips in there.) Plus they have a lot of exclusives on the new Teen Moms. I haven't watched the new season yet.
Photos of Kate are from 11/8/10. Khloe is shown on 1/14/11. She's back to brown now. Credit: WENN.com