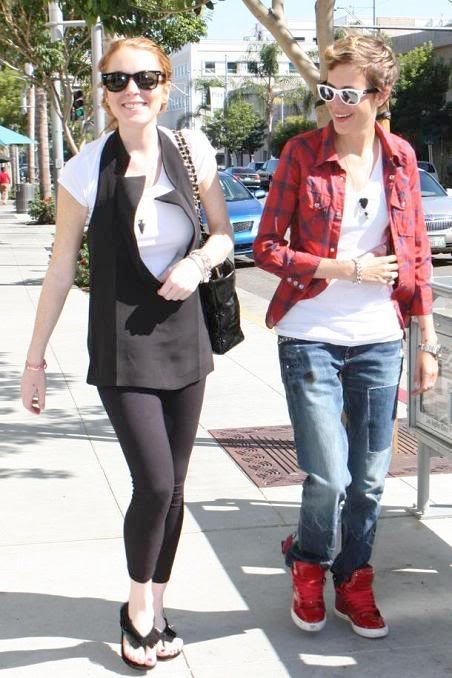 Lindsay Lohan really does have the power to horrify people the world over. Mothers, specifically. Though Lohan appears to be more into the ladies than the men (at least lately) that didn't prevent her from terrifying poor Michael Phelps' mother with the mere thought of Lohan liking her son.
Debbie Phelps was being interview by Billy Bush for Access Hollywood. For some reason Billy was texting with Lindsay Lohan (because who among us doesn't do that at some point in the day?) and he asked if she had anything to say about Michael Phelps. And that's when dear Mrs. Phelps real feelings got dragged into it.
When it comes to Michael Phelps, Lindsay Lohan is apparently willing to postpone this whole lesbian thing. While interviewing Michael's mom Debbie on Monday, Hobbit-like Access Hollywood correspondent Billy Bush received a text message from Lohan, which he proceeded to show Debbie while on the air. Mom's reaction was pretty great.

Lohan's message: "Tell him he's f%ing amazing, and I want to meet him."

It made them all stronger — which came in handy when Billy showed Mama a text to her son from actress Lindsay Lohan. Billy handed his Blackberry to Mama for her to read Lindsay's message to Michael, and her reaction was priceless.

"Pardon the language but…" Billy said as he showed her the text. Mama Phelps' usually jubilant face turned horrified. "OK, Lindsay!!! — Delete! Delete! Delete!" Lindsay's crime? Telling her son he's, 'bleepin' amazing'!
[From Deadspin]
You can't blame a mother for being rather terrified at the thought of Lindsay Lohan even knowing who her son is. Barbara Bush would probably panic to find out Lindsay knows who her son is. Though I'm guessing the odds are good Lindsay doesn't.
Here's Lindsay and Samantha Ronson shopping at the Free City store in Malibu yesterday. Images thanks to WENN.