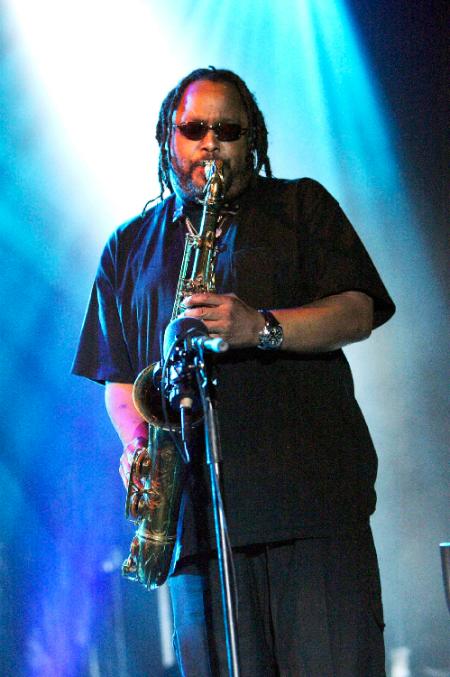 The Dave Matthews Band's incredibly talented saxophonist, LeRoi Moore, passed away today at the age of 46. He suffered some pretty extreme injuries (including a punctured lung and broken ribs) a little over a month ago during an ATV crash. LeRoi was in the hospital for several weeks but had returned home to recuperate, and had flown with the band to Los Angeles for their tour. He took a turn for the worse yesterday and was admitted to Hollywood Presbyterian Medical Center and passed away in the afternoon.
A rep for DMB gave TMZ the following statement: "LeRoi Moore, saxophonist and founding member of Dave Matthews Band, died unexpectedly Tuesday afternoon, August 19, 2008, at Hollywood Presbyterian Medical Center in Los Angeles from sudden complications stemming from his June ATV accident on his farm near Charlottesville, Virginia. Moore had recently returned to his Los Angeles home to begin an intensive physical rehabilitation program."

LeRoi Moore's trip to California from Virginia may have been detrimental, as Janet Charlton reports:
He was slowly recovering but suffered lung complications and hasn't been able to perform. We were told that against doctors advice, he flew to LA to be with the band backstage when they open tonight at the Staples center. The flight may have affected him adversely and he died today.

According to DMBNews.net, Dave Matthews was spotted crying outside of his Los Angeles hotel with the news of LeRoi Moore's death. Fans outside DMB's hotel in Los Angeles today reported seeing Dave Matthews crying, and he and other band members and crew hugging each other while boarding their tour buses.
[From the Huffington Post]
LeRoi was a phenomenal saxophonist, and his work is one of the many things that really set the band apart from other folk groups. Together with violinist Boyd Tinsley the fullness and grace of the band's sound could really be heard.
I've been lucky enough to see DMB live so many times I've lost count. Their energy is absolutely amazing – and what's always stood out are the looks on the members' faces as they play – just true joy for what they're doing. Our thoughts are with LeRoi's family, friends, and the band.
It's impossible to pick out LeRoi's best concert solo or the song where his work most profoundly influenced the entire feeling. So I picked this song – #41 – one of my top three favorites. It's a beautiful song and you can hear LeRoi's influence throughout , and he gives a beautiful solo at about 4:45. You see just what an amazing, astronomical talent he was.