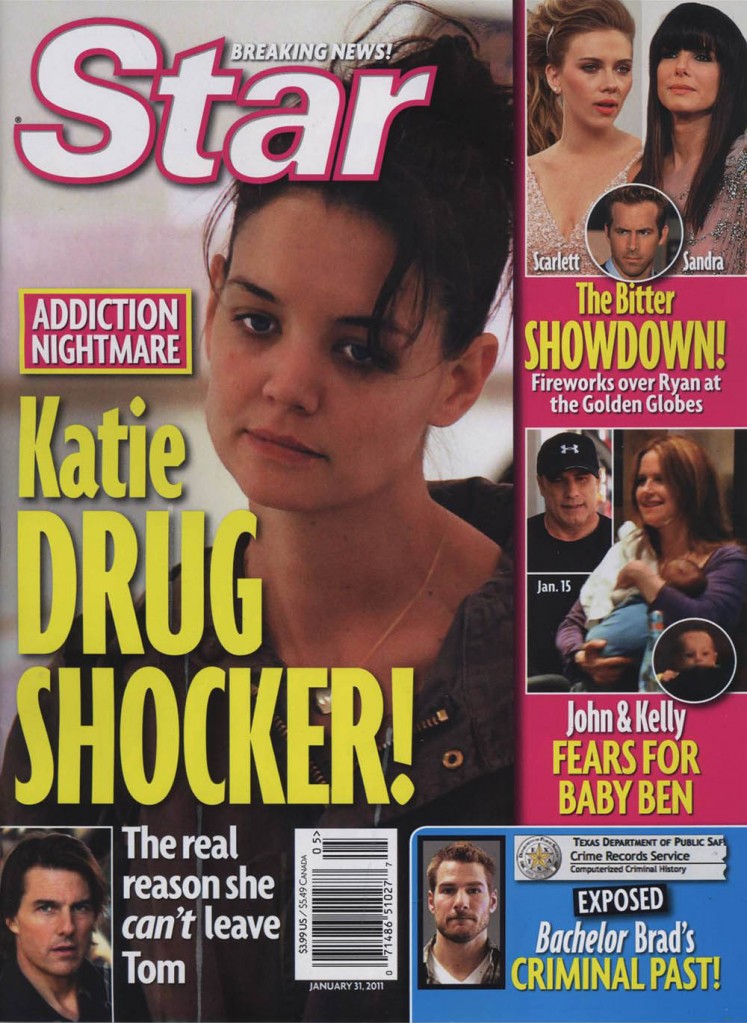 The cover of this week's Star may not seem as scandalous as they make it out to be: "Katie Holmes Drug Shocker!" but the reality is probably worse for Katie than a drug addiction. The story is all about how Katie is "addicted" Scientology auditing with those e-meter devices that are basically crude lie detectors. Former Scientologists say the auditing sessions with the e-meter, which lets off a low-level electrical charge, can be addicting and mind-altering. I wouldn't find this story so ominous if I hadn't just seen that interview with Kelly Preston spouting off about how L. Ron Hubbard claimed that the reactive mind is affected by someone's birth experience. There's some serious brainwashing going on with that cult.
Four years into Katie Holmes' marriage to Tom Cruise, 48, her involvement with the controversial Church of Scientology still raises eyebrows. Now, in a world exclusive, several former Scientologists and experts have stepped forward to make a shocking claim to Star: Katie's battery of Scientology treatments have an affect similar to heroin.

Although the FDA has taken the position that the "e-meter" device used in Scientology's "auditing" or counseling sessions, serves no medical purpose, former Scientologists tell Star that it gives subjects a temporary feeling of euphoria, followed by a crash and a craving for more.

As subjects being audited hold metal cans connected to the device, "The e-meter emits a low-level electric charge that goes to the brain," explains former Scientologist… Arnaldo Lerma. "In response to that stressful stimulation, the body releases endorphins, hormones that cause a pain-killing, mood-elevating effect."

David Touretzky, a research at Carnegie Mellon University's Center for the Neural Basis of Cognition, says that auditing may also spark an endorphin release in another way. "One hypothesis is that there is an endorphin bump caused by the focused attention of the auditor," Touretzky tells Star. "It's socially rewarding."

Either way, for Katie and thousands of other Scientologists, those endorphins can be a natural drug, Dr. Gregory A. Smith, a California addiction expert… tells Star

"Endorphins are natural painkillers in the brain that block pain receptors from within the body exactly the same way drugs like morphine kill pain from an external source," Dr. Smith explains.

"So when you stimulate endorphin activity within the brain, you are doing the exact same thing as taking morphine or other opiates, such as heroin on opium. That feeling of a natural high can become addictive."
[From Star Magazine, print edition, January 31, 2010]
Here's the thing, I doubt that this e-meter crap is more effective at helping people release endorphins than exercise or listening to music is. On its own the e-meter is just a mild current. The process of going through auditing and getting reprogrammed is probably addictive, though, because it's designed to change a person's entire world view and make them dependent on the auditor for validation. From what I can gather, auditing is similar to regression therapy in that people are encouraged to resolve negative experiences from their past. Only in Scientology they believe that a person has lived for millions of years and they coax them to come up with "memories" that stem back past their current lifetime. Here's a description from a former Scientologist on what auditing did to her:
Now you have had hundreds of hours of Dianetics and Grade auditing. Your idea of what is real has completely changed. You know you are different from other people, because now you know that you have lived for millions of years. You know it is true because you've relived so many experiences in your auditing. You feel set apart from other people who have not yet discovered the truth. You want your family to experience the truth too, but you can't tell them. They wouldn't believe you. They have to experience it for themselves. You're spending your time with other Scientologists now, because it's uncomfortable to be around non-Scientologists. They don't understand. Scientologists are the only ones who know what reality really is.

Now when your auditor asks you for an earlier similar incident, you don't have to be coaxed into finding a picture. You know what to do. Now, as soon as the auditor asks the question, a picture appears. There is no longer any difference in your mind between something that happened yesterday, and something that happened 300 years ago, or 25,000 years ago, or a million years ago.

All Scientologists believe that these incidents they find in their auditing really happened to them. They believe that they have memories going back thousands of years, millions of years, even billions of years. This is encouraged by the auditing process, in which the preclear is repeatedly told, "What is true for you is true for you." In practice, this means that the auditor validates as real anything the preclear comes up with in session, no matter how far-fetched it may be.

Moreover, the preclear is not allowed to discuss all of this with anyone but his auditor. Husbands and wives are not permitted to talk about what happens
in their auditing sessions. Friends are required to report on each other if someone talks about an incident from their auditing. So the preclear is left without any way of keeping himself anchored in the real world. There is no way to verify whether or not something is true or imaginary.
[From Lermanet.com]
I found that woman's story fascinating and if you're interested in Scientology I would recommend you read more at the source. The process of "auditing" is way scarier than being addicted to the good feeling that the little lie detector device might give you. It's aimed to have people question their entire sense of reality and to change their worldview. It's mind control and a mental trap. No wonder Katie looks so tired and drawn all the time.
Photos below of e-meters via Dr. Dave Touretzky's site. Other photos are from 12/19/10 and credit: Fame Pictures