Kelly Preston: "L. Ron Hubbard found that illness has to do with the reactive mind"
Visit msnbc.com for breaking news, world news, and news about the economy
Kelly Preston was interviewed as part of a segment that aired on The Today Show yesterday. She talked about her newborn son, Benjamin, with her husband John Travolta, and revealed that she had a "silent birth" as is typical for members of the Scientology cult. The first thing that struck me about Kelly was her demeanor. She seemed very affected and phony to me, albeit superficially "nice." It was clear a few minutes into the interview that she's a total whackjob.
On what silent birth is
Silent birth is basically just no words as much as possible. If you need to moan, if you need to cry out … of course that's normal. But, it's just bringing them in, in as peaceful and gentle a way as possible.

On how L. Ron came up with this silent birth theory
Because L. Ron Hubbard found that the single source of abberation of psychosomatic illnesses, stress, fears, worry, things like that have to do with the reactive mind, and in that part of the mind is different words and commands that can come back to affect you later in your life.

On how silent birth benefited her kids their whole life
My kids have always been amazing. Just very calm, very peaceful, happy and I absolutely know it's very much because of that.

On how baby Benjamin helped them heal from losing 16 year-old Jett
It's been wonderfully healing. Of course, you know, we still — it's still every day. But it's been, I think, a really nice gift for a lot of people throughout the world. We've gotten the most beautiful letters. And the most beautiful notes of happiness
[From Today Show interview, aired 1-19-11, and via Popeater]
The "silent birth" stuff doesn't sound that abnormal until she gets to the L. Ron part. When I had my son I asked everyone in the room to shut the hell up until the pushing stage because they were bugging me. (This is true, and I was pretty serious about it so they complied.) The thing that Kelly doesn't address is that her cult also recommends that parents not even talk to a new baby for a full week after it's born. That's borderline abusive and is also idiotic considering that babies are used to hearing their parents voices from when they're in the womb. L. Ron pulled this stuff out of his ass and Kelly talks about him as if he's God. (That's at 3:30 in the video above.)
I believe that Kelly really had that baby, and I'm guessing that she may have used an egg donor due to her age. I don't really care much for Kelly or John, but I wish them the best with their new baby, especially after all they went through with the loss of their son, Jett. Kelly is clearly brainwashed, though, and the way she goes on about L. Ron, the reactive mind, and her kids being more peaceful due to their birth experience (as if that imprints on them more than anything else in their lives) is pretty disturbing. This is absolutely a woman who could easily be in denial about her husband's sexual preference.
Here are John and Kelly out at Mr. Chow last night, 1/19/11. Credit: WENN.com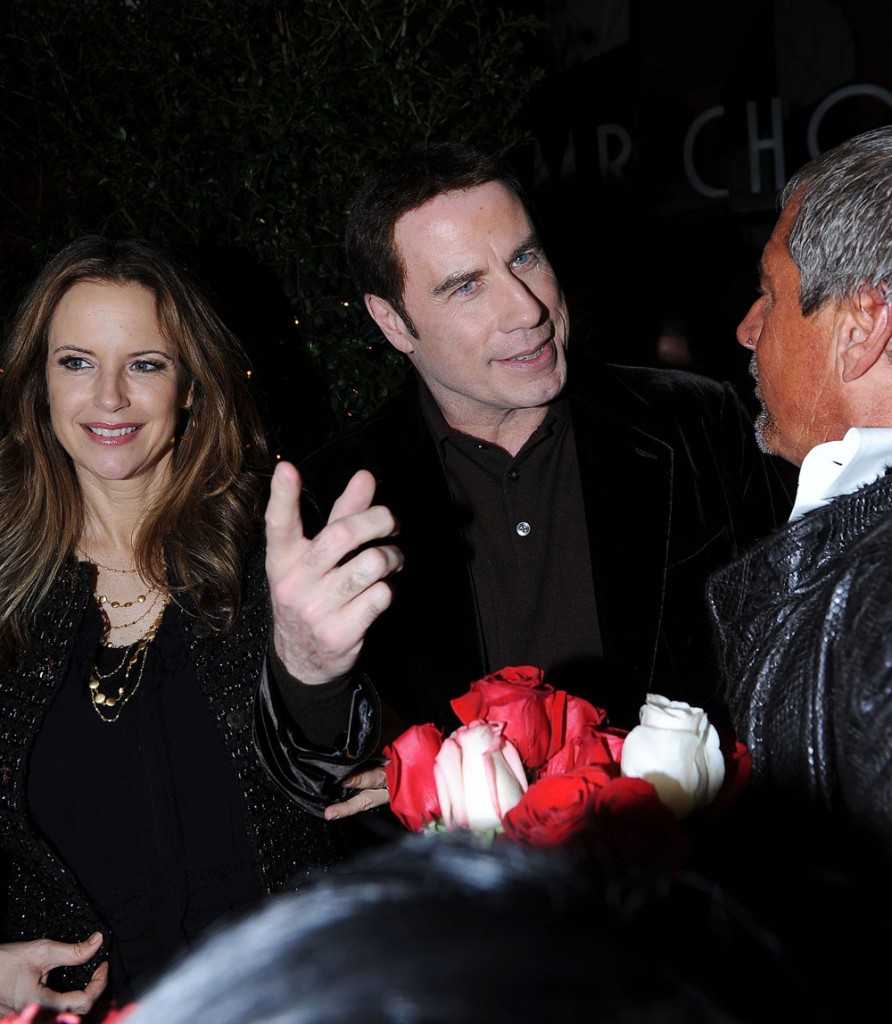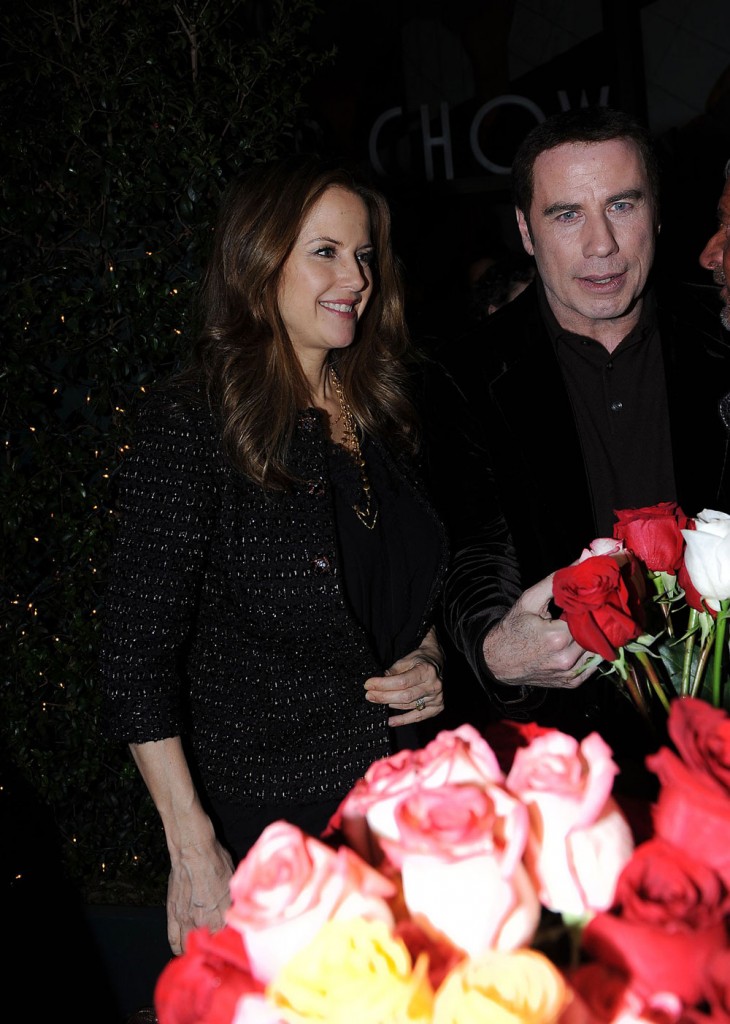 Written by Celebitchy

Posted in Cults, John Travolta, Kelly Preston

- Harry Styles & Kimberly Stewart going strong [Lainey]
- Demi Moore's new man is gross [D-Listed]
- Fug or fab: Emma Stone [Go Fug Yourself]
- Arrest warrant issued for Jenelle Evans [Reality Tea]
- Only God Forgives review [Pajiba]
- Hugh Jackman, scooter master [Buzzfeed]
- Who does Drew Barrymore call her sister? [Evil Beet]
- Cannes couples past and present [Popsugar]
- Arrested Development supercut [CDAN]
- Lea Michele's see through skirt [Celebslam]
- Cheating wife's lover escapes out of window [Movin925]
- Joe Francis is crazy [Starcasm]
86 Responses to "Kelly Preston: "L. Ron Hubbard found that illness has to do with the reactive mind""