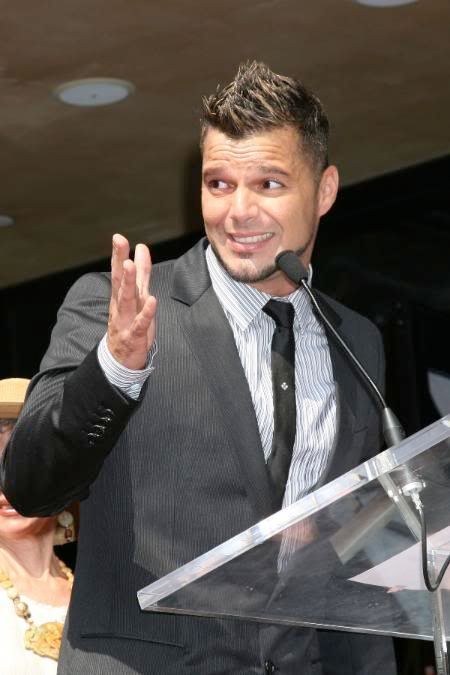 If there is still any shred of doubt as to Ricky Martin's sexual orientation, his latest move most likely removes it. Taking a page from the Clay Aiken book of fathering children, the Latin singer announced that he has recently become a father to twin boys, carried by a surrogate. The babies reportedly will be in Martin's care full time, and he has decided to take the rest of the year off from his busy schedule of denying gay rumors to be a full-time dad.
There won't be much "livin' la vida loca" for Ricky Martin these days — he's now the father of twin boys.

The Latin superstar had the children via a surrogate mother, and the babies were born a few weeks ago, according to a statement from his representatives.

"The children, delivered via gestational surrogacy, are healthy and already under Ricky's full-time care," said the statement. "Ricky is elated to begin this new chapter in his life as a parent and will be spending the remainder of the year out of the public spotlight in order to spend time with his children."

A representative said there was no further information on the details of the children's birth.
Congrats to Ricky, and kudos to the nameless "gestational surrogate" who made it all possible. That is truly a selfless act right there. I don't know if I could do it- if I carried something for 9 months and then gave birth to it, it's mine, dammit! Twin boys are surely a lot of work, so even if there's no mom in the picture, I hope Ricky has some help. I wonder if this means he will finally come out to his adoring public? At this point, what does he have to lose, really? His days as a Latin heartthrob are pretty much over anyway. Coming out might be the best thing to happen to his career since William Hung sang "She Bangs" on American Idol.
Picture note by JayBird:Here's Ricky Martin receiving his star on the Hollywood Walk of Fame in October. Photographer: Nikki Nelson. Images thanks to WENN.