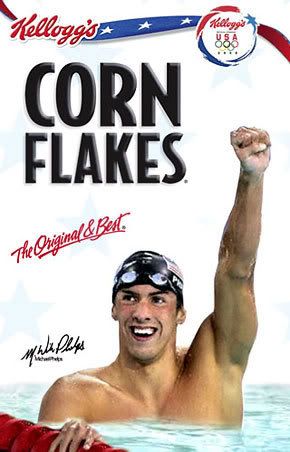 When I think of athletes getting into hot water, I think of out-of-wedlock babies, general debauchery, and dog fighting. Rarely do I think of cereal. But that's exactly the controversy record-setting Olympic gold medalist Michael Phelps finds himself in. Phelps has signed a contract to appear on the front of both Frosted Flakes and Corn Flakes boxes – a move that has got him in a lot of trouble. Why? Well mostly it's because he's scored the traditional Wheaties box. Oh and because of sugar.
Five out of five dentists say Michael Phelps is all wet — when it comes to his choice of breakfast cereal.

Health experts are going nuts because Mikey likes Frosted Flakes, and is going to be on the FF box rather than a Wheaties box, like pretty much every other big-shot athlete. They're all up in arms because Flakes has three times as much sugar as Wheaties and only a fraction of the fiber. Not so grrrrrreat after all?!
[From TMZ]
Us Weekly notes that Phelps has actually already been on the front of a Wheaties, so it's probably just no big whoop for him.
The Kellogg Co. has released Michael Phelps' upcoming Corn Flakes cereal box art.

The 23-year-old swimming champ — who won a record eight gold medals at the 2008 Beijing Olympics — will also appear on Kellogg's Frosted Flakes, beginning in mid-September. (Phelps passed on posing on Wheaties boxes, where he has appeared before. Kellogg Co. would not reveal how much it paid him.)
[From Us Weekly]
I agree that sugar is the devil (at least for a lot of people, myself included) but let the guy do what he wants. I'm pretty sure he's allowed to be on the box of donuts if that's what he chooses to do. Phelps is also supposedly not a fan of Wheaties and actually wants his image to endorse something he does like and eats. What a novel concept.
Michael has also been the subject of much internet gossip of late. Everyone wants to know who he's dating, and for some reason it's been narrowed down to Olympic swimmer Amanda Beard or British model Lily Donaldson. I'm not quite sure why these two women are the most frequently mentioned, but I think it's pretty safe that we can rule Beard out.
Sexpot swimmer Amanda Beard says Michael Phelps has absolutely no shot at doing the breaststroke with her. Beard denied today that she was dating Phelps, saying, "Eww, that's nasty…. I have never, ever hooked up with Michael Phelps," Beard said via telephone from Beijing on the "Johnjay and Rich Show," which is broadcast on Kiss FM 104.7 in Phoenix.

Beard, who has bared all for Playboy and appears in a sexy ad for PETA, also said she has never even kissed the 14-time Olympic gold-medallist [sic]. "Come on, I have really good taste," the sexy swimmer said. "He's really not my type." Asked how the poolside rumors made their way into London's Daily Telegraph, Beard said she had no clue. "We don't even talk to each other," she said of her relationship with Phelps.

When "Extra" asked Phelps in an interview that aired last night if he was dating Beard, Phelps said, "No. I'm not dating Amanda Beard. I'll say that," he told the TV show. "I think she has a boyfriend."
[From the New York Post]
Beard later clarified that she was joking around about the "Eww" thing and she and Michael are just friends. Lily Donaldson's reps haven't responded to the rumors, so I guess there's a possibility there. Phelps himself has said he keeps his private life private, and only a few friends know who he's dating and that's how it's going to stay. And by that, he means he's dating me. Sorry to disappoint.
Images thanks to WENN.