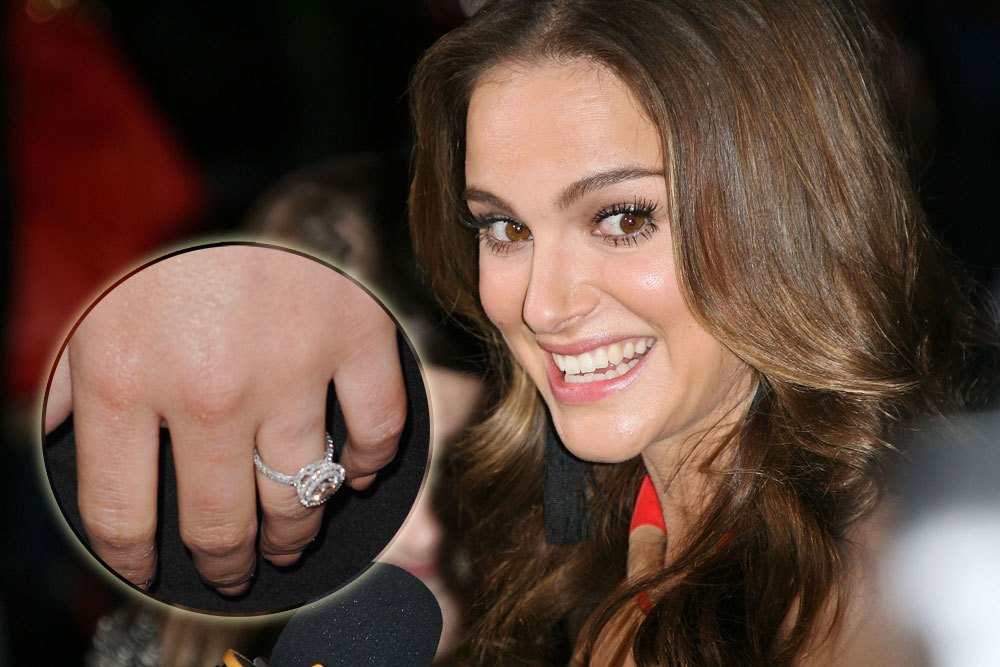 A few weeks ago, E!'s Answer Bitch had a very enlightening column about the way that the K-Fed fiancés of the world "afforded" massive diamond engagement rings for their much more successful famous female partners. Think Eddie Cibrian, that ex football player that Jessica Simpson drags around, and of course Natalie Portman's ballerina that is helping her "continue this creation of creating more life." Natalie's ballerina K-Fed also created her honking engagement ring and People has the details. I'll start by prefacing this story with The Answer Bitch's explanation for how enormous celebrity engagement rings happen, and how it often involves a very public plug for the jewelry designer. An engagement ring designer named Johnny Brookheart explains:
"When boyfriends are paying we often arrange creative financing," I am told.

"For celebrity clients I typically ask for half the value down and generously finance the rest for a long term….We keep a team of experts on retainer who can help us value and collateralize almost everything under the sun. Houses, horses, art, watches, etc. We'll either help them secure a loan with their assets, or we may just make a trade."

If the guy really needs help, the couple may shill for the jewelry company in exchange for a break. After all, the Brookheart people tell me, most celebrities wouldn't be caught dead in a ring worth less than $50,000. (A more typical value for a star's engagement ring these days: At least $100,000 to $250,000.)

"There are discounts for celebrities, and oftentimes those discounts depend on how willing the star is to assist in crediting the jeweler after the proposal," the Brookheart people say. "It's always a negotiation, but this is where being A-list really pays off."

That isn't to say the groom is powerless in all this.

"In almost every instance, the man is a significant part of making the engagement ring happen," says fellow celebrity jeweler David Alan Wegweiser of David Alan Jewelry
[From E! Online]
With those last few sentences in mind, about "discounts for celebrities" and "crediting the jeweler," here's In Style's article about the designer that Natalie's fiance, Benjamin Millepie, employed to put together the ring. The jeweler was a fellow ballerina, so maybe she gave Ben a discount for that reason, but it seems like she struck the same deal with him that this other jeweler so clearly explained to E!
What makes Natalie Portman's engagement ring so special isn't just who gave it to her, but also who designed it and how it was made. Jeweler designer Jamie Wolf (inset), whose creations have also adorned Jessica Biel, Julia Roberts and Anne Hathaway, created the custom handmade ring with choreographer Benjamin Millepied, Portman's now-fiancé. "Ben was exceptionally thoughtful and dedicated and patient to make sure we had everything right," Wolf told InStyle, who as a former dancer for the New York City Ballet, has been friends with Millepied for over 15 years. (He even encouraged Wolf to audition as a company dancer for Black Swan, and she was cast film!) "We wanted everything about the ring to speak to things that are important to Natalie." Therefore, in alignment with Portman's ecofriendly and vegan ideals, the stone is an antique (round old mine cut diamond), the pave diamonds are certified as conflict-free, meaning no one was hurt or treated unfairly in the mining of the diamonds, and the platinum is recycled metal. "It was a lot of fun to work with him, he's such a great guy and it's such a great piece of jewelry," Wolf said. "It speaks to my work and my taste on a personal level. I was really proud of how it turned out. It's gorgeous."
So this jeweler was friends with Millepied for 15 years, but she's also done engagement rings for other celebrities and seems to regularly lend and/or gift them jewelry. This is common practice, and celebrities get so many luxurious things for free that the rest of us have to pay for. They love to make us aspire to a lifestyle that is largely comped. I like nice things, and I'm a superficial bitch in many ways, but I think it's outrageous to pay thousands for jewelery (even if you can afford it). Check out this designer's jewelery at Barneys. The cheapest pair of earrings is $1,950.00.