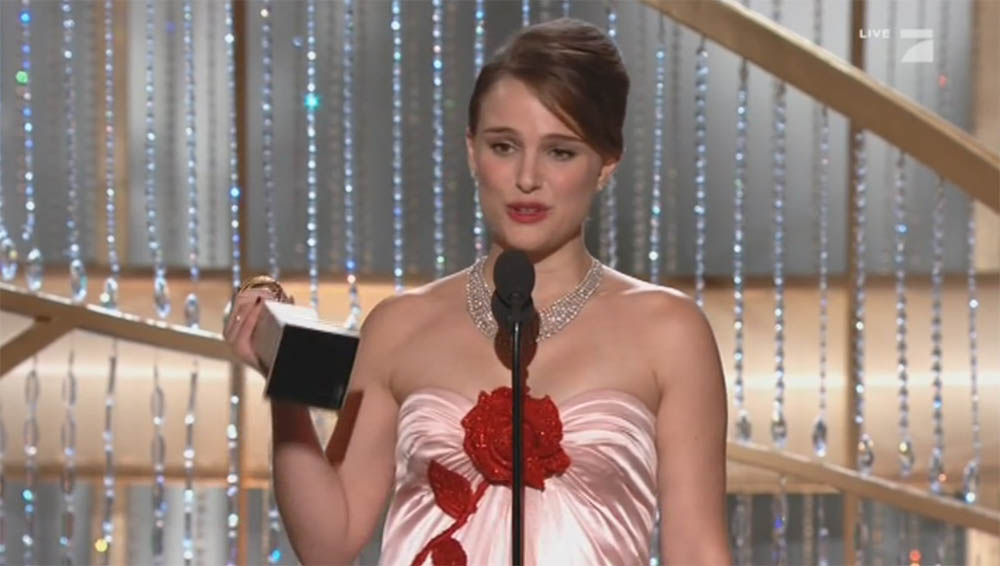 Natalie Portman won best actress at the Golden Globes last night for her role as a damaged ballerina in Black Swan. She was wearing a pink satin Viktor & Rolf dress emblazoned with a giant red fabric rose at the bustline. The dress was prettier on camera, but it was a bizarre choice and didn't particularly flatter her. It wasn't awful I guess.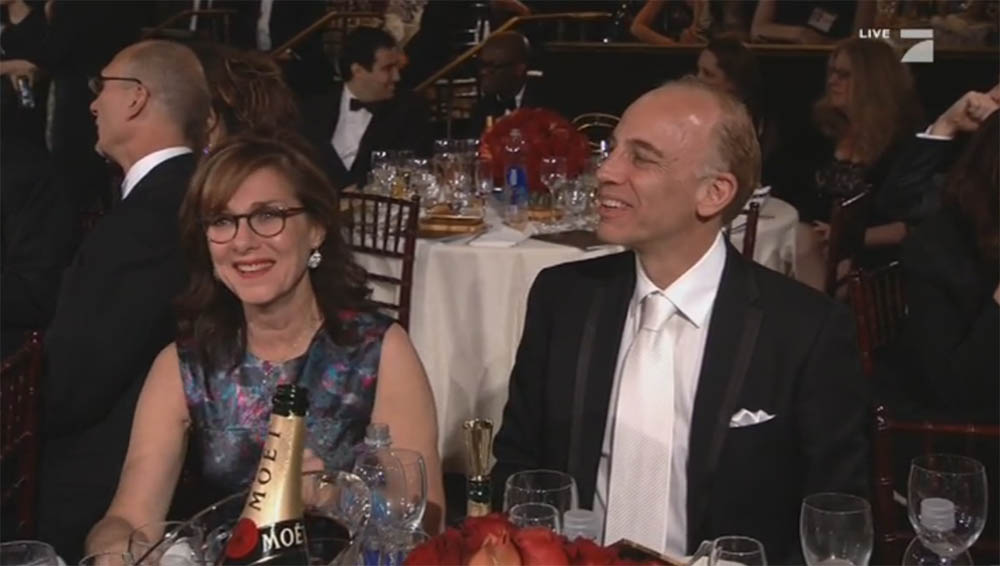 There's some talk about Natalie's acceptance speech, during which she went on about her co-star and now fiance, Benjamin Millepied, the "the ballet K-Fed." Ben had a live-in girlfriend with a baby at home when he met Nataile on the Black Swan set, so it might not have been the best idea to make a reference to the way they fell in love, but Natalie did it anyway. (Update: The guy didn't have a baby at home. My bad!)
At first Natalie gave a shout out to her grandma Bernice in Cincinnati and mentioned that her mom and dad were there at the Globes. She thanked them "for bringing me into this world and giving me such a wonderful life."

Then she started talking about Benjamin, as she's been known to do throughout this press tour. "Thank you to Benjaim who is helping me continue this creation of creating more life. Benjamin choreographed the film and also you might remember him in the movie as the guy when they ask 'would you sleep with that girl?' he's like 'no.' He's the best actor, it's not true, he totally wants to sleep with me." [guffaws]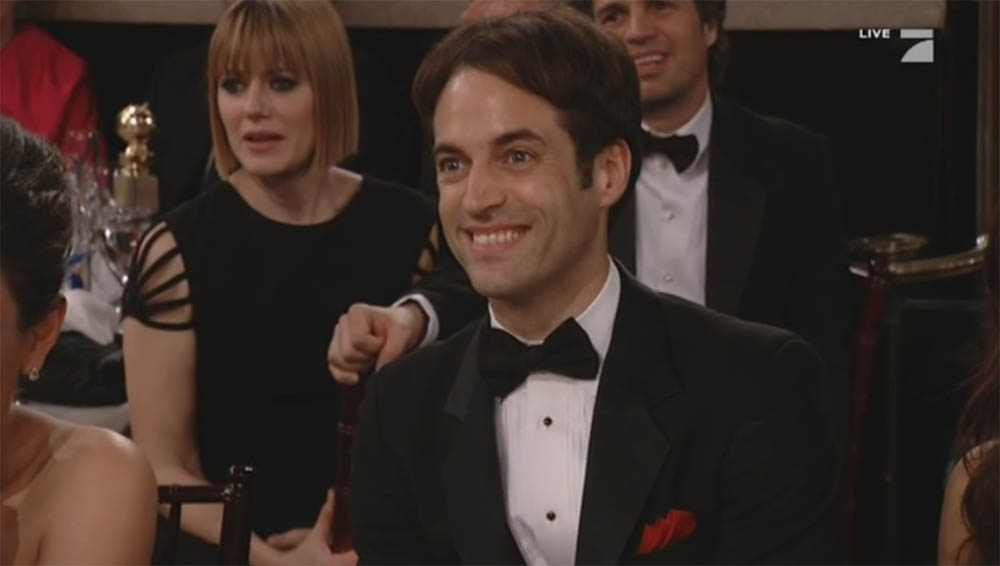 Natalie thanked her manager and her fellow actors including "Mila 'Sweet Lips' Kunis," which was cute. She then gushed over the film's director, Darren Aronofsky, and that's when she started to bug me.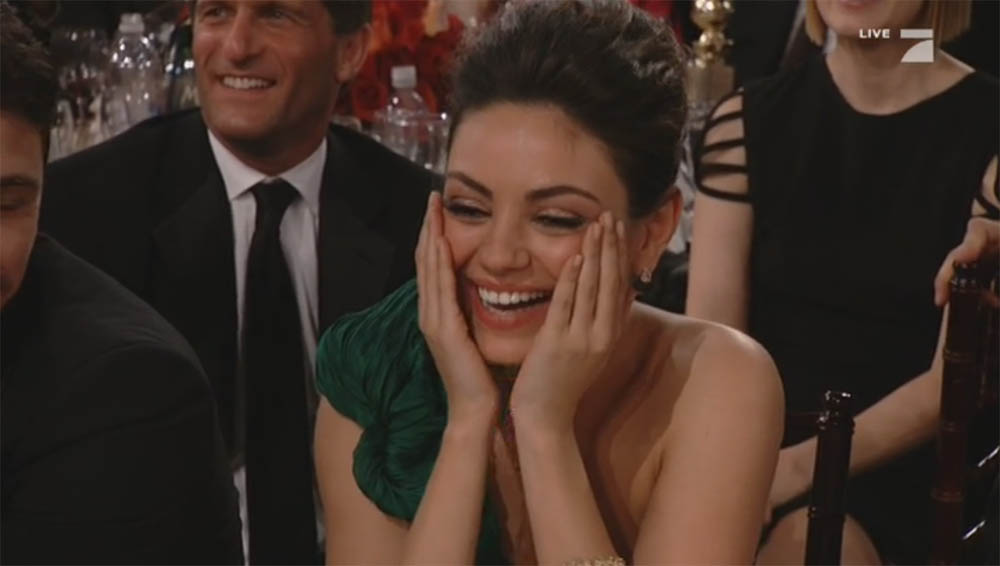 "Darren I met you ten years ago when we talked about this for the first time. Thank you for continuing to work on this movie and then to give me such a beautiful, beautiful gift with this role. Every time we finished our takes you would say 'now do this one for yourself.' And that gave me such beautiful inspiration as an actor to not just be a muse – that I could create on my own as well. I love you so much and you're the most wonderful and I'm so grateful to you."
It's pretty typical as far as speeches go, but it could do with some toning down. I'm kind of hoping she doesn't win the Oscar, although it's likely that she will.
Also, doesn't Darren Aronofsky look like the creepiest guy at the porn convention?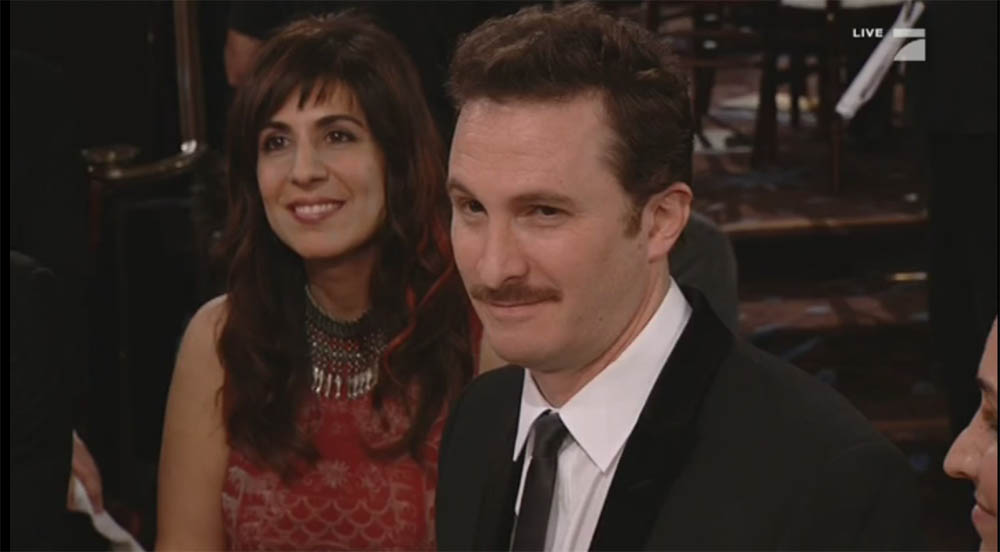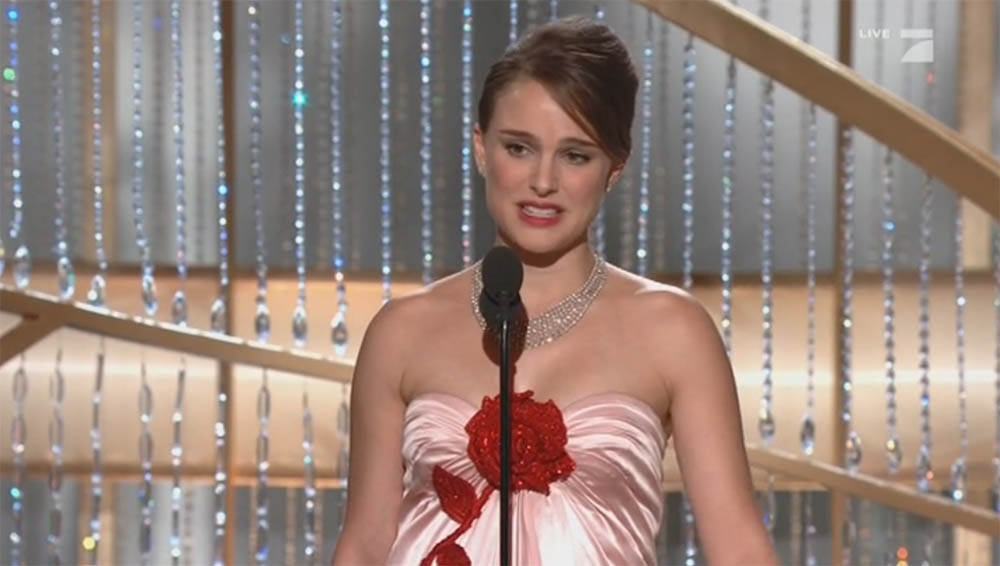 Angelina's poker face fail: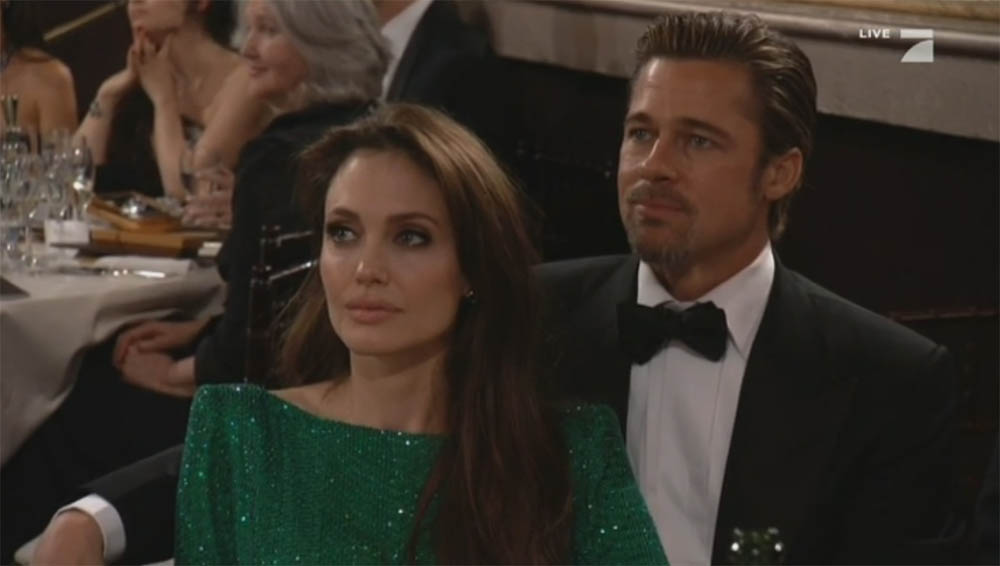 Here's Natalie's acceptance speech, which is from Hulu so it only plays for US visitors. Sorry about that!