E! Online has a clip from tonight's Real Housewives of Beverly Hills reunion (above), and while it's not quite as dramatic and scream-filled as the last preview we saw, it's still very uncomfortable. Kim Richards calls out Taylor for telling her she would go "Oklahoma" on her ass (Taylor is from Oklahoma) when Taylor is a victim of childhood domestic violence and volunteers for a battered women's shelter. Taylor gets snotty and indignant and tells Kim that she's never been in a fight in her life and not to bring her charity work into this argument. Kim keeps pressing the point in that slurry way of hers. I don't blame Taylor for getting defensive, but that in no way means I like her or think she's anything but a manipulative social climbing suck up. Kim bothers me in her way, but I do think the others ganged up on her, and it's telling that her mean girl sister Kyle is sitting right next to Taylor and giving her support during this whole ordeal. As you may remember, Kyle was attacking and nasty to Kim on the last episode of the show, and said among other things "Mom had to die worrying about you and stressing about you and leave this shit on my shoulders, after everything I've done for you."
Kyle has stated that there's more to this story that she hasn't revealed, and in the new issue of US Weekly they reveal that Kim has already been in rehab at least once. It's clear this story is straight from Kyle, as they try to paint her as much more generous and loving to Kim than she could ever be:
A source tells Hot Stuff [US Weekly] that though "Kyle seemed bitchy," the battle, which nearly came to blows, had been brewing for years. "Kim's out of control. She was in rehab before too… "

And a source close to the sisters adds "frustrationboiled over" the night of the scuffle: "Jealously isn't the root of their disagreements. It's tiring to watch Kim not make smart decisions and not learn from her mistakes. The family has been through hell!"

The source adds that Kyle, 42, tried to keep cameras away from Kim at her lowest points. "Kyle didn't want anything out there that would shame Kim. But Kim is the the shy waif she presents herself as on TV."

For her part, Kyle tells US she'd "give anything" to take back what happened that night: "I love my sister! I want what's best for her and for both of us."
[From US Weekly, print edition, February 7, 2011]
I'll try to consider the other side for a moment – it's very possible that producers pushed Kim to confront Kyle to make for a more explosive scene. As commenter Bros pointed out in an earlier post, it was suspicious that Kyle's assistant had the valet on speed dial and arranged for Kim not to leave. That said, Kyle said those mean things herself and she's consistently turned on her sister. Kim may be an unreliable alcoholic, which is surely frustrating and there's probably a lot of bad history in that family. The way Kyle has gone after Kim has been incredibly vindictive, though. Kyle is focused on wounding and shaming Kim, not helping her.
Also, just FYI – I will be traveling tomorrow and won't be able to cover the RHOBH reunion until at least the weekend. (They better put it on iTunes.) I'm sorry about that!
Here are the Hilton sisters at the premiere of Race to Witch Mountain on 3/11/09. Kim starred in the original Escape to Witch Mountain in 1975. Compare this picture with the one below from 10/12/10. Kyle has pushed Kim out. It's obvious Kim is blitzed too.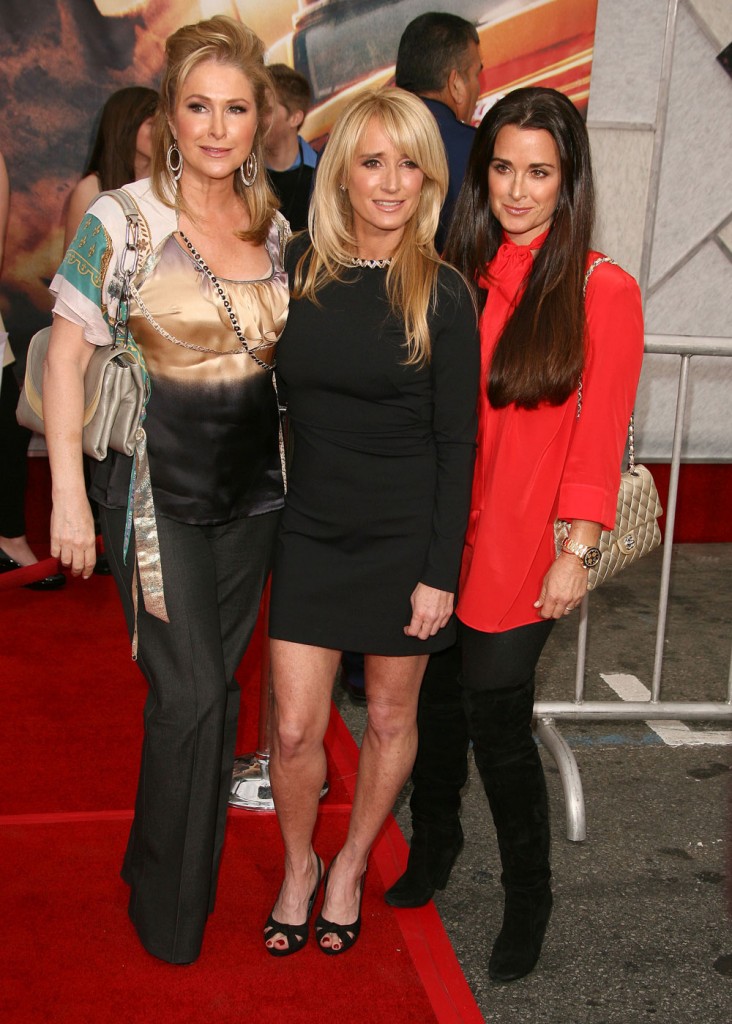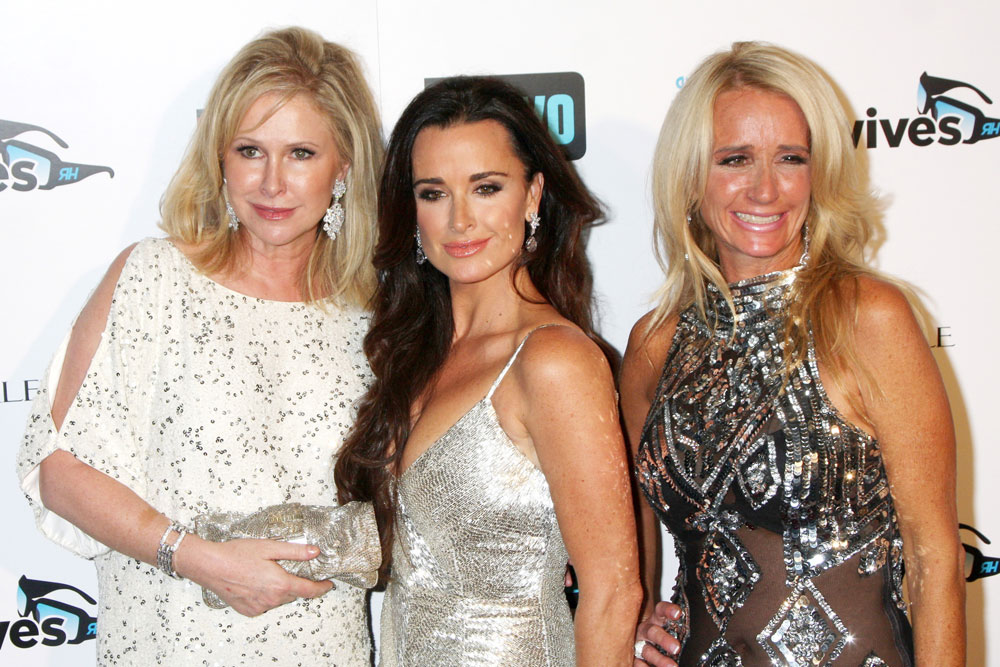 Credit: WENN and Fame