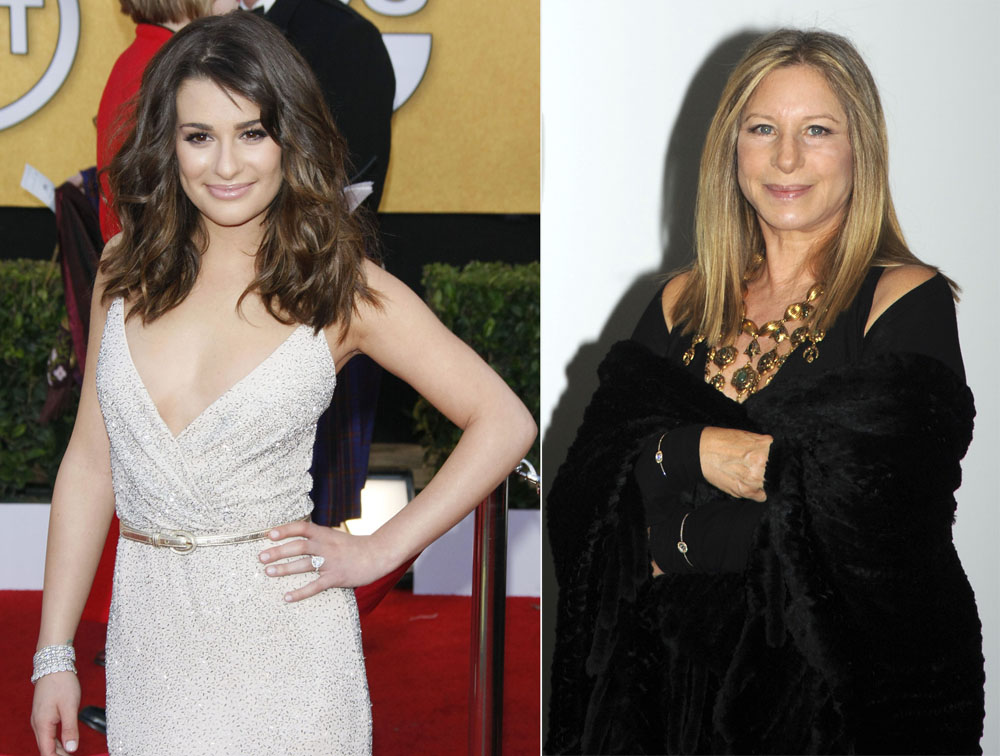 Lea Michele of Glee is a very talented singer. She also inspires all kinds of hate because she is a consummate diva-in-the-making. Her tears for Chris Colfer and Jane Lynch at the Golden Globes were way over-the-top, and many were glad when she lost to Laura Linney.
It's no surprise that Lea is becoming a diva. She idolizes full-fledged diva Barbra Streisand, not only for her voice but for her nose.
I grew up in this typical New Jersey town where everyone looked the same. If you didn't have a nose job, you were about to. Agents and casting directors told me to get one, but my mother said, "Barbra Streisand never did — and neither are you."

When I met [Glee creator] Ryan Murphy, he asked if I'd ever seen Funny Girl. I said no. When I did see it, I cried my eyes out. Her character felt and looked so much like me! From then, I've been obsessed with Barbra. Her voice is perfect. She doesn't need any tricks. What makes her a rare talent is she can just stand there and sing.

On Glee I've sung four of her songs. Every time I do "Funny Girl" I cry. Singing her music [at the MusiCares gala on Feb. 11] isn't about getting to be in the same room as her or having her hear my voice. (Though I'm nervous — hopefully I won't vomit!) It's about me just saying thank you.
[People, print edition, February 27, 2011]
I don't feel the same hate for Lea as others do, but I don't watch Glee so I'm not subjected to her every week. Her comments do have an undercurrent of ego in them. She says Barbra's character "felt and looked so much like me," not "I felt and looked so much like Barbra." Plus, I think she's relishing the opportunity to sing in front of Barbra at MusiCares. Expect more drama tears.
Note by Celebitchy: Lea Michele was seated next to True Grit star Hailee Steinfeld at the SAG Awards, and it looks like Lea and Hailee made up. Hailee told a story a couple of weeks ago about Lea snubbing her on set when she asked for an autograph, and Lea subsequently blamed someone else for it.