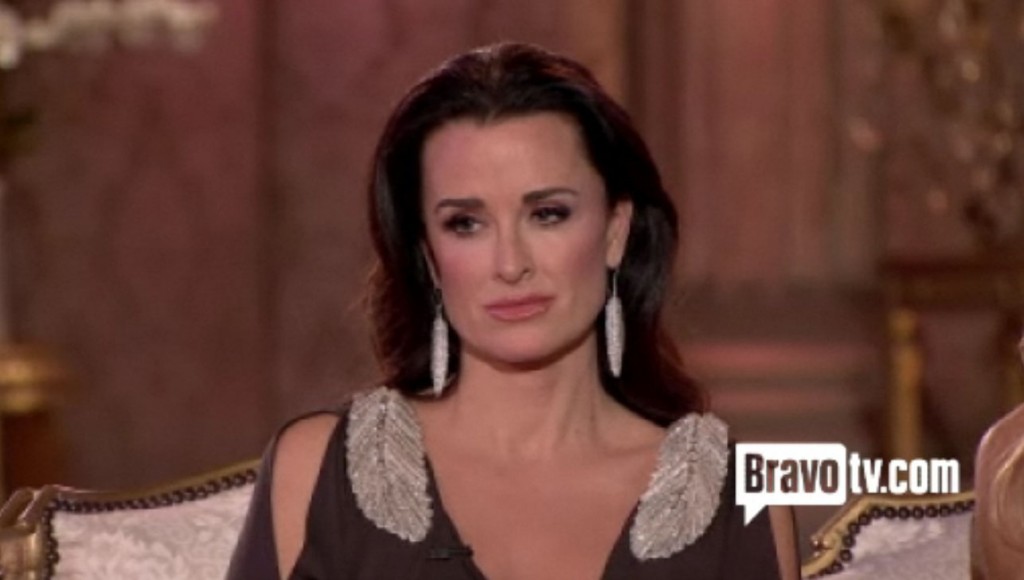 I was traveling for over 24 hours straight on Friday which is why this recap has been delayed. (Love to Kaiser for running things as usual!) Plus I'm very jetlagged along with a lack of sleep. So that's why this has taken me so long, along with the fact that this sh*t is complicated. I'm sick of these women fighting over such petty crap and dredging up the same old fights for weeks if not months. It's ridiculous.
We still have another RHOBH reunion special to look forward to on Tuesday night, and while there was plenty of drama on Thursday night's episode I'm sure they saved the best for last. I'm over all the nitpicking and back and forth. It's exhausting. There were some gems there though. Here's what happened. (I'm blockquoting it, but there are comments from me in there.)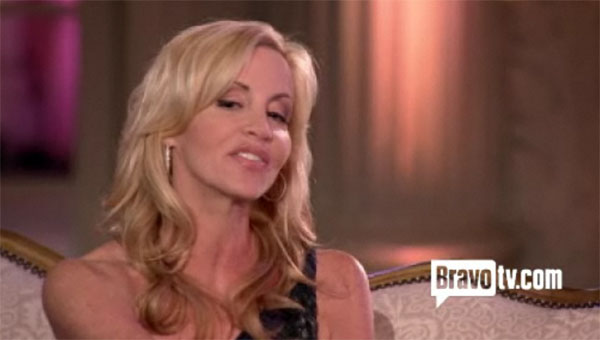 On their plastic surgery making them look deformed
Lisa: "I haven't had plastic surgery on my face, I've had fillers and Botox… I think it's really rude to criticize somebody else on the way they look."

Adrienne said her husband isn't her plastic surgeon. "I would never want to do that. Other than fillers and Botox. I just don't think it's a good idea. What if he messed up and I've got to live with him?"

That's a hell of a lot of fillers and Botox.

Camille on how she 'couldn't imagine' living in 3,5000 square feet in NY
"It was really Kelsy's issue.. He used to call me and say 'Camille I just don't see us all fitting in.'"

Lisa "Did he mean the girlfriend as well?"

Camille: "I didn't want to do the show. Kelsey kept saying 'This is something really good for you, because this is… something you're doing for yourself… Maybe it was something to keep me preoccupied in California while he was having his affair."

Camille on how she was called "Most Hated Housewife"
"I was devastated to read that… It's very hurtful. I don't think you're seeing the real me on this show… I think I've been villianized."

After host Andy Cohen read out a bunch of negative adjectives written about Camille including "conniving," "narcissistic," "fake," and "insincere" she repeated her go-to adjectives "devastating" and "hurtful" and said "There are things I've said on this show that I… wish I could take back and that are horrible things to say, but I don't think that's an accurate portrayal of whom [sic] I really am."

Taylor defended Camille and said "we're all here for each other and these people can sit behind their computers and write negative words about people who seem to live perfect lives, but they don't know [Camille] and I just think it's cowardly."

Give me a break, Taylor. You defend people as long as they're useful to you, and you go after the weakest. Talk about cowardly.

On the real reason Camille used a surrogate
"It wasn't to keep my figure. We tried and unfortunately it didn't happen.. there are biological children through surrogacy and it's an amazing process."

On why Camille is so busy with so many people working for her
"I'm a mom and I was also going through a divorce, and was also trying to keep together my husband's production company."

Camille says she called out Faye Resnick because the ladies were looking at naked pictures of her on the way to the party
"I did a movie for Cinemax in my early 20s… unfortunately we do things when we are younger that we wish we never did… It's not a hard core, it's soft, that doesn't make it any better…

"I got upset when I found out that the girls were in a limo looking at these [naked] pictures [of me]. This is why I said that about Faye."

Kyle: "We were looking at them. It's out there. I'm not going to lie. I think that if anybody was sent something like that they would be shocked.

Camille: "I think that was set up and premeditated… I invite her… to my house with Faye Resnick and this is what they do… in a limo."

Kyle to Camille: 'The balls of a burglar'
Kyle: "It's classless to say that somebody is morally corrupt when you've done softcore porn…

"You have the balls of a burglar to be throwing rocks like that when you live in a glass house."

So did producers deliberately cut out the part where Kyle and the girls looked at naked photos of Camille before the party? Did Camille know about this before she lit into Kyle again at the dinner party? (Did they show this on RHOBH and did I just miss it? I don't remember this part at all.)

Camille blames her divorce for her nastiness
Then they played a recap of Kelsey's appearances on the show and how he dumped Camille. Adrienne was crying and she said "to me they were a beautiful couple and I feel a lot of sadness for her."

Camille said "That's why I was distant to a lot of the girls because I was going through this in my personal life. I wasn't ready to out it yet."

She said she figured out something was wrong in her marriage around February, which is when filming started. As for the state of their relationship now, she said they don't speak.

She admitted she didn't have a prenup. The camera kept panning to Kyle and she looked pissed as hell. Camille wouldn't say how much money she was getting, but admitted it was "sizeable."

Camille said she didn't have a sex tape of Kelsey. As for whether she would do another season, she said "maybe" but that "right now I'm really busy with my children." Her children who just happen to have four nannies.

Kim vs. Taylor
We saw the crux of this fight in the preview video of the reunion so I won't cover it again. Taylor got super bitchy and superior and Kim kept slurring about how Taylor shouldn't have threatened her with violence when she's involved with a battered women's charity. Then Taylor asked Kyle "Should we talk about her state of mind? She's about to take me there."

Taylor: "Do we want to talk about her frame of mind?… Tread softly. We'll talk about that later in the conversation."

It was a clear threat, and just goes to show how Taylor and Kyle bully the shit out of Kim.

Taylor: "You wanted to be involved in drama with me, you didn't want to be involved in drama protecting your sister. "

Then Kim really summed up Taylor's personality
"I think Taylor is kind of like a chameleon. I don't think Taylor has a real commitment to anybody. I think that she's with Lisa… with Kyle… with Camille."

Taylor: "I do think that I try to be a friend and be neutral to everyone.. I don't need to chose sides."

Lisa seems to admit only having sex with her husband twice a year
They played clips of Lisa making a lot of sexual comments and contrasted it to her admission that she only has sex twice a year. She admitted that's true!

"Well not twice every year, that's on a good year. But I didn't say I didn't have sex with somebody else now did I – no I don't! I've been married 29 years we're very secure in our relationship."

I knew Cedric wasn't there just to arrange her flowers.

A little later she said "I do have good sex with my husband for the record."

On the rumor that Camille and Kelsey didn't have sex for a year, Camille said "Kelsey cut me off ten years ago."

Lisa on if she was jealous of Kyle and Taylor's friendship
"It was annoying to be honest… don't you find [their PDA] irritating?"

Then Camille came over and cuddled with Lisa to mock Kyle and Taylor.

Taylor on her lip implants
"I'm not going to have surgery [to remove it] and it's been there for too long. I have a large mouth and a lot of people say that as well."

Adrienne on how she constantly bickers with her husband
"It's very real. I actually think we're the norm not the exception. We've been married nine years so of course it's going to happen… it's just the way we communicate."

Adrienne on the tinsel in her hair
"I thought it was a great idea… people love it."

Adrienne on her personality
"I'm not one to really like confrontation. I prefer to solve the problem rather than get in the mix with it."

Kyle and Camille get into it
Camille explained the origins of the fight with Kyle. "We were discussing our spring break trip and she asked me, why are they shooting you in Hawaii for this show? Then she asked me… why don't you bring the other girls?"

Kyle denied this "I never said 'why don't you bring the other girls.' Be honest… your story has changed so many times."

"No Kyle, I've had enough of you bullying me and now it's time to take my power and tell you, you're wrong…

"Then she asked me if Kelsey was coming along with me… Then she said 'why are they shooting you without Kelsey being there?…

"[To Kyle] You've never been honest. This whole season was set up to make me look bad and this was the honest truth."

Kyle: "First of all Camille, you were brought into this show because I called you up."

Kyle's version of the conversation
Camille agreed that's what happened. The way Kyle explained the conversation, which happened around the time she asked Camille to join the show, she was just asking if Camille was bringing Kelsey or a girlfriend with her. It was a normal conversation the way Kyle explained it, and then Camille asked her why she "had a problem" with her and Kyle was taken aback. "Why would I want you on the show and not want them to film you Camille?"

Then Camille called Kyle a bully and told her that she started the "delusional" thing and now she's been labeled with it.

Kyle asked her why she wanted Camille on the show then, and Camille said "because you wanted a target."

As to whether she sees herself as the victim and "plays sneaky," Camille says that she knows she grins and laughs a lot when she's nervous.

Then Lisa discussed how the whole NY fight happened and claimed it was Taylor's fault for bringing it up after Kyle and Camille made peace.

Taylor weakly tried to defend herself as just telling Camille a story about how she was amazed to have talked to Kim at the airport because Kim never really talked to her before. Then Camille half admitted that she was overreacting to the fact that someone called her insecure. "I'm sure I was feeling insecure at the time. My husband was leaving me… he wasn't returning my phone calls. I didn't know he had a lover at that time."

Kim on why she didn't defend Kyle during the argument with Camille
"These are all Kyle's friends… I've always had my sister's back and I always will. I don't like being put on the spot… I was speechless."

Camille on if she thinks Kyle is jealous of her
"No I don't."

Kyle: "Well now you do after you realize that everyone has laughed at you saying that for a whole season, so."

Camille: "Ouch, what you said was so catty."

Kyle: "Yeah, it was catty, it was."
I have to let go of my need to document every detail in these plastic privileged bitches fights, so the final recap on Wednesday won't be so play-by-play. That said, the reason I write this all down is because it's fascinating. It's manufactured drama in a way, but these women really hate each other. They're nasty superficial people and they hold grudges and backstab each other. Camille loves playing the victim and she's got the ultimate victim card now. Her husband was leaving her so that explains away all her bad behavior.
Kyle is the aggressor and Taylor is the little suck up who manages to cuddle with Kyle yet still stick her nose up Camille's ass by defending her against the whole Internet. Taylor hates Kim because Kim is the weakest. Adrienne and Lisa are the somewhat classier exceptions, although Lisa isn't above stirring the pot and she can't stand Taylor. (For good reason.) Kim is just a damaged, shy addict and she's doing her best to get by. You know they're going to send her to rehab on Tuesday. (And that's not a spoiler because it was already revealed in the finale.) I hope Kim doesn't come back next season. She may need the money but it's not worth it for her.
Here's a video from Bravo of Camille explaining her softcore past (only plays for US visitors). This is a different video than the segment described above.