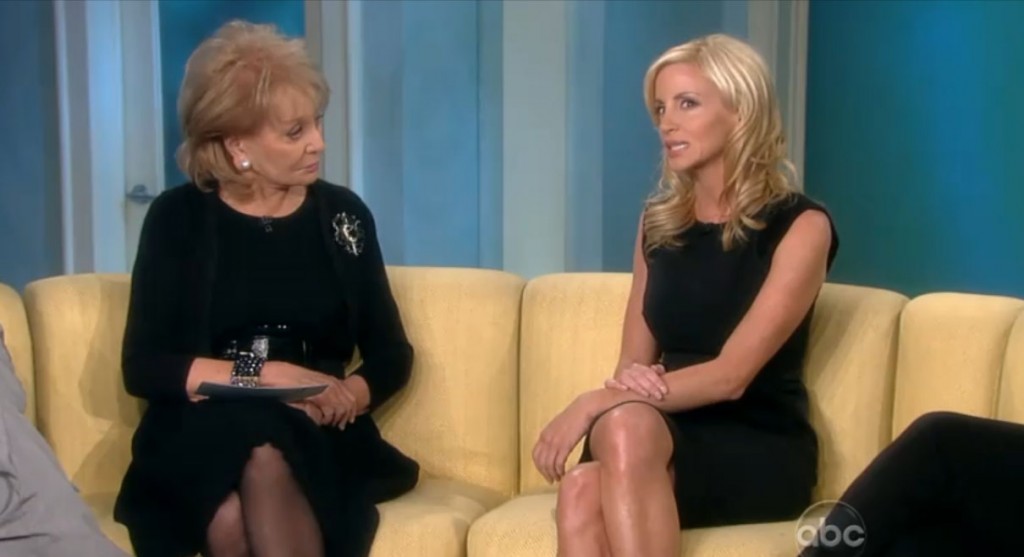 Camille Grammer said during part one of the RHOBH reunion that her estranged husband, Kelsey, cut her off from sex "ten years ago." She's also hinted in other interviews that he enjoys cross dressing, although she's since tried to take it back. In appearances on The View and The Joy Behar show yesterday, Camille elaborated on her "sexless marriage" claims and also talked about how Kelsey became distant from her when he moved to NY for work around the beginning of last year. It's interesting to note that these stories about how they never had sex are consistent with reports in the National Enquirer around the time of their split.
On The View, Barbara Walters really got harsh with Camille and asked her why she was surprised that Kelsey went for another woman when she wasn't having sex with him. Camille answered that that they didn't mesh sexually, there was more to marriage than sex, and that Kelsey was her best friend. On the Joy Behar show, Camille explained it like Kelsey was the one that didn't want sex, not her.
Barbara Walters seems to blame Camille for Kelsey cheating
When Barbara mentioned that Camille implied on the reunion show that she didn't have sex with Kelsey in a couple of years, Camille said "We tried… something just didn't click with us on an intimate level, but we were best friends and it's too bad I lost my best friend." Barbara retorted "You also lost a man who wasn't your lover." That's nasty! This is coming from a woman who had multiple married lovers and admitted cheating on the men she was with. She obviously justified her behavior by telling herself that the married men weren't getting laid at home.
Camille said she met Kelsey's new fiance Kayte when Kelsey and Kayte came over to her hotel to pick up the kids. Camille came down to meet the two of them, and told the ladies of The View that Kelsey was steaming like he never expected her to come down with them. As for whether she's going to go to Kelsey's planned wedding with Kayte (which still may not go through because Camille is trying to delay the divorce) she said "no, that would be awful."
Kelsey watched Fox News, Camille just wanted to cuddle
On the Joy Behar show, Camille again addressed the fact that she didn't have much sex with Kelsey toward the end. As for whether it was her fault or Kelsey's, she said "Could be both, but it was more on his end." When Joy brought up cuddling, Camille said they didn't even cuddle because Kelsey was "too busy watching FOX News." She also said that they had some political differences.
As for whether Kelsey manipulated the situation by having her appear on RHOBH, she said "it makes one think. I don't know if it was totally set up, but it makes one think. I think he had something going on for a while."
Camille is really handling this press tour expertly. She may have been a nasty piece of work on the show, but she's recovering quite well. She didn't even snap back at Barbara Walters when she got snippy with her and seemed to blame her for her husband straying. I'm not a Camille fan by any means but she's a savvy woman and she's playing this situation to her advantage.
Meanwhile the NY Post is reporting that Kelsey has already sent out invitations to his wedding to his jump off, scheduled for February 25 at the Plaza Hotel. He still isn't divorced from Camille, and his petition to bifurcate the divorce (separate it into a quick legal divorce so he's free to marry and then work on the property settlement later) hasn't been granted and Camille's people are trying to block it. So this whole expensive wedding reception, which is rumored to run in the six figures, may have to be scrapped.
Here's the video from The View. Sex talk starts around 1:15. What the hell is Whoopi wearing? It looks like a Snuggie.

And here's the video from The Joy Behar show.

Story leads via Huffington Post and Radar.
Check out this picture from 8/31/10. Look at big mouth Taylor sucking up to Camille: (Fame Pictures)