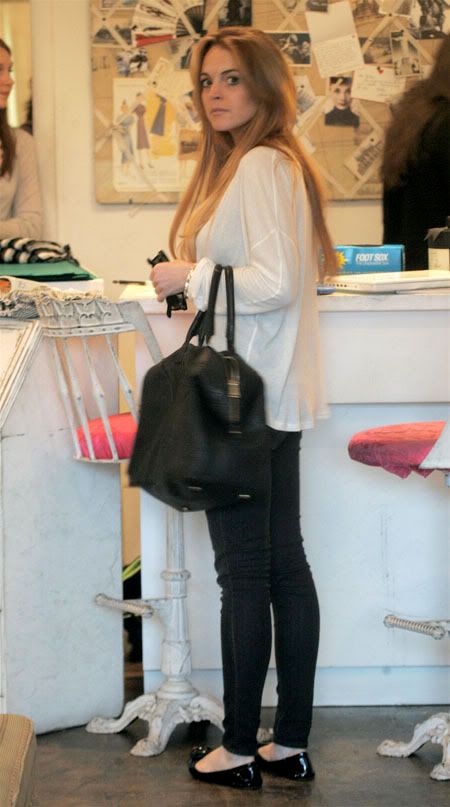 It looks like trouble with the law runs on both sides of Lindsay Lohan's family. Her uncle Paul, 50, Dina's brother, was just sentenced to a year in jail. Paul Sullivan was convicted of defrauding the government by getting a small business loan under the guise of fake losses suffered by his business after the 9/11 tragedy. His company provided cars for the United Nations to use overseas. He was ordered to pay back the loan to the tune of $646,000 and sentenced to a year and a day in jail.
An uncle of actress Lindsay Lohan was sentenced yesterday to a year and a day in federal prison and ordered to repay a $646,000 government agency loan after he falsely claimed his company lost business as a result of the World Trade Center's destruction.

In addition to fraud, Paul Sullivan, 50, of Old Bethpage was also accused of obstruction of justice.

U.S. District Judge Joanna Seybert at the federal court in Central Islip sentenced Sullivan to less than the minimum 27 months suggested by federal sentencing guidelines, saying she was trying to arrive at a balance.

Seybert said she had weighed "the highly egregious nature" of Sullivan's taking advantage of 9/11 tragedy against the pain the arrest already had caused Sullivan, his wife, three children and mother, and the fact that many cases of Small Business Administration frauds are settled civilly.

Sullivan's lawyer, Joseph Conway of Garden City, argued before sentencing that while his client was a college graduate, he had a difficult time finding work after his arrest in 2005 and had been receiving public assistance, occasionally being employed as a security guard.

Conway said the SBA loan was not used to support "a lavish lifestyle" or to buy drugs, but unsuccessfully to try to keep Sullivan's business afloat.

Sullivan's former Hauppauge company, the Ropa Group, supplied vehicles to the United Nations for overseas operations.

"Since my arrest it has been extremely stressful both personally and financially," Sullivan said. "The sadness and despair in my mother's eyes is worse than any jail cell you may put me in."
[From Newsday via TMZ]
Her mother also has a creative view of the truth, and has been caught fabricating her biography, including claiming to be a Rockette and to have acted in theater and on commercials – none of which can be verified.
Newsday reminds us that Lindsay's dad Michael was convicted of assaulting his brother in law Paul – the one who is just about to get a taste of jail, his other brother in law, Matthew, and his ex wife Dina. Michael Lohan served nearly three years out of four year sentence for those charges along with DUI and was let out last Spring. It looks like Lindsay comes from a long line of liars and brawlers.