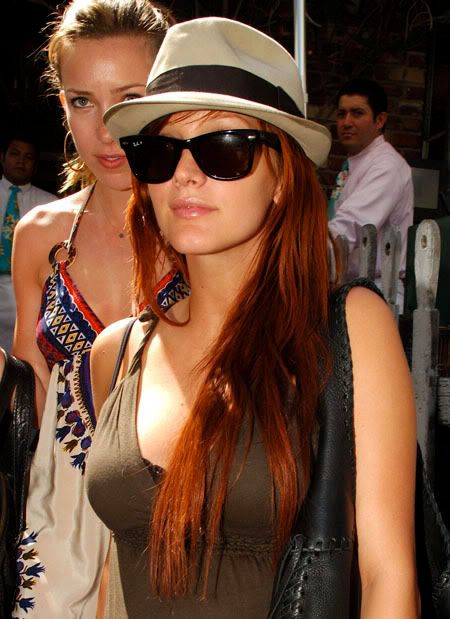 The latest edition of Star Magazine, that bastion of truth in journalism, is reporting that 7 months pregnant Ashlee Simpson is devastated by her doctor's assessment that she's gained too much weight during her pregnancy. The singer burst into tears after her latest checkup and reportedly stocked up on size zero jeans as motivation to help her lose the weight after the baby is born.
Ashlee Simpson-Wentz is looking for inspiration to adopt healthier dieting practices after the pregnant singer was told that she has gained too much weight during a recent prenatal visit.

"Ashlee broke down in tears at a doctor's appointment in early August when she found out she's gained more weight than is considered in the healthy range," a Star source says.

A long-faced Ashlee immediately took a trip to Malibu's Planet Blue and stocked up on six pairs of size zero jeans to motivate her to curtail her eating:

"She can't wear them now, but she hopes it will give her the incentive to watch what she eats."

Ashlee will welcome her first child with husband Pete Wentz in October.
[From Star Magazine print version, Sept. 5, 2008]
Give me a break. I've seen recent photos of Ashlee and she looks absolutely fine- well within the suggested 25-35 pounds most doctors recommend. This article makes it sound like she's the size of a whale or something, when anyone with eyes can tell she looks good. She's been seen attending pregnancy yoga and even has a trainer and nutritionist. And furthermore, while she was thin, I don't think Ashlee was a size zero before the pregnancy.
Meanwhile, Ashlee told People that she and husband Pete Wentz will spend the next two months getting the nursery ready.
The singer, who confirmed the pregnancy back in May, says she and husband Pete Wentz have been knee-deep in baby-proofing their Hollywood home.

"We're getting the nursery ready," said Simpson. "I can't wait to be a mom and he can't wait to be a dad, so it's fun."

"I have the greatest husband," she said. "He's so awesome. It's fun to have somebody that I love to do this with."

Having her family around has been comforting too. "My mom and my grandmother [have] given me good motherly advice," said Simpson, "but it's one of those things where your mother instincts kind of kick in right away."

Other things on their to-do list? Picking a baby name. But Simpson says they haven't settled on one yet.

After joking about calling their kid "Orange," Simpson said, "I don't think it's something we'll decide until the baby comes."
Yeah, that sounds like a woman devastated.
Ashlee Simpson is shown out to eat at The Ivy on 8/18/08. Credit: Ghost/Fame Pictures