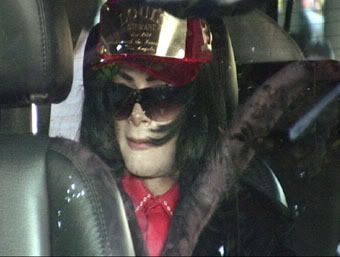 It's been a bizarre half a century for fallen superstar Michael Jackson. He started out as the talented young front man of The Jackson Five, and conquered the world as a solo artist in the 80s. His Thriller album continues to be one of the best selling albums of all time. But just when he was on top of the world, things got weird: the myriad of plastic surgeries; the rumors of sleeping in a hyperbaric chamber and keeping a pet chimp; the Wonderland ranch; the child molestation accusations and the baby-dangling all chipped away at Jackson's persona. Now, Michael is more of a cautionary tale- a Hollwyood "don't." But in a recent interview, he says he is very focused on his kids and is still writing music.
As he turns 50, Michael Jackson is speaking out – telling "Good Morning America" he still feels young. "I feel very wise and sage, but at the same time very young," he revealed.

The King of Pop will be spending the big 5-0 with kids Paris, 9, and Michael II, 5, — "just have a little cake with my children and we'll probably watch some cartoons," he said.

As for that rumored comeback? "I am writing all the time," he explained. "I love composing and the whole thing. But I am also raising my children and enjoying it and teaching them to ride bicycles and how to read. I love it."
It was rumored that MTV was trying to lure Jackson out of seclusion to perform on this year's VMA broadcast, but Jackson declined. Maybe he thought he was being set up to be this year's Britney Spears train wreck performance. Or maybe he's just decided to retire from performing publicly due to his scary-looking face. Either way, it was probably a good move. I have a feeling that Michael's best music and performances are long behind him.
Michael Jackson is shown in the header in a car outside Madeo's restaurant on 8/21/08. Do you think he's wearing a mask or something – his chin looks odd. Credit: WENN. He is also shown at designer Christian Audigier's 50th birthday party on 5/23/08. Credit: Fame