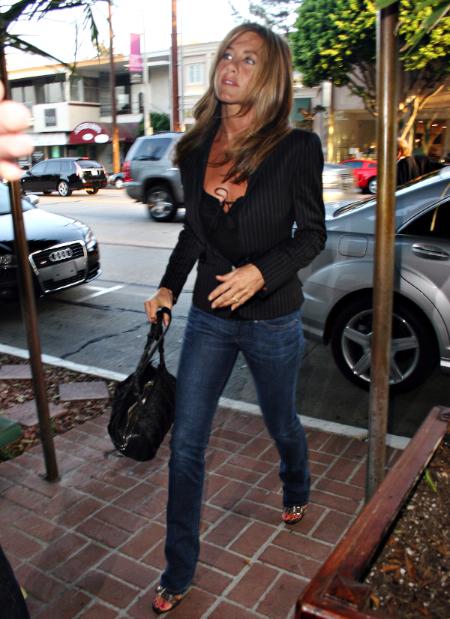 Jennifer Aniston's life just keeps getting better and better. First there was Friends. Okay I guess. Then she married that Brad guy – less than memorable. I don't think anyone even remembers what happened there. Then she ditched John Mayer – definitely another step forward in life. And now it's been confirmed (albeit by anonymous sources) that Aniston will be guest starring on 30 Rock this fall. And I say this without the slightest bit of sarcasm – this is absolutely the peak of pretty much anyone's career. Actually their whole life.
Wow. Holy TV goodness!

Jennifer Aniston will be returning to NBC's Must See Thursday this fall, appearing in an episode of NBC's 30 Rock, a very solid source familiar with the deal just confirmed to me.

"She is shooting now," says the insider. "We are not giving out any specifics on her character."

Aniston is actually the second Friends alum to come on the series—David Schwimmer also guested as Greenzo during the environmental episode.

Given that the SNL-nature of the series, Aniston could be playing herself, or a scripted character. As soon as we have more details, we will post them right here.
[From E! News]
30 Rock is pretty much the greatest thing ever. Whenever I walk by Rockefeller Plaza or think about throwing someone under an F train, I bow in their honor. It confuses the crap out of tourists, which I enjoy.
I read an article recently that said the show wasn't as popular outside of the tri-state region because people don't get all the jokes. For example there are all these anti-terrorism signs here that say, "If You See Something, Say Something." 30 Rock had exact replicas that said, "If You Suspect Something, Do Everything." Or jokes about the random weird smells that suddenly waft throughout the city – like maple syrup – that often result in a lot of federal agents swarming the area. And it's generally due to something that's gone wrong in Jersey. I guess I can understand how you could miss the jokes if you've never been here. But the show is still so great that you should visit New York, just so it makes more sense when you watch it.
Here's one of my favorite guest appearances by former Vice President Al Gore. The guy in the cape in the background is David Schwimmer. Hopefully Aniston's performance will be just as good. Header of Jennifer Aniston meeting Woody Allen for lunch at Madeo on Tuesday in Beverly Hills. Images thanks to Fame.