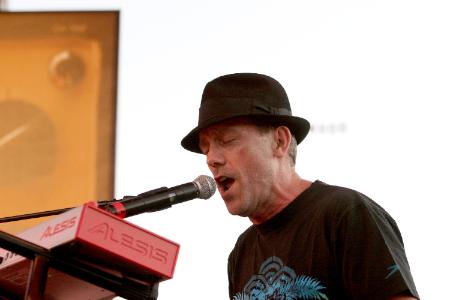 Hugh Laurie, star of the FOX show House M.D. gave a surprise performance on August 9th at a Netflix Live event in Los Gatos, California with the Band from TV. According to the press release, the band is comprised of a bunch of actors who also play music on the side, including, "guitarist James Denton ("Desperate Housewives"), drummer Greg Grunberg ("Heroes"), rock violinist Jesse Spencer ("House M.D.") and vocalist Bob Guiney ("The Bachelor" and TLC's "Date My House")." Teri Hatcher also sings with the band on occasion. Sounded like a pretty cool gig until that part.
Hugh Laurie's been into music for a long time, a fan site includes an interview excerpt in which he called himself a "frustrated musician"
Hugh describes himself as a "frustrated musician," and told an interviewer that it's the one place where he can really lose himself: "I can sit at my piano for what seems like five minutes, but when I look at the clock it's three in the morning." (Daily Mail, Dec. 7, 1996) He told Sue Lawley on Desert Island Discs (May 1996) that he "trifle(s) with piano, guitar, and a few other things;" he has also composed and recorded numerous original songs. These talents are on display in Jeeves and Wooster and A Bit of Fry & Laurie.

Hugh also played keyboards in a soul/R&B band with Lenny Henry and Ben Elton's wife Sophie. (Adrian Edmonson of Young Ones fame was an original member.) Adrian Sington in March 1996 Tatler described the band thus: "So imagine my astonishment when I saw him recently at the Limelight, looking much like Jesus and playing an electronic keyboard, Tim Rice style. Laurie was with Lenny Henry's funky band at the brilliant thrash given by Peter Bennet-Jones….With his aptly-named band Poor White Trash, Lenny had the whole place bouncing…"
[From Hugh Laurie FAQ]
He's obviously pretty darn good, considering his performance. A lot of people are skeptical when they hear about an actor who's into music, though the reverse isn't quite so true. But there are plenty of performers that are surprisingly talented at both, and Hugh Laurie seems to be one of those very lucky guys.
Thanks to YouTube for the videos. Header photo thanks to WENN.