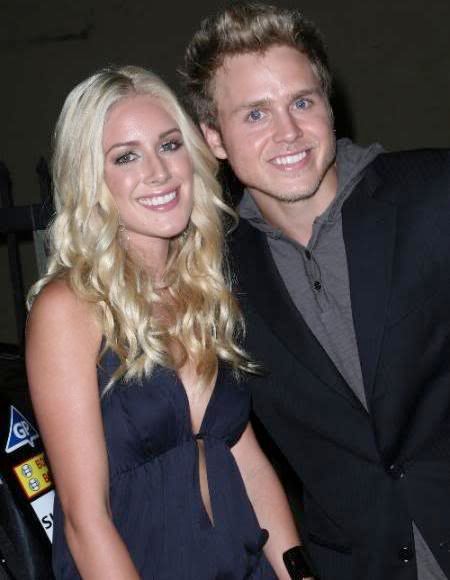 Who would have thought that Spencer Pratt would be a big fan of anything done by Heidi Montag? The delusional and narcissism-riddled Pratt claims that Montag's newest video is so good that he works out to it. I think he's probably using that more liberal definition of "working out" that guys often do. And if that's the definition, then a lot of guys are working out to Heidi, but not because she's got any talent – or anything other than an exceptionally large jaw.
Surprise! Spencer Pratt is a huge fan of Heidi Montag's new '80s-inspired music video, "Overdosin.'"

"What do you think I work out to every day? I know the whole thing by heart!" he told Usmagazine.com at the Pepsi 500 Running Wide Open Party in Hollywood on Wednesday.

"I wanted to do something fun with aerobics," Montag explained of the video, in which she plays an aerobics instructor and dances around in lycra, legwarmers and a sweatband.

No wonder Pratt's a fan: the song "is about when you fall in love with someone," Montag told Ryan Seacrest. "[It's] about how I feel about Spencer and my relationship."
[From Us Weekly]
All that "exercising" really is taking up a good deal of Spencer and Heidi's time. Though the pair are huge McCain fans (you could argue that they're his only young celebrity endorsements) Spencer said that he and Heidi just won't have enough time to go to the convention. You can't really blame them, they've got a pretty packed schedule. What with all the working out and posing for cheesy photos with horses and babies and…. wait… this all sounds really familiar. I bet one of them runs for office within the next four years. The republicans keep claiming they need some youth. And it doesn't seem like they winning any points with Sarah Palin. Heidi Montag's probably the next best bet.
Here's Heidi and Spencer at thePepsi 500 Running Wide Open at Avalon in Los Angeles on Wednesday. Photographer: Faye Sadou. Images thanks to WENN.