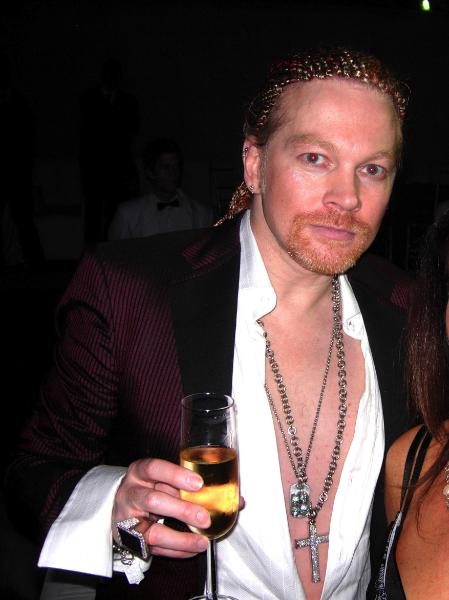 Lately I've found that it can be surprisingly – and disturbingly – difficult to explain to men why hitting on women half their age is considered creepy. For some reason I've heard all sorts of guys trying to play it off like it's the women who have the problem and they're just cold, rude, etcetera for daring to have any other feeling than absolutely gratitude. Here's a great example of why it's creepy: guys like Axl Rose hitting on relatively young girls like Kelly Osbourne.
AXL ROSE has spent 10 long years recording GUNS N' ROSES' 'new' album, but he cuts to the chase when it comes to women.

According to New York designer RICHIE RICH, the temperamental frontman took a shine to KELLY OSBOURNE at a recent Hollywood bash and made his sexual attraction to her lewdly clear.

Rich said: "Axl was really weird with her.

"He kept leering at her and saying, 'I want to f*** you'."

Unsurprisingly, Kelly didn't take him up on the eloquent offer.

Just as well, because nothing would disrupt the fractious Osbourne family more than having Axl Rose for a son-in-law.
[From The Sun]
Several U.S. magazines picked up this story but have since taken it down, which makes me wonder about it a bit. So take it with a grain of salt. That said, if there's anyone I'd imagine saying something so lewd, it'd be Axl Rose. That guy seriously looked a hell of a lot better BEFORE he had all that plastic surgery. Now he just looks like a surprised St. Bernard. One hell of a confusing look, if you ask me. I seriously can't imagine what woman would be able to sleep with that face.
Update by Celebitchy: The news from Kelly's camp is that Rich made up this story about Axl and Kelly for some reason, likely to do with a personal vendetta and publicity:
New York fashion designer Richie Rich claimed that he was with Osbourne when Rose began behaving oddly.

He told OK!: "He was really weird with her. He kept leering at her and saying, 'I want to f*** you!'."

Representatives for Sharon Osbourne and Rose denied the rumours, branding Rich "a self-promoting liar".

"Kelly and Axl may have met briefly at a party more than four years ago, but Mr. Rich's fantasy of what happened, in reality… never did," the statement said.

"Both Kelly and Axl resent this falsehood and respect each other immensely."
[From DigitalSpy.co.uk]
Here's Axl Rose at a Versace party in February 2007. Images thanks to Fame.