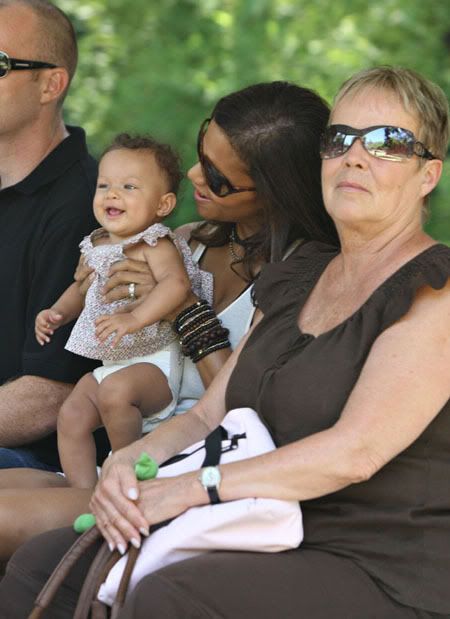 Halle Berry's adorable five month old daughter, Nahla Ariela Aubry, was photographed for the first time in public yesterday. Halle was seen out at the LA Zoo with her mom, Judith, and a security guard. Little Nahla is the daughter of the Oscar-winning actress and her boyfriend, Canadian model Gabriel Aubry, 31.
In June, Halle said that being a mother was "the most beautiful time of my life," and that Nahla has left her "so happy and fulfilled."
Halle made a deliberate decision not to pose for a high-paid photo spread with her infant. Last month Halle threatened action over faraway photos of her with Nahla in her backyard that were taken with a telephoto lens. She issued a statement, which read in part "[Gabriel] and I have always remained that we would never sell baby photos or otherwise exploit her in any way…. I will do everything I can for the sake of her safety and well-being to keep her out of the public eye."
Berry eventually gave in and went out with baby Nahla. She invited the paparazzi and clearly didn't broker a deal for exclusive photos, because several agencies have these.
Nahla is so cute and you can see that she's Gabriel's daughter. She's going to be beautiful when she grows up.
Credit: ODuran/ Fame Pictures. Photo of Gabriel Aubry credit: WENN