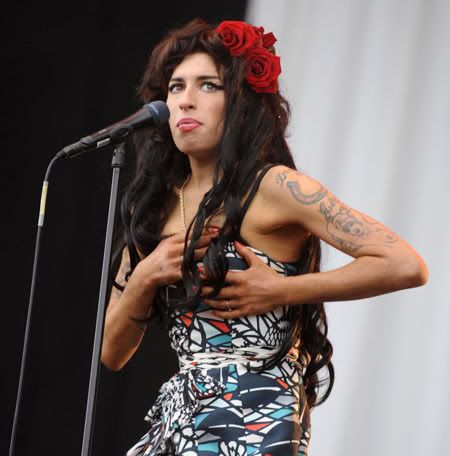 Amy Winehouse begged off a concert she was supposed to headline in Paris on Friday, the Rock En Seine festival, just hours before she was supposed to go on. Her spokesperson said she got sick before she was due to fly from London to Paris, although no ambulance was called to her house and she didn't visit a hospital. He rather lamely called it a "normal illness" and said she was sick in bed, but did not elaborate:
The singer, 24, was due to take to the stage at the Rock en Seine show in Paris on Friday night, but the singer's U.K. rep, Chris Goodman, confirmed she was too unwell and had to cancel. "She was taken ill at her house and wasn't able to travel to France for the concert," Goodman said in statement.

Admitted to the hospital last month after suffering an allergic reaction to her anti-drug medication, Winehouse's no-show prompted a fresh wave of concern for the troubled singer.

But her rep Goodman insists the illness is "normal" and nothing to do with medication or her battle with drugs. "It's nothing serious," Goodman tells PEOPLE. "It's just a normal illness – she hasn't visited a hospital or anything like that. She's at home in bed, just unable to sing."
[From People]
Concert organizers are livid that Winehouse skipped out at the last minute and say they're going to sue her for it:
A statement posted on the festival website said organisers had decided to start legal proceedings against her because of the circumstances of her cancellation.

The statement said: "We were told by (Winehouse's) agent at 8pm that she would not be there, and we were forced to cancel the performance. We have still not been given any explanation of the exact reasons for her absence."

Organisers said the singer's musicians had arrived on Thursday and rehearsed the show on Friday morning.

Winehouse had been due to arrive at the venue – the Saint Cloud park just outside Paris – to top a bill that included the Raconteurs, The Streets and Kate Nash.

The statement continued: "We are very sorry about this situation and share the disappointment of the festival-goers."
[From The Daily Star]
The statement on the festival's blog about Winehouse's cancellation is in French. An online translator makes it clear that they're suing her: "Because of the conditions of this cancellation, the festival took the decision to start a judicial procedure." You don't need to know much French to get the fact that commenters are outraged and are calling it a scandal and asking for refunds.
In November of 2007, Amy Winehouse canceled all her tour dates for the rest of the year, saying she couldn't perform without her incarcerated husband Blake, who remains in jail to this day. She's performed some gigs since, to mixed reviews, with some predicting that she's poised on the brink of a comeback, but most questioning her fitness to play live.
Winehouse is obvious addicted to various substances which prevent her from fulfilling her professional duties. It's a shame because she's a superstar and could have the world in her palm if she would clean up. As it is, there are plenty of other talented, reliable female singers poised to take her place. Winehouse has burnt up most of her chances, and won't get many more until she's demonstrably sober for an extended period of time. I just hope for her sake that happens soon because the future looks even bleaker for her than her current, sad state.
Here's Amy Winehouse performing at the V2008 festival in Chelmsford, England on 8/17/08. Credit: WENN