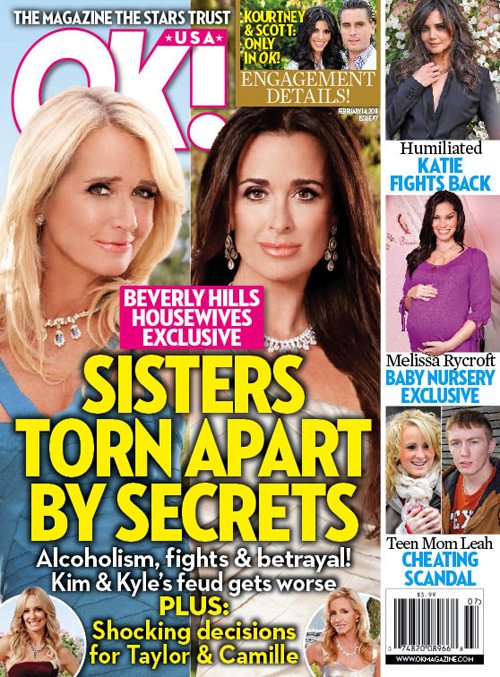 During part two of the Real Housewives of Beverly Hills reunion, the show's latest villain, Kim Richards, kept insisting their were "private things" of a family matter that led up to the fight in the limo on the show's last episode that "made me snap." Kyle of course went after Kim physically as if she was going to hit her, called her an alcoholic, and told her that she and her husband were done supporting her.
This week's OK Magazine has a cover story featuring the sisters, which contains quotes from "a source close to Kyle" (read: Kyle) about what those "private things" might be. It's all about money, and while there may be more backstory there I'll repeat what I've said all along: nothing excuses the way that Kyle treats her sister. To the few people telling me I don't understand because I don't have a sister who is an addict, that could be true. I have a brother, not a sister, and our relationship is one of mutual support. Plenty of women with sisters have commented that Kyle's bullying of Kim is inexcusable, and that there seems to be an aggressor victim dynamic between them, particularly in the way that Kim defends Kyle while Kyle blames Kim and makes excuses. (Thanks to Jayna for this link to analysis on Realitytea, which included that insight.)
Here's the relevant part of OK's story:
"There is so much more to it than that," Kyle later blogged. "I didn't want to come out and say what it was that was really bothering me because this is a private family matter."

A source confirms, "Kyle was referring to what she believes are Kim's problems with alcohol." In fact, footage has since been released of Kim slurring her words and popping pills at an airport in July.

The pal says that Kim's family has tried to help. "The word is they staged many interventions. But Kim won't even admit she has a problem…"

How the rivalry began
"There's deep-rooted jealousy between the sisters," a source says. "As kids, Kim was the more successful sister. Her acting career was bigger, and Kyle's always been resentful of that."

The competitiveness, says a source, continued as the women grew up – who would get married first, who would have the richer husband, who was considered the best looking.

Yet a source close to Kyle says it's Kim who is now jealous. "She thinks Kyle has a perfect family, kids, life – everything is 'perfect.'"

Another divide concerns the family home, which Kim accused Kyle of stealing during the show's finale. After the sisters' parents died, Kim was due to inherit their L.A. home, says the insider – but Kyle got it: "Kim has never forgiven Kyle for that." But a source close to Kyle says in reality, Kyle bought her sister's share of the house – then even let Kim buy it back at a lower price. "Kyle didn't even cash Kim's check, because she knew she couldn't really afford it," the source tells OK!

In addition, Kyle and her husband, luxury realtor Mauricio Umansky, give Kim money, "a kind of allowance," says the insider. "They worry about her and don't want her to feel she's alone."
[From OK! Magazine, print edition, February 14, 2011]
Let's assume for the sake of argument that this version is correct, and that Kyle is upset at Kim because: 1. Kim has a long history of alcoholism and 2. Kyle has been supporting Kim financially. How are those "private things" when Kyle hurled both issues at Kim in the limo? To be fair, Kyle was responding to Kim's claim that "you stole my house," but it seems to me like she has no qualms about bringing up her sister's alcoholism and that she asked her buddies Taylor and Lisa to make a point of it at the reunion. Kyle is using the "private things" argument to deflect blame and suggest that there is much more to the story that would explain her abhorrent behavior toward her sister. We saw Kim this season and while she clearly enjoys to drink it was Kyle and her fish-lipped friend who went after Kim. Kim didn't say or do anything to Kyle that would explain the way she went after her.
Here's Kyle in Aspen in late December with Faye Resnick. She loves getting papped. Credit: Fame Pictures