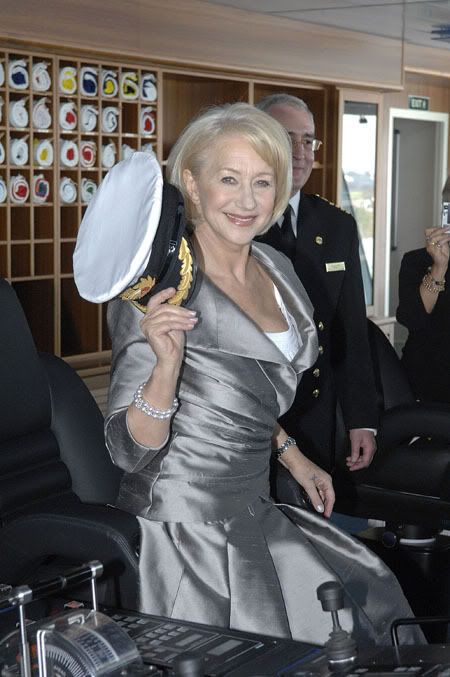 Oscar winning actress Helen Mirren, 63, sparked a lot of debate with her comments on date rape, which were part of a longer interview with GQ Magazine. She said that she had been date raped twice as a young girl and that she doesn't think women can take men to court for date rape in situations where it gets as far as them being in the same room naked together. At least that's what other outlets claim she said. So far everyone has been going on excerpts from the interview because it's only in the print edition of the magazine and there are just specific quotes online.
Mirren claims her quotes are accurate but that they need to be taken in context. Maybe she should have one of her people type that shit up and post it somewhere, because not a lot of people outside the UK are going to be motivated or able to find the British edition of GQ. As it is, I think Mirren's comments may have dented her sterling reputation a little:
"Helen Mirren does not dispute the accuracy of statements attributed to her in an upcoming GQ article," read a statement released Tuesday by Mirren's publicist, Stan Rosenfield.
"She merely asks that people read the article in its entirety before drawing conclusions. If they do that, she says, their conclusions will likely be far less sweeping and sensational than those drawn by some in the popular press. She does not wish to qualify any of her remarks. She just wants to avoid having them presented in inflammatory language."

The queen of salty award-show chatter needn't fear—her lingo is entertaining enough on its own.
[From E! Online]
I showed the Daily Mail's account of Mirren's comments to a friend of mine and her mouth went open and she thought her statements were outrageous. She theorized that Mirren is still trying to deal with what she went through and that she's still suffering the emotional pain and guilt after being raped twice. I would be inclined to believe that Mirren wasn't being as broad sweeping about date rape as it sounded, but she did say "it [date rape] is one of the many subtle parts of the men/women relationship that has to be negotiated and worked out between them," and that she didn't think Mike Tyson was a rapist! It was like she was claiming that women should just deal with it. It was the Mike Tyson part that really got me, because the guy is known as a violent multiple ear-biting convict. Just because a woman went up to his hotel room doesn't mean she owed it to him.
If I can find British GQ I'll read what she said though, and if my mind is changed I'll tell you why. I'm not holding my breath though.
Helen Mirren is shown christening a cruise ship on 4/16/08. I am aware that this is an unfortunate photo choice given the subject. Credit: James Newell / WENN