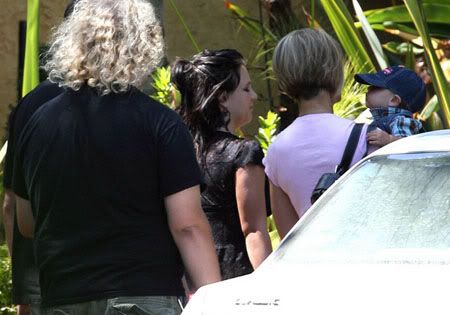 Britney shows that maternity wear is hard to shop for by wearing the same red striped shorts out again in a visit to the studio with Sean Preston and cute manny Perry in tow yesterday. You think she could mail order if she doesn't want to go through the trouble of trying stuff on.
She said recently that her second child wasn't planned, but considering how K-Fed gets paid extra in the prenup for every kid he fathers you know that at least one of them was planning on getting her pregnant again:
Britney Spears, expecting baby No. 2, says she and husband Kevin Federline didn't plan the pregnancy. "It just kind of happened," the 24-year-old singer reveals in an interview in the latest issue of People magazine, on newsstands Friday.
ADVERTISEMENT
She adds, laughing: "I'm going to wait a while for the next (one)!"
At eight months pregnant, Spears is mom to 11-month old son Sean Preston, the couple's first child. "I feel like I've been pregnant for 10 years!" she says.
Having back-to-back babies can be stressful, she says, but she adhere's to her mom's advice to take it "one day at a time."
"It is now starting to get a little tiring, holding (Sean Preston), but the whole pregnancy I've done it a lot because he's very attached," she tells the magazine. "It makes me feel needed and wanted, so I like it too."
Spears says she and Federline, 28, don't know the gender of their baby-to-be. The little one and its big brother "are going to be so close together, it's going to be weird. But I love it," she says.
She also said in the interview that she has a lot of pregnancy cravings and that she'll melt an entire big Hershey's bar in the microwave and eat it in the middle of the night. When I was pregnant I still tried to eat right. I mean ice cream once in a while is ok, but if you're using the microwave in order to inject more calories that's really dangerous. Jared Leto gained all that weight to play Lennon's killer by melting down Haagen Das ice cream and drinking it. Yuck.
K-Fed said that once the baby is born Britney is someone going to change her terrible habits and get skinny so that he can release his album featuring her famous vocals. He also said that Britney played "games" with him when they first started going out to see if he was just in it for the money.
"She was playing games, testing me to see where my head is at, see if she could get away with this or that," Contactmusic quoted him, as saying.
As for the couple's future plans, well K-Fed is sure that once their second child is born, and Spears regains her slim figure, the two were going to set the music industry on fire with the duet they have recorded.
"After she has the baby and gets skinny, we're gonna hit 'em with this s**t!" he added.
That's smart of K-Fed to take advantage of Britney for her talent as well as her money. He might not be talented at music, but he sure has healthy sperm.
Pictures from Breatheheavy.com and probably taken by x17, as they like to remind me. (And I do appreciate being able to use their pictures without fear of litigation.)