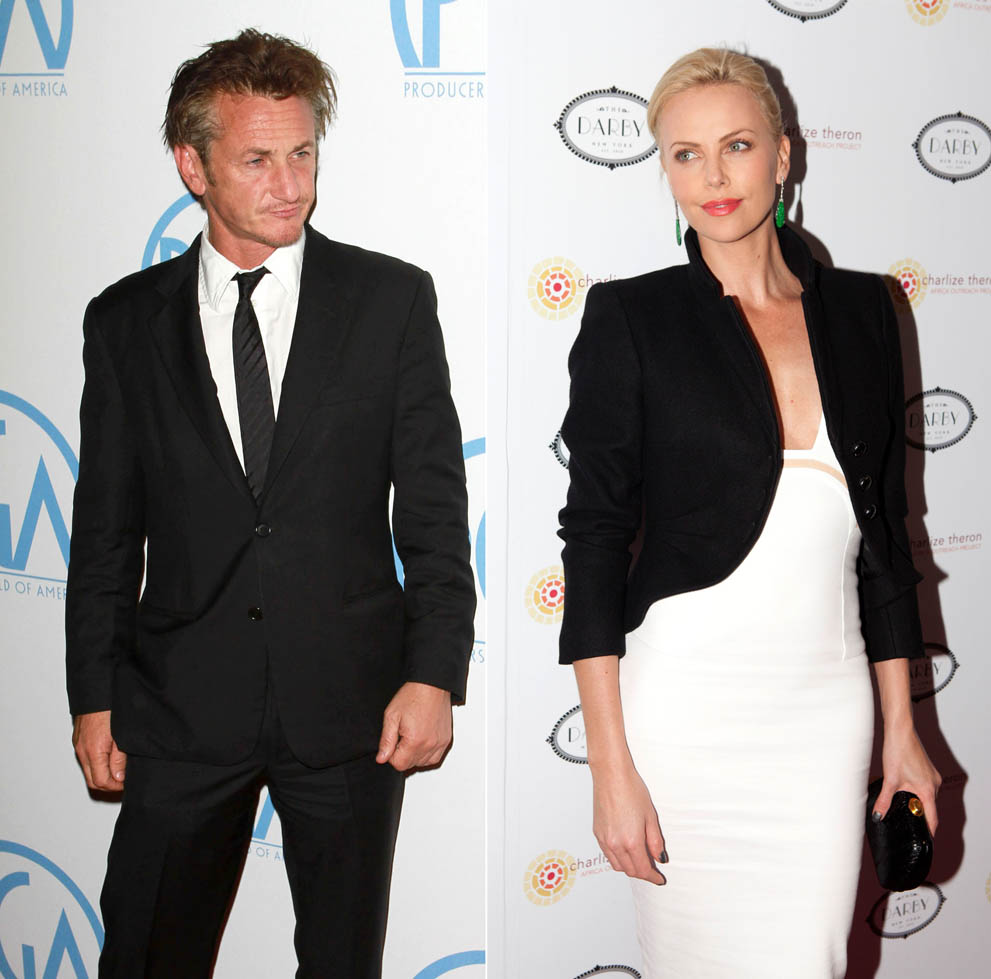 We just heard that Sean Penn was working his rough martyr act on a newly separated Scarlett Johansson, which her rep denies, saying they've been "friends for years." Whether that involves benefits is something most of us would rather not imagine. A report in Mike Walker's column in the National Enquirer has Penn getting busy with "friend" Charlize Theron, who seems much more his speed to me. (read: arrogant) It all went down supposedly at the same place Sean is rumored to have bedded Scarlett, the Chateau Marmont.
Spotted in the Chateau Marmont garden totally drunk – on each other, that is: Oscar winners Sean Penn and Charlize Theron, who've reportedly been dating very secretly – until now, that is! My Chateau spy, who made the gossip bust [saw] the starry-eyed pair… as they nuzzled, snuggled, kissed and cooed under a Hollywood moon while late-night partying with pals. A snitch in the group tattled: "Sean and Charlize have been good friends for years. But now that neither is in a relationship, their friendship has blossomed into full-blown romance. They aren't ready to go totally public yet, but are spending lots of private time together!"
[From The National Enquirer, print edition, Mike Walker's column, February 21, 2011]
What is the appeal of this guy? He's a douche of the highest order. Shouldn't he be back in Haiti complaining about how he's the only one who can make a difference because no one else gets as pissed off as he does? Instead he just hangs out at a hotel bar, waiting to lure whichever starlet will get drunk enough that night to think he's a worthy prospect. Look at that face. That would take some heavy duty beer goggles.
Charlize is shown on 12/6/10. Sean is shown on 1/22/1. Credit: WENN.com