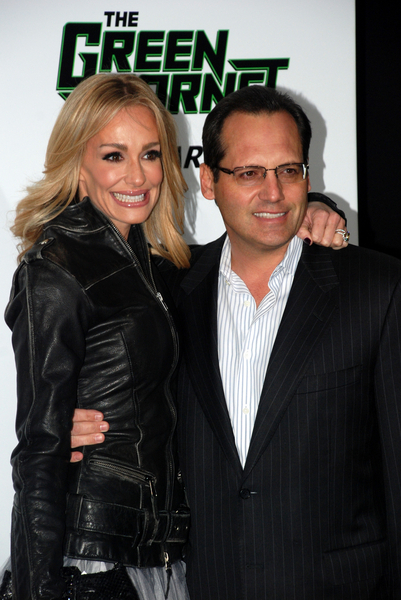 We're gradually learning that Taylor Armstrong is the Teresa Giudice of the Real Housewives of Beverly Hills. She's spending money she doesn't have, and we've heard that her husband filed for bankruptcy five years ago and that they live in a rented house. Well it goes deeper than that, and Taylor's husband Russell Armstrong has been convicted of felony tax evasion and has been sued multiple times for setting up bogus investment companies and bilking investors of millions. With all that in mind, Star has a story this week about how Taylor and her husband are having "cash flow" issues. Meaning Taylor keeps throwing expensive parties with all the money her husband worked so hard to scam out of other people.
Star has learned that [Taylor and Russell's] infamously rocky five-year union is now being wracked by serious financial problems as well. "He can't get the cash to flow lately," an insider says of Russell, who filed for bankruptcy in 2005. "It's a huge blow to his ego." Taylor, 39, who recently signed a $6.5 million branding deal, has taken on more and more of the family's expenses without complaint. "She just wants Russell to be happy with her," says the insider. "Instead, he's starting to resent her."
[From Star, print edition, February 21, 2011]
That article was worded so kindly that it sounds like it's straight from Taylor's camp. It's not like anyone is bothering to gossip about her unless she plants stories herself. She's preparing us for something major that's about to come. The other shoe is going to drop and we're going to learn more about Russell's shady business dealings and/or Taylor is preparing to divorce him. If she makes more money than he does, she's probably sees it as a natural next step. It's not like there will be any love lost between them.
Also – check out Taylor Armstrong's vanity website. It's ridiculous and so funny!
Thanks to Commenter Felicity for the tip! Header photo from 1/10/11. Other photos from November of 2010. Credit: PRPhotos