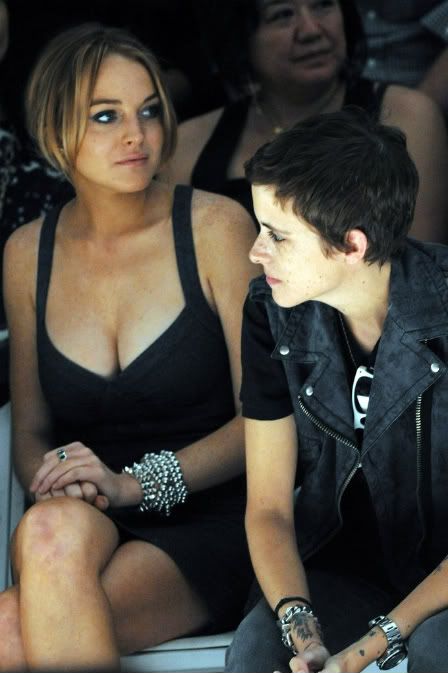 There are few possibilities I find more abhorrent than the idea of Lindsay Lohan reproducing. And while I find that thought utterly mind-numbing when I think about it in a future sense (say 15+ years), when I consider the possibility in the more immediate future, it makes me want to run outside and commit all sorts of random acts of violence. So just to save lives, Lindsay, I beg of you. Don't do this. I pray in all ways to all things that this is a joke.
Supposedly Samantha Ronson and Lindsay are considering having a baby together. And they want to go about it the old fashioned way – with a sperm donor. Classic. Now while every inch of my body says (i.e. prays) this story is utter speculation, you never can rule something out based on sheer lack of logic if a Lohan's involved.
Lindsay Lohan and Samantha Ronson reportedly want to follow the Hollywood baby trend by having a child of their own. Sources say Lohan and Ronson have been talking about starting a family together but want to conceive naturally using a sperm donor.

Lohan, 22, has allegedly approached one of her ex-boyfriends to be the sperm donor. "Lindsay is in a very happy place at the moment. She's been having deep discussions about a baby. She's wants a natural birth and has spoken to Sam about getting one of her ex-boyfriends to help out. They don't want to adopt," claims an insider.

Meanwhile, the pair is rumored to be planning to tie the knot this fall. Sources claimed that Lohan's mother Dina was already planning a party to welcome Ronson, 31, to the family.
[From Trans World News]
Let's assume this story is utter fabrication (again, by "assume" I mean get down on your knees and pray). You know Michael Lohan's still going to have some sort of comment about the rightful/wrongfulness of it within 48 hours. And then he'll take it back and settle on some vaguely generic "Jesus loves everyone" comment. Some version of something Rudolph would say at the end of a Christmas movie. And hopefully that's where this all ends.
But Lohan's clearly got the capacity for crazy. We've seen it before. It would take a lot more effort for her in this case. It's not like the traditional slip of a diaphragm and whoops you've got a baby situation. It's more like, "Whoops, I slipped with the turkey baster and look what I did artificially/naturally!" And while it seems unlikely, Lohan is pretty dumb. Definitely dumb enough to think that's a plausible explanation for how she got pregnant. I'm already so lost and confused of the mechanics and complications of this whole thing…
Just pray for a miracle, pray for a miracle…
Here's Lindsay and Samantha at Mercedes-Benz Spring Fashion in New York on Saturday. Images thanks to WENN.