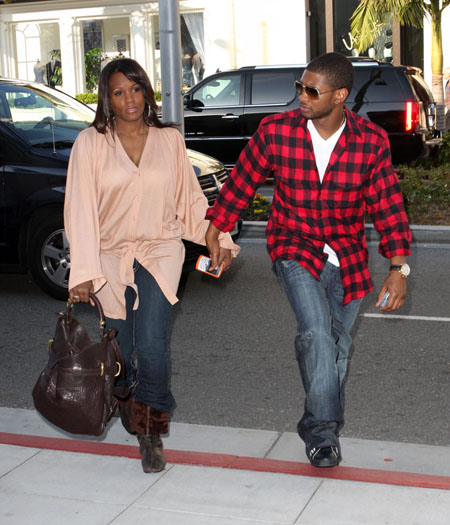 My how time flies. Usher and wife Tameka are already expecting their second child together. The couple's first child Usher Raymond V was born last November. Now less than a year later, Tameka is pregnant again – though no word on how far along she is.
Usher is going to be a father for the second time, PEOPLE has learned. The R&B star and his wife Tameka Foster are expecting their second child together, a source close to the singer confirms.

The couple welcomed their first child, Usher Raymond V, in November 2007. Since then, Usher, 29, has spoken publicly about how much he loves being a dad. "I'm so proud to be a father by the time I'm 30," he told PEOPLE last month. "I'd hate to be 80 years old and not be able to run with my kids. I need to still be able to do flips when they're in high school!

Usher also told Essence in a July interview that his son, nicknamed Cinco, is an "extension of his union" with Foster, whom he married in August 2007. Recently, Foster was spotted wearing a belly-disguising outfit during Usher's Sept. 4 NFL kick-off concert in New York. The dress was "very deceiving," the source says. "You couldn't tell she was pregnant when she was sitting down."

The singer has also been busy with his charity, the New Look foundation, and a summer camp he ran for teenagers. In August, Usher told PEOPLE that being a father inspired him to give back. "Having a child just completed the story," he said. "I already had a giving heart, and I wanted to do something to mentor children."
[From People]
Cinco is just about the cutest nickname I can think of. That's beyond adorable. It's pretty clear just how much Usher loves his son, and I'm sure he'll make just as great a dad the second time around.
Last week we reported on the rumor that Tameka was pregnant and she and Usher had separated. This pregnancy confirmation makes you wonder what else is true…
Here's Tameka attending a 'uCast' podcast series launch party at Tiffany & Co in Atlanta on July 25th. Images thanks to WENN. Header of Usher and Tameka out shopping on March 20th; Image thanks to Splash.