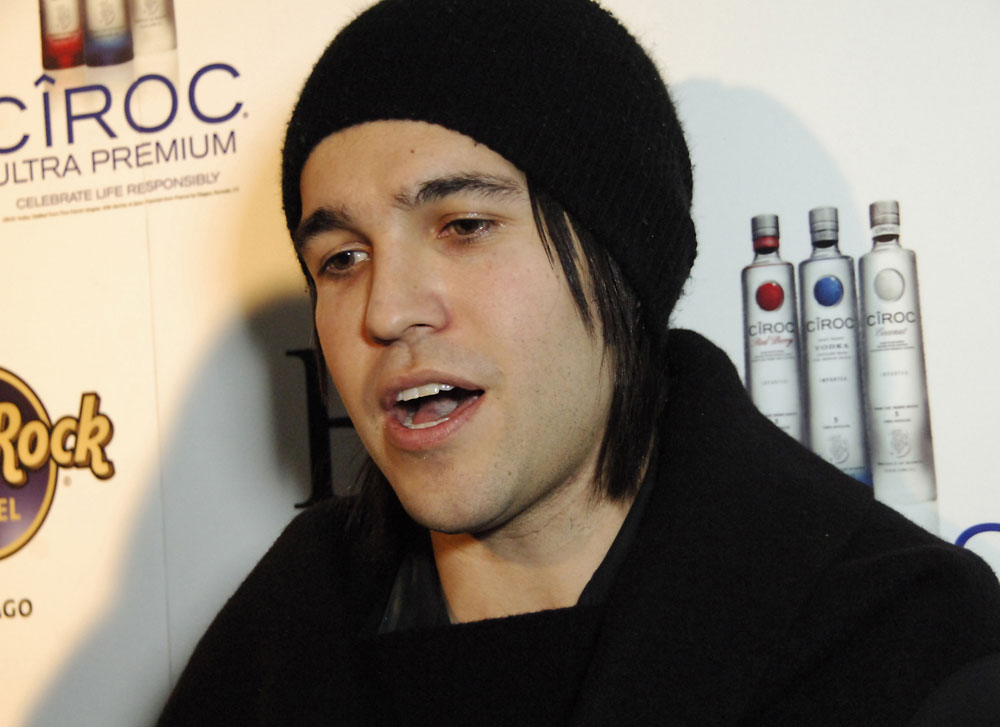 Just about every tabloid has some account of the reasons behind the seemingly sudden split of Emo poster couple Ashlee Simpson and Pete Wentz. There seem to be a lot of leaked stories from both sides, and as Kaiser reported previously US Weekly blamed Ashlee for the split, saying she's been partying and hanging out with other guys. OK! Magazine, which we also covered, basically claimed that Pete was never around since he was touring with his band and that stressed Ashlee out. Well In Touch, The National Enquirer and Star all have their own takes too and I'll start with The National Enquirer since their claims are the most explosive. I would guess this first report comes from team Ashlee.
Enquirer: Pete is hooked on pills and booze, has "wandering eye"
Fed up with the rocker's abuse of prescription drugs, his wandering eye and because she feared for the safety of the couple's 2 year-old son, the singer-actress filed for divorce on Feb. 9 after less than three years of marriage.

Although Ashlee had been pressuring Pete to go to rehab for a while – and had even threatened to leave him – insiders say the troubled musician didn't take her demands seriously until it was too late.

"Ashlee realized that Pete had become a functioning addict and that he wasn't making any effort to quit," revealed an insider.

He'd been taking the sleeping pill Ambien, the sedative Xanax and painkiller Oxycontin, said the source, and Ashlee had concerns about Pete's behavior around their son Bronx…

"When Pete drinks and takes pills, he goes wild. Ashlee doesn't trust him to be faithful."

In Touch: They haven't had sex since summer, Ashlee gave up, they both partied
"The passion between them had died," [Ashlee's] friend says. "They haven't been intimate since last summer, and were sleeping in separate beds."

Star: It was complicated, they were both attracted to other people
[A] source tells Star that whispers about the nature of Pete's relationship with Bebe Rexha, the sexy new singer for Black Cards, "definitely helped push Ashlee over the edge. And with Pete and Bebe about to go on tour together, I think it was eating away Ashlee to the point of no return."

Ashlee… found [a shoulder to lean on] in her ex-boyfriend Ray Brady, former guitarist for her band. On Jan. 26… Ashlee posted a new photo to her Twitter account showing her and Ray having a cozy dinner together.

Star: Ashlee broke up with Pete over the phone and he missed Superbowl
Despite the mounting problems in their marriage, friends say that Pete was genuinely blindsided by Ashlee's decision. And that seem clear on Saturday, Feb. 5, when Pete received a sudden phone call from Ashlee while he wsa partying in Dallas the day before the Superbowl…

"He was supposed to stay in town to see the game on Sunday, then return to L.A. the day after. But he suddenly got a phone call about a 'family emergency' and ended up rushing out of Dallas that night. He never got to see the game."

That phone call was Ashlee killing two birds with one stone, a source tells Star. "She broke the news that she was going to divorce him and ruined his big Superbowl weekend at the same time!"
[Print editions, sources quoted in text]
Both The Enquirer and Star have that story about how Ashlee called Pete during his trip to Dallas before the Super Bowl to break the news that she was divorcing him. And by most all accounts Pete was shocked and begged her not to do it. The Enquirer story makes the most sense to me. If Pete was taking all those prescription drugs that would explain why he wasn't interested in sex at all. Being hooked on pills like that can really change a person and make them irresponsible and unreliable. Meanwhile Ashlee was drinking and partying toward the end because she knew it was over and was blowing off steam. They were too young to get married, and Pete needs to get off the pills. Hopefully little Bronx will be ok throughout this mess.
Pete is shown in the header on 12/31/10. He's shown with Bronx below on 11/27/10 and with Bronx and Ashlee in October and November of last year. Credit: Fame