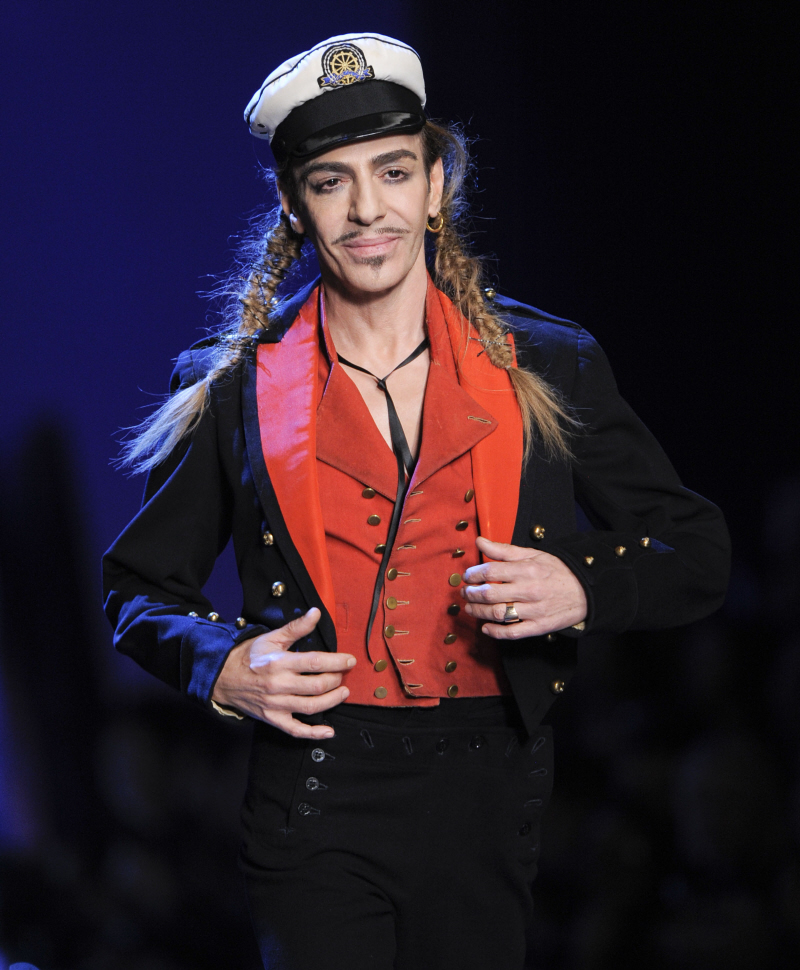 Last Thursday night, John Galliano was arrested and held briefly for assault and anti-Semitic hate speech in Paris. Eyewitnesses and victims claimed that Galliano had said various crap about Asians, Jews and handbags, but Galliano's rep pulled a Lohan and crack-denied all of that junk. Well… it turns out that Galliano really is a total dirt bag racist/anti-Semite. Shocking, I know. I shall call this "The Full Gibson":
Drunk off his ass. For real. He's slurring and making little drunk bitchfaces. Not that being drunk excuses saying "I love Hitler." I mean, Mel Gibson didn't even say that!
John Galliano's troubles may have multiplied over the weekend as a second complaint of alleged anti-Semitism was formally lodged against Dior's chief designer – and a bombshell video surfaced showing the designer declaring: "I love Hitler."

On Friday, Galliano was suspended by Dior following his overnight arrest on charges of assault and making anti-Semitic and racial remarks to a couple during a reputed sparring match in the Paris café La Perle.

The undated video obtained and posted online by Britain's Sun is said to have been filmed in the same café but not on the same evening as Galliano's arrest.

In the cell-phone video, the designer, appearing to be seated at a bar, is seen insulting people. Slurring his words, he tells them, "People like you would be dead. Your mothers, your forefathers, would all be f—ing gassed."

During the Thursday night incident that led to arrest of Galliano, 50, and prompted a police probe, the designer allegedly assaulted a woman, pulled her hair and told her she had "a dirty Jew face." He also reportedly hurled racial slurs at her companion, who is of partial Asian ethnicity.

Over the weekend, a second police complaint was lodged against Galliano, when a 48-year old woman came forward, asserting he had subjected her to a similar tirade at the same locale on Oct. 9. Several eyewitnesses from this earlier episode have confirmed to PEOPLE the authenticity of her charge.

On Monday afternoon, police in Paris's third arrondisement (municipal district), where the incidents allegedly occurred, convened a hearing to draw together all the parties and their attorneys.

Though none of those allegedly on the receiving end of Galliano's outbursts are, in fact, Jewish, under French law the making of anti-Semitic remarks qualifies as "incitement to racial prejudice," a criminal offense that potentially carries a sentence of up to six months in prison.
[From People]
Okay, so this looks bad. This is the kind of "holy crap" moment where you're going through your mind's fashion files to think about which celebrity women always wear Galliano for Dior, and whether or not they too are horrible drunk anti-Semites. That's where it's going next – people are going to look at some of the major celebrities who have worked with Galliano over the years, and those celebrities are going to be asked, "Did you know Galliano was so horrible?" Imagine asking Nicole Kidman that. Or Charlize. Or Marion Cotillard.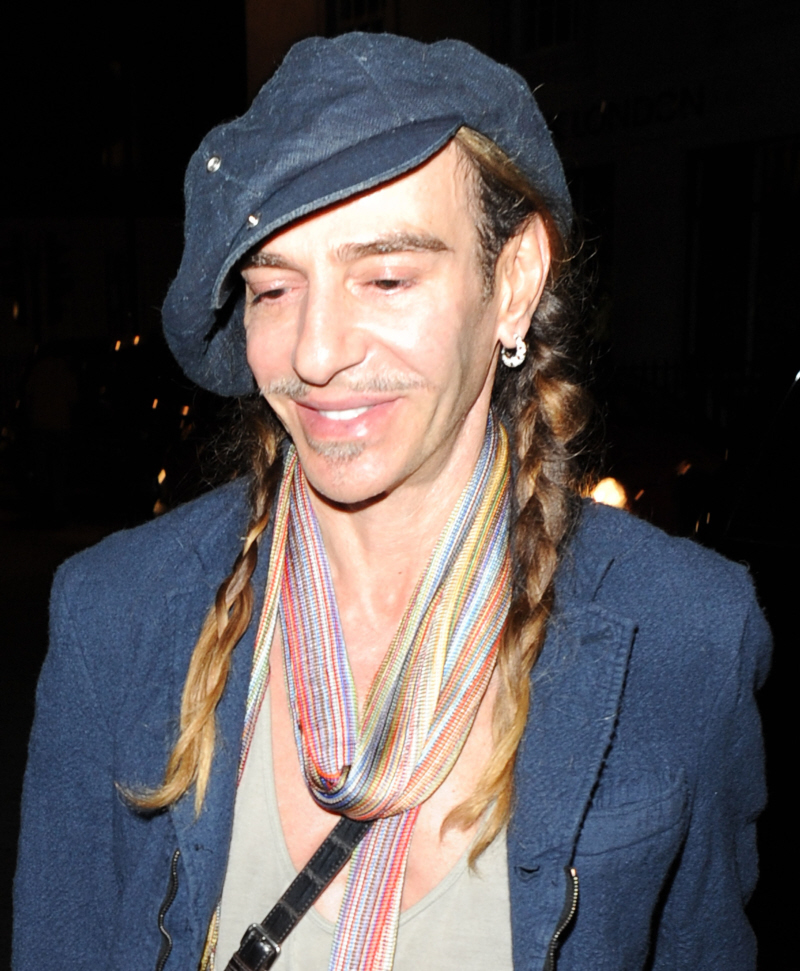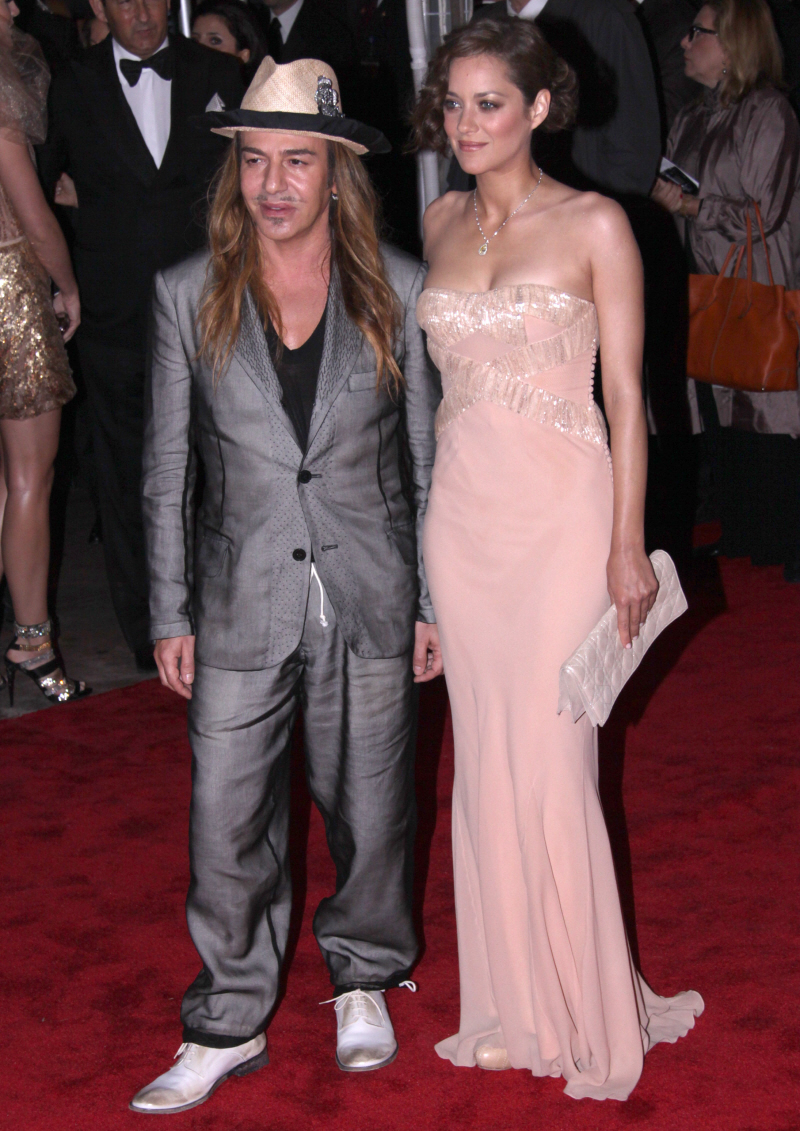 Photos courtesy of WENN.