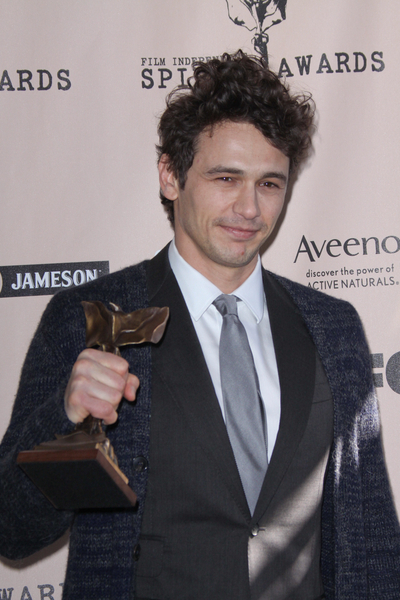 James Franco was a big Oscar fail, but I think that instead of sucking it up and putting on his game face like little miss try-hard he got really baked and just coasted through. (Did anyone catch the pre-Oscar interview with Franco backstage on ABC? He was playing with words for no reason and said "G – uess, Ge-hesss.")
Franco knew that the material sucked, he probably tried to talk to producers about it, or maybe they sprung that sh*t on him at the last minute and he was too busy to do anything but show up and deliver the very bad lines they gave him. I still like Franco. I know that he's all "I went to film school" at every moment, but he did, and education is important to him. I find him kind of quirky and refreshing. It's not Franco and Hathaway's fault that the Oscars blew, and if Franco faked a sunny disposition (as he's more than capable of doing, even as stoned as he was) it would have been just as boring and hard to sit through.
US Weekly is reporting that Franco was scheduled to attend an after party in his honor, but he didn't show up and just went straight back to New York, tweeting "Goodbye LA" and "It was fun! Time to head back to class."
After the star severely disappointed many fans and critics as co-host of Sunday's Academy Awards, Franco bailed on his own after-party, held at L.A.'s Supper Club.

While a few stars — Seth Rogen, Kevin Spacey and stars of the CW's 90210 showed up — Franco, 32, was a no-show, a source confirms to UsMagazine.com.

The Supper Club bash, the insider adds, was a "bust."

Indeed, Franco immediately boarded an NYC-bound plane following the ceremony — posting pics from his brand-new Twitter account.

"Goodbye L.A.," he scrawled across one pic, in which the 127 Hours actor, still in a tux, sips what appears to be a Bloody Mary. "It was fun! Time to head back to class."

(The multitasking hunk is famously a student at both NYU and Yale.)

Sniped The Hollywood Reporter of Franco's stint co-hosting alongside Anne Hathaway: "The 83rd Annual Academy Awards will likely be remembered as the night James Franco couldn't act like a host…Anne Hathaway at least tried to sing and dance and preen along to the goings on, but Franco seemed distant, uninterested and content to keep his Cheshire-cat-meets-smug smile on display throughout."

Complaining that Franco and Hathaway suffered from an "absence of chemistry," the New York Times said: "Mr. Franco looked a little distracted and even blase — not surprisingly for a multiplatform performer-writer who is working on an English doctorate at Yale."
[From US Weekly]
People said that John Stewart bombed at the Oscars back when he did a highly competent job in 2006. If the show sucks, the tendency is to blame the host even when they're just working with the script they're given. Yes Franco was like "whatever" and like he didn't want to be there, but consider the terrible lines he had to deliver:
"It was a good year for lesbians… 'The Kids are All Right' – Lesbians, 'Black Swan' – Dancing Lesbians, 'Toy Story 3′ – Where's the dad?"
"I am six degrees of Kevin Bacon separated from our next presenters. Look it up on the Internet."
On the movie titles: "Winter's Bone, Rabbit Hole, How to Train Your Dragon, that's disgusting."
Do you think Franco wrote any of that crap? Of course he didn't. No one under 50 could write those stupid jokes. It's a shame that the Oscars tried to pick on 2009 host Hugh Jackman when that was just about the only recent year that they tried to mix it up and were even remotely entertaining. Jackman even earned high ratings for them and reportedly wasn't invited back.
Franco put up a lot of backstage videos and photos from the Oscars ceremony on his Twitter account if you're interested. The Oscar people probably put him up to it as part of his hosting duties, thinking it was "young" and "hip" to Tweet. They obviously have no clue.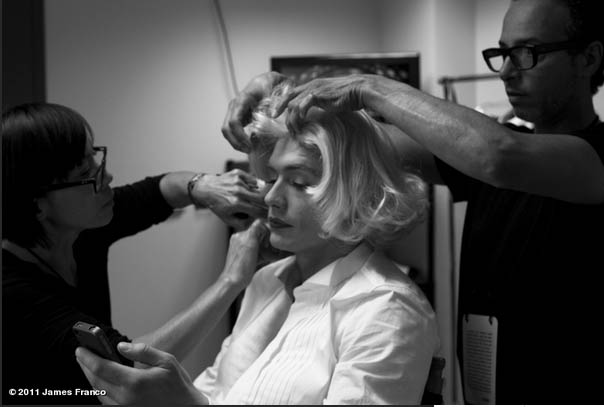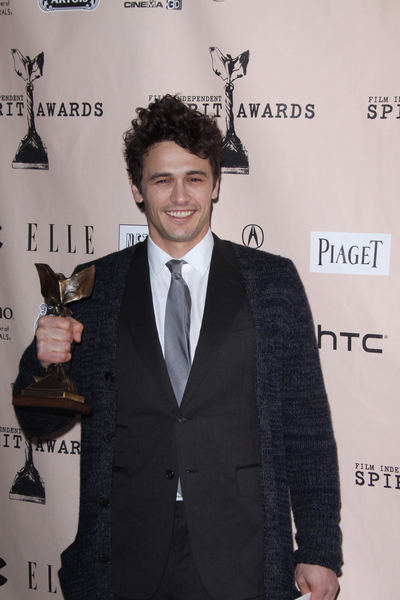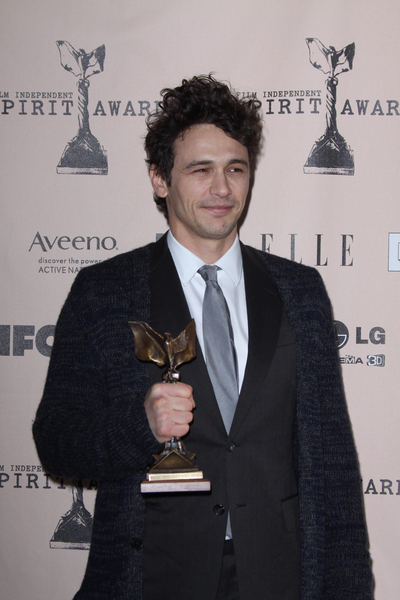 Image above via Franco's twitter. Other images from the Independent Spirit Awards on 2/26/11 thanks to PRPhotos