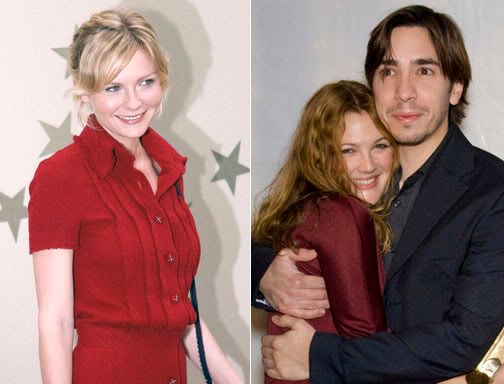 Kirsten Dunst is dating Justin Long, the guy Drew Barrymore paraded all over the Hollywood earlier this year, from January to around July when they confirmed their breakup. Unlike Barrymore, who told the press that she was so happy with Long that her "cheeks hurt," Dunst keeps her personal life much closer to her chest, and denied even knowing Long when asked about him in a recent interview. (It's possible the interview was conducted before Dunst hooked up with him, though.)
Dunst and Barrymore were both backstage at Saturday Night Live over the weekend to support different friends who were in the show. They're said to have had "an awkward run-in" that was deflected by James Franco, who tried to make a joke and shuffle them apart. They were both also at the after party for the show, and took care to stay well away from each other:
First, the two starlets were both backstage for the Saturday Night Live broadcast. Drew was on hand to hang with good pal Cameron Diaz, who was making a cameo on the show, while Kirsten was there to cheer on her Spider-Man co-star James Franco, who had been given hosting duties for the week.

"Drew and Kirsten had a really awkward run-in," one witness tells OK!. "James had to deflect the situation by making a joke and walking away with Kirsten while Drew then fumed about it to Cameron."

And then later in the evening, the tension was thick in the air at new NYC hotspot Wildwood Barbeque, where the cast, musical guests Kings of Leon, and an entourage of other Manhattan celebs like Gossip Girl stars Ed Westwick, Penn Badgley, Blake Lively and Chace Crawford, went to celebrate after the show.

"Both Drew and Kirsten were there," says one partygoer. "But Kirsten didn't want to be near her, so they stayed far away from each other the entire night." Keeping their distance was a complicated matter, as both actresses kept having to step outside for cigarette breaks.
[From OK! Magazine]
I have a newfound respect for James Franco after being thoroughly amused by his performance in Pineapple Express. You can picture him coming to the rescue like this, but this story is scant on the details. Did Barrymore and Dunst give each other the evil eye like baby Maggie and the unibrow evil baby on the Simpsons? Did they talk smack to each other at all? I want to know.
It was never really clear why Barrymore and Long broke up. Some tabloid reported that Justin broke up with Drew because she was drinking too much, but that sounded like pure speculation. There was also a story after their breakup that Long dropped out of an upcoming film with Drew, Whip It!, after she dumped him and broke his heart.