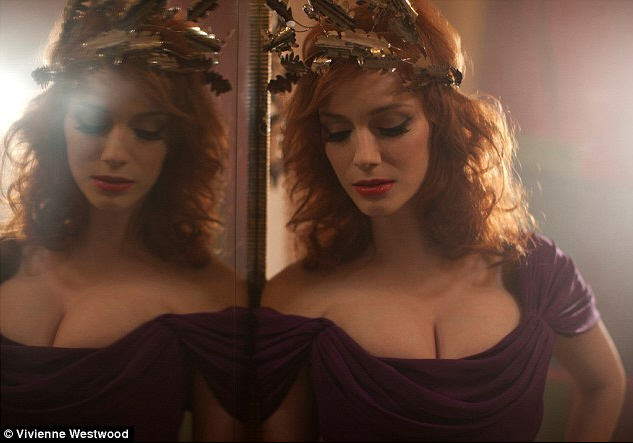 This is a pairing that I wholeheartedly adore – Christina Hendricks and Vivienne Westwood totally belong together, in everything. Christina was named as "the face" of Westwood's latest jewelry line, and these are the ads for the line. I love it, don't you? Christina doesn't look like a corpse, she looks sexy and ethereal. It's just a great pairing (and I'm not talking about Christina's "pair").
She previously criticised designers for ignoring curvier women like herself in favour of super skinny celebrities. So it made sense for Christina Hendricks to team up with one of the few fashion designers who celebrate curves – Dame Vivienne Westwood.

The Mad Men actress, 35, has been chosen as the new face of Westwood's latest venture, her 'Get A Life' Palladium Jewellery collection. In the stunning shoots from the new advertising campaign, Hendricks' famous curves are all on show in Westwood creations as she models headdresses and necklaces from the limited edition collection.

While female fashion followers are likely to be gazing at the jewellery, it's probably safe to assume the actress's male fans won't be looking at the necklaces.

The new jewellery is crafted from Palladium, a natural white metal from the platinum family which maintains its colour and shape over time. Westwood has been inspired by nature and symbols of paganism – hence the leaves and heart designs worn by Hendricks. In one shot, Hendricks smoulders as she wears the Palladium chain heart necklace, which represents hope.

Hendricks comments, 'Vivienne Westwood has always been one of my favourite designers, so it was a great honour for me to be asked to represent the "Get a Life" Palladium Jewellery Collection. I admire that Vivienne uses her designs to inspire change and the pieces are just so wonderful. I love that there are dramatic pieces such as the tiara and the heart necklace as well as more simple pieces such as the acorn earrings. As Palladium is a naturally white metal, the pieces really sparkle under the lights and I cannot wait to wear them on the red carpet.'

Dame Vivienne is equally appreciative, saying: 'Christina is the embodiment of beauty and we were delighted to have been able to involve her with this new jewellery collection. Her style is just so complimentary to my designs. She has proved to be the perfect model for the campaign.'
[From The Daily Mail]
Now we just have to get Christina to wear Vivienne Westwood clothes on the red carpet. I love the girl, I really do, but her style is busted. She needs to begin to work with one great designer (like Westwood) and have clothes made specifically for her body, instead of trying to shoe-horn her curves into whatever the skinny girls are wearing.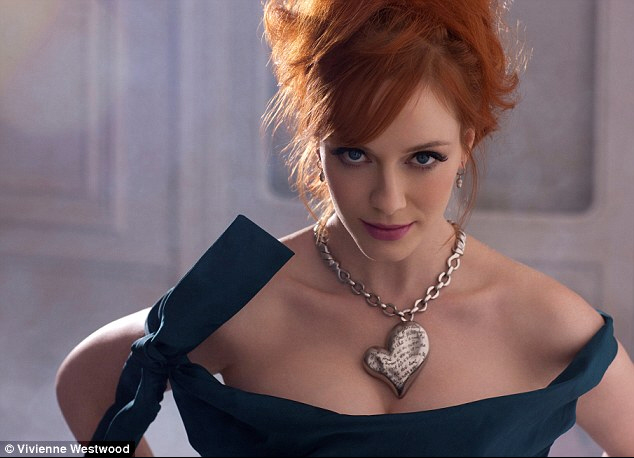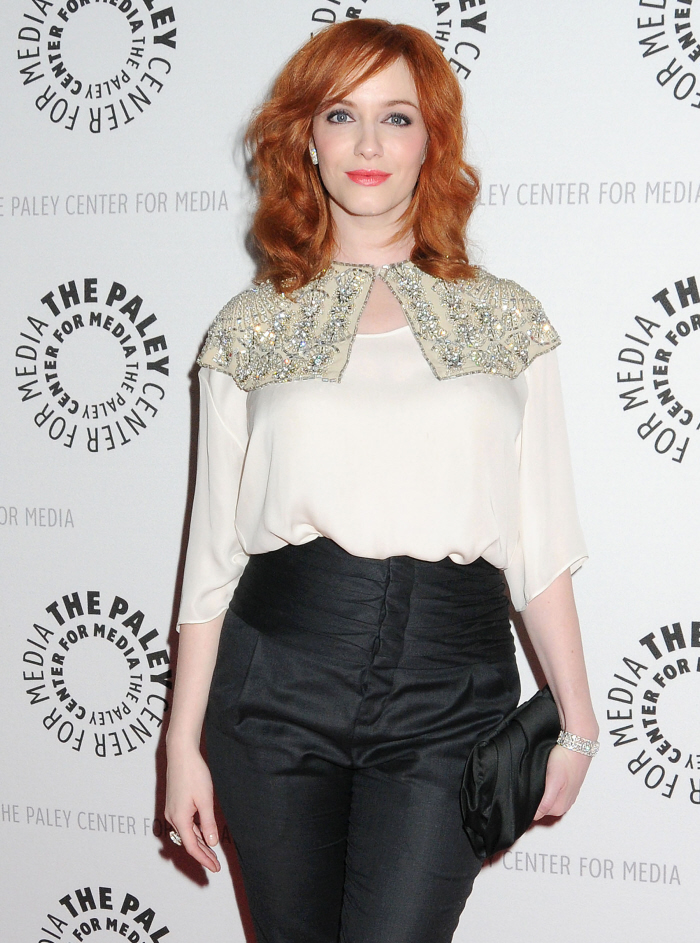 Ads courtesy of The Daily Mail.