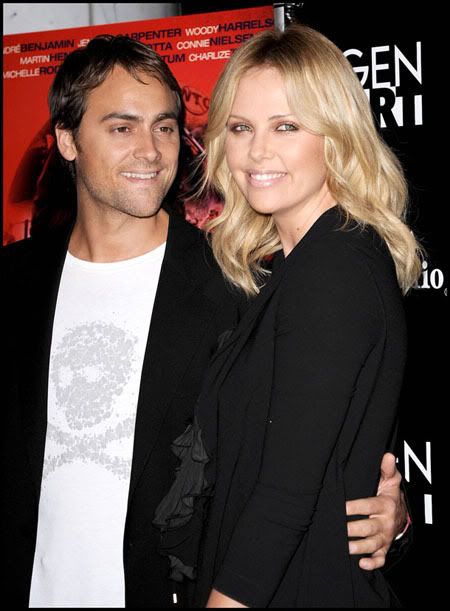 Charlize Theron said in a recent interview with MTV that she just doesn't get MTV faux reality show The Hills and that it's "about nothing." MTV has the footage on their site and, like her appearance on The Tonight Show, she came across as tipsy at the start of the interview but seemed to pull it together toward the end. She slurred her words a little and was joking around a lot. The interview was conducted with her co-star in the upcoming film about the 1999 World Trade Organization protests, Battle In Seattle, Martin Henderson. Battle in Seattle is directed by Theron's longtime boyfriend, Stuart Townsend and is now out in limited release.
MTV: Charlize, you and I have discussed "The Hills" a couple times.

Theron: Yes, you belittled me on television. They were like, "Who's the f—ing nana on the TV show who's never seen 'The Hills'?!?"

MTV: I never called you a nana.

Theron: Well, the kids now think I'm a nana, thanks to you.

MTV: You have said that you are now up on "The Hills," so I have a question: Do you think Lo is treating Audrina fairly?

Theron: [Long pause, laughs.] So I watched a couple episodes. I was doing a world tour at the time, so I watched them in a couple languages. I realized that this f—ing show is huge. Now I'm going to ask you a question: Why?

MTV: Why what?

Theron: Why is it so big? It's about nothing! This is a free country. Freedom of speech! You can tell me right now to my face that "Reindeer Games" was a piece of sh–. That's totally fine. But "The Hills" is about nothing. I think the girls are beautiful and when they cry their mascara runs and that's real, but I don't get it! [Pause.] I am a nana. I'll just take it. I am a nana. Maybe I need to watch the shows some more.
[From MTV.com via The Huffington Post]
I have to agree with Theron. I've only seen clips of this show online and a couple of episodes dubbed over in German. Maybe it's because I could only follow about half of what they were saying, but I ended up focusing on their hair and makeup and resolving to try new looks. This often happens when I watch soap operas in English, though, so I assume it's just like a soap opera but semi-real. It's wildly popular and the stars have all become well know, so someone must be watching it. Most of the show's fans are just not in Theron's age bracket, which I will reluctantly admit that I share.
Theron also talked about her film about the WTO protests, and admitted that her boyfriend Townsend released the film before the US election for maximum impact. She said she's never really protested anything, but that she would protest the World Trade Organization now that she's done the film and is more informed about it. Then she made a little gaffe saying the WTO's decisions would affect her children, which is odd because she doesn't have any yet as far as people know:
MTV: First things first: Is there a cause that is worth spending a night in jail for?

Theron: I would definitely go to a WTO protest for sure. Anything that is going to affect my health, my children's health …

Martin Henderson: You have children?

Theron: No. If I had children!

MTV: We have broken news. You have children!

Theron: Yes, and they live in Alaska and they can see Russia from their backyards.
[From MTV.com]
Hopefully Theron isn't in the early stages of pregnancy because she definitely seemed tipsy in that MTV interview and on The Tonight Show earlier this week, where she sipped a margarita and sang a very off key karaoke version of Bohemian Rhapsody. She really pulled it together at the end of the interview with Leno at didn't seem drunk at that point, so maybe it was all an act.
Charlize Theron is shown with Stuart Townsend at a screening for Battle in Seattle on 9/22/08. Credit: WENN