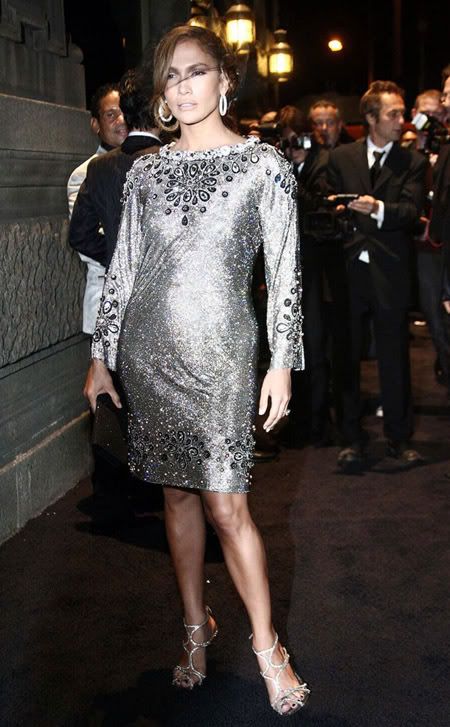 Sources say that Jennifer Lopez is staging a major comeback as an actress and singer. (Pause for laughter.) Lopez, who gave birth to twins Max and Emme eight months ago, has reunited with her former manager, Benny Medina, and is set to appear in two new films. She's also planning to release a CD of her "greatest hits." I just have one question: WHAT greatest hits?
Almost eight months after the birth of her twins, Emme and Max, Jennifer Lopez is back in fine form – and she can't wait to show the world. On September 21, Lopez was in Athens looking more glamorous than ever as she posed for famed Greek photographer Styros Poros for Greek In Style magazine.

During the latter months of her pregnancy, Jennifer ducked out of the spotlight, putting all her energy into becoming a first-time mom. But now, a friend says, "J.Lo can't wait to make a huge comeback."

And she's doing everything she can to make it happen. "She's working all the time and has so many projects coming up," says an insider. Jennifer, 39, will soon start shooting two movies – The Governess and Love and Other Impossible Pursuits – and will release a greatest hits CD in February.

Relaunching her career
What's more, J.Lo has reunited with her former manager Benny Medina, with whom she parted ways in 2003. While their relationship is not yet professional – Benny is spending two weeks in Europe with J.Lo, her husband Marc Anthony and the twins – the friend says that they are very interested in working together again. "If Benny signed Jennifer, he could help her be a huge star again."
[From In Touch print version, Oct. 6, 2008]
Well, since Mariah Carey dumped Benny Medina as her manager in favor of her new boytoy husband, Nick Cannon, what else has he got to do but revive J.Lo's sagging career? Somebody's got to give her some decent advice. She keeps doing crappy movies. Here's the synopsis of "Love and Other Impossible Pursuits, courtesy of IMDB: "Aspiring Lawyer Emilia Greenleaf (Jennifer Lopez) thought she knew what she wanted when she went after the sexy, married Senior Partner, Jack Woolf (Jeffrey Dean Morgan)." I smell another Gigli!
As for her "music" career, her last CD, "Brave," was a mess. Though its first single, "Do It Well," hit number one on the Hot Dance Club Play chart, the CD itself peaked at #12 on the Billboard charts for one week before dropping into obscurity. The album prior to that, "Como Ama una Mujer," her first Spanish language CD, did slightly better, peaking at #10. In fact, you have to go all the way back to 2003 to find her next number one hit, "All I Have," a duet with LL Cool J. So, where are these "greatest hits" going to come from?
Jennifer Lopez is shown at a Dolce and Gabbana party in Milan, Italy on 9/25/08. Credit: WENN