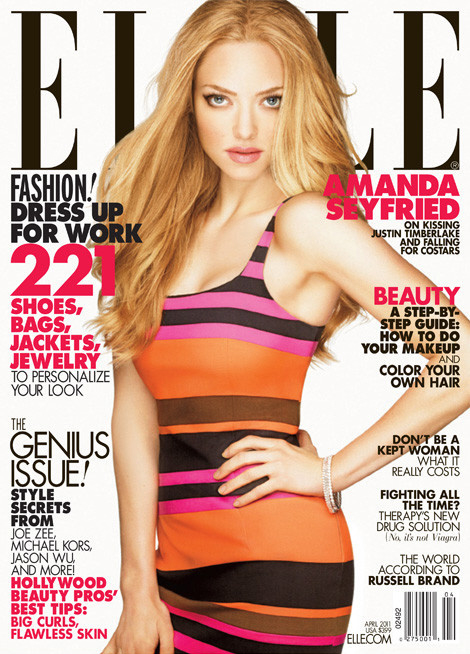 Amanda Seyfried is the April cover girl for Elle Magazine, likely to promote Red Riding Hood. The cover shot is fine – it's the rest of the shoot that bothers me. Moody black & white shots of Amanda holding fluffy white cats? Seriously?
Anyway, I had a brief moment where I really wanted to like Amanda Seyfried. I do think she's one of the more talented young actresses, but her acting talent aside, the girl is seriously vapid. Whenever I come across one of her interviews, I give my eyes a workout from all of the rolling. It's not that she's dumb (but she is), but she has this habit of bragging about herself in a really blasé, off-putting way. She kind of reminds me of Megan Fox, only Megan's interviews are some of the finest examples of an unprofessional, idiotic starlet shooting herself in the foot, and Amanda's interviews read like the budget version. In one of her most recent ones, Amanda tried to seduce Justin Timberlake, and ended up looking like a jackass. Oh, course, I may just be riled up because Amanda mentions MY Michael Fassbender in passing… and yes, I have my slut dagger out. And I'm prepared to use it:
On her best on-screen kisses: "I can't lie. It didn't suck making out with Channing [Tatum] and Justin [Timberlake]. "

On who she would like to be paired up with next: "I'd really love to make out with Michael Fassbender. Put me in a movie with that guy. I'm serious. Wow."

On falling in love on set: "[It is] one of the easiest things in the world. You're both open. You're put in a situation where you have to make out with each other. It's easy for things to get carried away."

On how she thought her recent ex Dominic Cooper was breaking up with his longtime girlfriend to be with her: "I was just kind of foolishly thinking that the two of them were done and Dom and I were involved. But we weren't really as involved as I thought. So I got my heart broken pretty hard."

On eventually getting back together with Cooper: "…and then it took a long time for us to break up again. After that, it's really hard to open myself up to a new person. Really hard."

On her rumored romance with Ryan Phillippe: "Um, yeah. I've been 'seen' with him."

On Alexander Skarsgard: "We dated. He's superfunny, but I was too involved with Dom."

On her outspoken personality: "I talk like I know what I'm saying, but I don't."

On being honest with herself: "I like the freedom of being exactly who I am. And that's gotten me into trouble."

On being told she needed to get botox: "I was like, Damn you! But we're in Hollywood. I'm on a huge screen. With these new digital cameras, you can see the peach fuzz on my face."

On being fired from her first-ever acting gig: "I was bad, I was really bad."

On her love of the romantic comedies: "I don't think I'm being very 'artistic' when I do them, but I'm not doing it for that reason. Romantic comedies make me happy. I watch Love Actually every Christmas."

On being inspired by Meryl Streep's famously down-to-earth attitude: "Meryl, she makes herself very accessible right away, almost too accessible. That's what I do. And it totally works. My thing about meeting people—men, women, people in general—is to desensitize them, kind of shock them a little bit, to make myself accessible."

On her fear of saying the wrong thing on air during interviews: "It would just show that I'm weak, not equipped to handle my job; that's my biggest fear."

On judging herself: "I thought I was horrible in Nine Lives. I really thought I could have done better. The director, Gary, is a friend of mine, and I just didn't want to do him wrong."
[From Elle Magazine]
I think I missed the fact that she dated Alex Skarsgard. What the hell? When did that happen? It must have been in between Dominic Cooper breakups, right? Who in their right mind chooses Dominic Cooper (short, douchey, skeevy) over Alex Skarsgard (tall, hot, skeevy)?!? And the bit about The Fassdong. I'm not one to slut-shame, but this slut better EASE UP. She goes for losers like Dominic and Ryan Phillippe and Justin Timberlake… and now she's fronting like she's worthy of the Fassdong? Bitch, please. Also, this says everything you need to know about Amanda: "I talk like I know what I'm saying, but I don't." Exactly. She really is the blonde Megan Fox.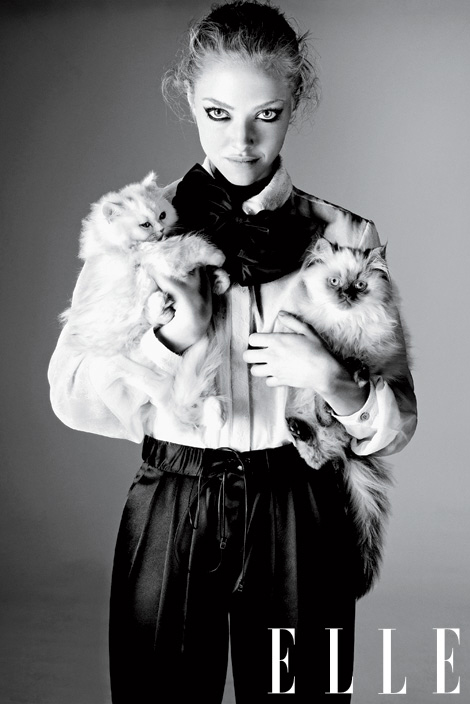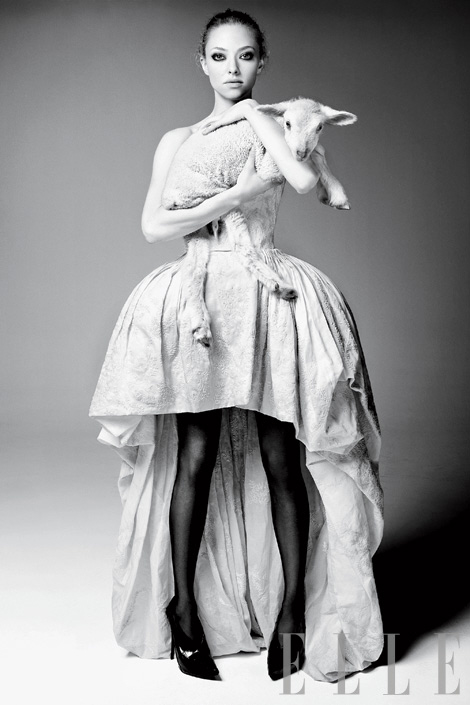 Photos courtesy of Elle.