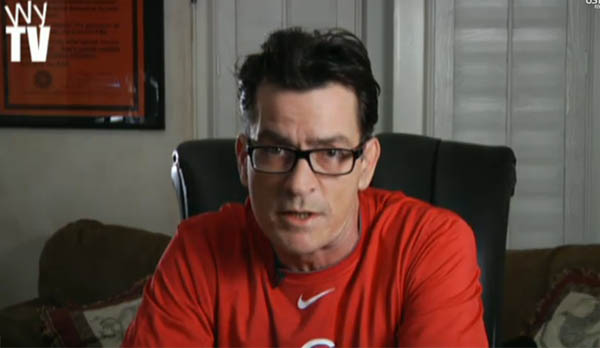 Charlie Sheen is really mad now, and that means he's going to unleash his fiery fists of verbal fury. He has a new rant up on UStream (below), I think it's his fourth, and he seems to have abandoned the crew that were with him in his first broadcast over the weekend. (In this second UStream video he's on the phone and says "I'm better solo, I invented solo.") In this most recent video, he goes on an extended tirade that's undoubtedly about the fact that he was finally officially fired from Two and A Half Men. It's hard to tell exactly what he's talking about because his speech is so full of bizarre metaphors and random wordplays that it sounds like cracked out poetry, which is pretty much what we've been hearing from him all along. You can read Charlie's rant on Radar Online, where they put up a transcript, and watch it below. Like a lot of the crap that Charlie spouts, it's so creative that it makes you wonder if it's scripted somehow. He may have written it ahead of time and be reading from an offscreen script. The content focuses on how great Charlie is and how his enemies have wronged him, which is again typical for him.
Many people are wondering if Charlie's demeanor is some kind of act or performance art, similar to the way that Joaquin Phoenix went off the rails last year for that documentary and eventually came back looking completely normal. Charlie is rebranding himself as an nonstop insanity meme and he has a massively popular Twitter account, is looking for an intern to manage his social networking, and is reportedly in talks to launch a one-man tour in which people will presumably pay for the privilege to see him rant on stage like he's been doing for free for the past few weeks.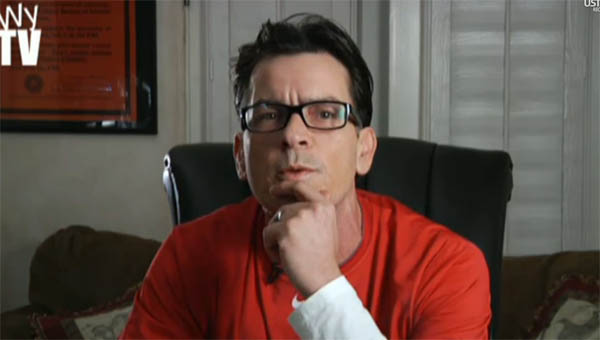 I'm pretty sure that this is genuine, and that Charlie is either still on crack or is feeling the effects of the drug in the form of lingering mental illness. He may still have enough faculties to be able to poke fun at himself and come up with clever catchphrases like "jaundiced gorilla pelts," "undigested hummus" and "an angry mob raiding your muck hole" but that doesn't mean he's in control of his faculties. He's not a good enough actor to play a raving drug addict so convincingly.
Here are some excerpts from an article on medscape on Cocaine related psychiatric disorders. The source article explains that psychotic disorders can occur both with cocaine intoxication, and during the withdrawal process:
Cocaine-induced psychotic disorders with delusions
A person demonstrating delusions clings to a false belief or judgment despite incontrovertible evidence to the contrary. For example, a female abusing cocaine may demonstrate delusions of grandeur and believe that she possesses great wealth, intellect, and power, despite the fact that she is homeless and without education. Suicidal or homicidal ideation can occur in response to delusional beliefs.

Cocaine-induced mood disorder
A patient presenting with acute mania may demonstrate inflated self-esteem, decreased need for sleep, talkativeness, flight of ideas, distractibility, increased goal-directed activity, and/or irritability.
[From Medscape]
That sounds very close to what Charlie is exhibiting, and while it is at times funny it's also very disturbing to watch. We've never seen a celebrity go off the rails like this. Britney had a lot of very serious issues three years ago, but she didn't broadcast them online and we only saw photos and heard about it secondhand. While the coverage of Charlie seems excessive there's a human tendency to rubberneck. (You can black out all references to Charlie Sheen online using this handy Firefox and Chrome plugin if it's getting to you.)
Meanwhile Charlie told E! how upset he was that his costar Jon Cryer didn't reach out to him like so many other people did when Charlie started flinging his sh*t against the walls and blaming everyone else for it. Charlie said that "Jon has not called me. He's a turncoat, a traitor, a troll. Clearly he's a troll. He issued a statement. Is it gonna take me calling him a 'traitor, juvenile and scared' for him to get it?"
Only Cryer never did issue a statement, there was just a fake Twitter account from someone claiming to be Cryer, and his rep has refused to comment. He did do a spoof skit on Ellen in which he played an administrative assistant, but he didn't say anything about Sheen's problems or the controversy over the show being put on hiatus. A source also tells E! that Cryer did call Sheen. He apparently didn't fawn over him enough or tell him exactly what he wanted to hear, which amounts to "you're special, you're better than everyone else, you can do whatever you want and get paid millions of dollars for it, and everyone who disagrees with you is wrong." Oh I'm sorry, I need to translate that to Sheen speak to be understandable "Your Tiger Blood makes you indestructible and unfathomable to all the worms who live inferior, goddess-weak lives." That's still not crazy enough, is it?
After I wrote all that People Magazine came out with their new cover on Charlie Sheen, their second in two weeks. It's about how his twin boys are faring. This is going to be the top celebrity story this year, and we don't know yet how it's going to end.