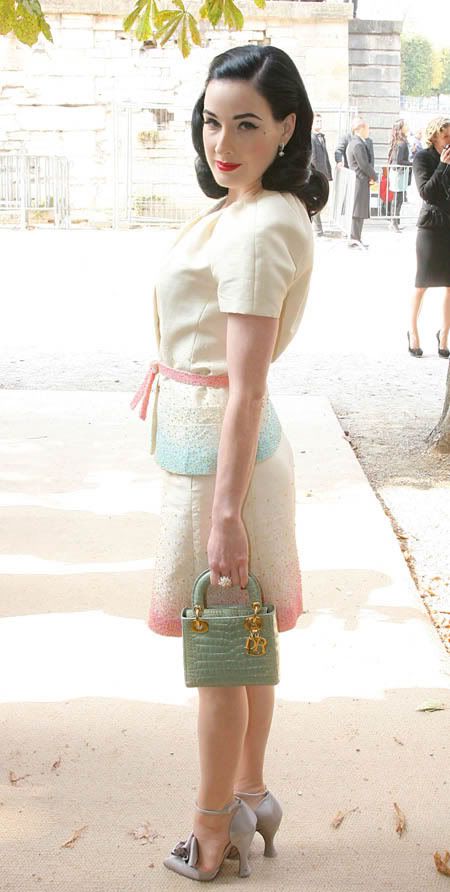 The fabulous burlesque performer Dita Von Teese, who recently performed a private show for Jennifer Lopez and her husband Marc Anthony for his birthday, doesn't have a boyfriend. Can you believe that? In the latest edition of Hello, Dita says that she would like to get married again at some point, but right now she is very single.
Over the years you'd imagine she she has attracted her fair share of unwanted attention. "Unwanted attention? I don't think so," she says. Currently single, Dita married Goth rocker Marilyn Manson in 2005. They divorced the next year. It hasn't put her off marriage. "I love the ritual of being married. I was good at being married. I'd like to have a life filled with many great loves," she laughs.
"I've learned not to look at romantic failures as failures – it's all a learning process. I'm looking at that as a good thing now, and not so much having to find the man of my dreams."

For now, she's happy "seeing a few people." "I love guys with good bodies and good looks," she says, her green eyes widening. "I'm a little bit lecherous." She'd like children if she could find the right partner, "one who inspires me. But if I don't, it doesn't make me less important in the world."
[From Hello! Magazine print version, Oct. 7, 2008]
"Guys with good bodies and good looks." Neither of which describe her ex husband! I'm still waiting to hear what the attraction was there. Well, live and learn. Dita goes on to say that she cultivated her 1940's-inspired look as a way to deal with shyness. She says that she still gets teased about her look, but doesn't let it get to her. She says she has her good and bad body image days, just like everyone else.
"I'm like any other woman in that I look in the mirror and am critical about certain things, but it's important not to point out your flaws. A lot of people, if they are given a compliment, want to tell you everything that is wrong, when all you should say is, 'thank you.'"
So true! I know I am one of those women who used to have a hard time taking a compliment as well. Now, I do that exact thing – smile and say thank you.
I was surprised to hear that Dita doesn't have hundreds of guys calling her. She's gorgeous, sexy, glamorous and successful – sounds like a major catch, right? Maybe men are intimidated by her line of work or something. Whatever the reason, I don't think a woman like Dita is going to stay single for long, unless she wants to.
Dita Von Teese is shown at the Christian Dior show in Paris on 9/29/08 between Katie Perry and Lily Allen in the front row. She's also shown with fashion designer John Galliano and his giant forehead. Credit: Fame Pictures