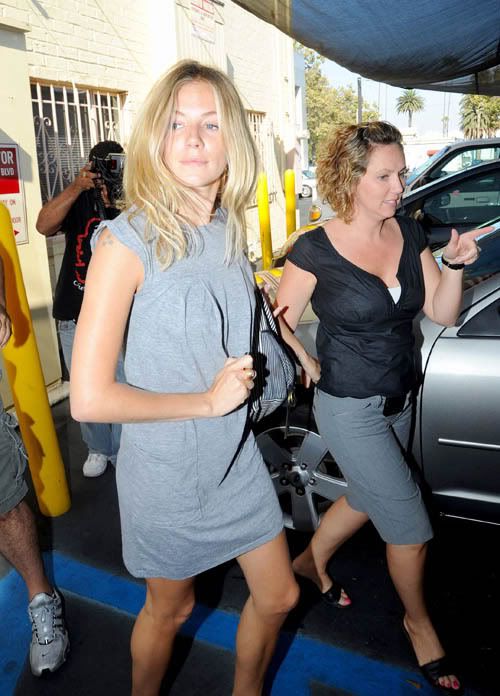 Brit actress Sienna Miller is hoping that her lawsuits against a number of tabloids will restore her reputation. While the lawsuit over topless photos of Miller cavorting with married actor Bathazar Getty – the ones that got her branded as a homewrecker – is still pending, she did win a separate lawsuit against The Daily Star for publishing photos of her being harassed and cornered by paparazzi near an elevator of a public building. Miller was awarded $27,000 in damages and the tabloid was forced to print an apology.
Looks like some good finally came of Sienna Miller's relationship with Balthazar Getty. Relatively speaking, that is.

The Factory Girl thesp has accepted roughly $27,000 in damages and an apology from Britain's Daily Star tabloid after the tabloid published a photo taken of her in Los Angeles earlier this month in which she was clearly in distress and, as she claimed, being harassed by the paparazzi.

The photo in question was published Sept. 11. It shows the 26-year-old in the lobby of a Los Angeles building cornered by more than a dozen cameramen while waiting for an elevator.

Prior to the incident, as Affairgate was in its nascency, Miller's team of lawyers at Carter-Ruck petitioned the U.K.'s Press Complaints Commission, which in turn appealed to the tabloids not to publish photos of the star that were obviously taken as a result of harassment.

In addition to the monetary settlement, the Daily Star issued an apology in today's newspaper.
"We accept, as we said in the article, that Ms. Miller was extremely harassed and distressed by persistent pursuit and intimidating tactics adopted by numerous paparazzi in seeking to obtain photographs of her, including the very photograph that we published.

"We apologize to Sienna for publishing this photograph."

That's one down, one to go.

Miller lodged a separate privacy-violation action against the News of the World and Sun tabloids in July, along with the Big Picture paparazzi agency, seeking in excess of $180,000 for publishing the now-infamous topless photos of her and Getty on their Italian vacation over the summer.
What this stupid little ho fails to realize is that it was her choices that made her a target in the first place. She claims that these photos are an invasion of her privacy – but she wasn't in a private place. As for the topless photos, if she hadn't been prancing around half naked out in the open, there would be no photos. These photos weren't taken in her house or even her backyard – there were out on the open sea on a boat, and on the outdoor balcony of a hotel she was sharing with Getty. It's unreasonable of her to expect privacy in those locations. Besides, if she hadn't chosen to publicly flaunt her affair with a married man, numerous times, the paparazzi probably wouldn't be tailing her everywhere she goes. They'd just go back to terrorizing Britney Spears or something. Sienna made herself a target, but refuses to take any responsibility for her role in this whole mess. Since Sienna likes lawsuits so much, I'd like to see Getty's wife, Rosetta, file one against her for being a complete slut. Is that too far fetched? Probably.
Sienna Miller is shown on 9/10/08 leaving a clinic in Beverly Hills. Credit: Homero Tercero/WENN