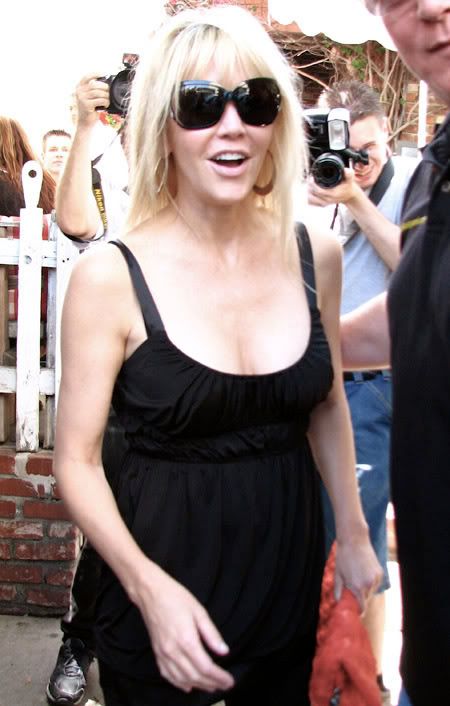 Yesterday when the news came out that Heather Locklear's DUI arrest came after someone called the cops on her it sounded like a typical good samaritan case. E! reported that someone witnessed Heather driving over sunglasses in a parking lot, and then somehow later ran into her wandering in traffic after she pulled her car over to the side of the road. At the very least it sounded like the person who called the cops had followed her after the parking lot incident and didn't just happen to later see her behaving strangely. It turns out that reality might be a lot more sinister for Locklear and that she may have been set up by a stalker – or at least someone who was following her and orchestrated her arrest.
The person who called 911 on Heather and who tipped off the paparazzi is a nefarious character who used to work at US Weekly and is under FBI investigation for downloading celebrity contact information. She happened to be following Heather at the time and it sounds like Locklear's behavior wasn't all that strange before this woman called the police:
This is the craziest story ever. The woman who called 911 on Heather Locklear is a former Us Weekly staffer who was under investigation by the FBI — and she's the one who tipped off the paparazzi!

Jill Ishkanian, who allegedly hacked into Us Weekly's computer system to locate celebs after she left the mag, was following Locklear in the Montecito area. Ishkanian watched the actress go to a market. When Heather got in her car, Ishkanian called 911, even though the car wasn't even moving at the time.

Now get this — sources say immediately after Ishkanian called 911, she called a paparazzi agency to give them the heads up Heather was about to be popped. TMZ obtained those photos, not knowing it was Ishkanian who set the ball in motion.

And it gets worse. Ishkanian apparently is the only witness who says Lockelear was driving erratically and that she was drunk, even though it's already established she was not under the influence of alcohol.

Sound underhanded? That's what we're thinking …
[From TMZ]
Cops did say Locklear exhibited signs of impairment although it sounds like she passed the breathalyser. I wonder if this same Ishkanian person is the one who called 911 on Heather way back in March when it was claimed that she was about to attempt suicide but it turned out to be nothing. The news at the time had Heather's psychiatrist calling 911 after she said she wanted to die, but it could have been someone else. She did go to rehab and it sounds like she has a genuine substance abuse problem. No one deserves to get set up like that though – unless they really are driving under the influence of something. We'll have to see what more information comes out about this and if the ex US Weekly staffer is brought to task.
TMZ has many paparazzi photos taken on the scene and in some pictures Heather has a visible belly that some people suggest might be a pregnancy. (See the second page of the photos, near the bottom.) It looks somewhat suspicious, but it could be a normal stomach that's poking out. Heather is 47 and looks fabulous.
Heather Locklear is shown at the Ivy on 5/14/08. Credit: WENN