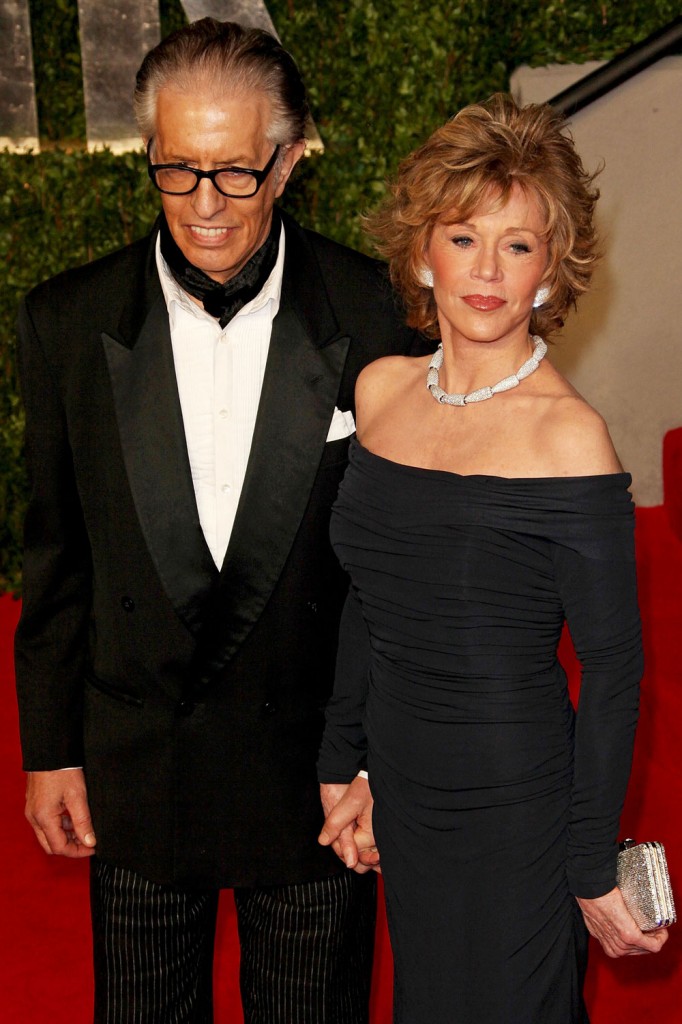 This story cracks me up. According to the National Enquirer, not only was Jane Fonda smoking at the Vanity Fair Oscar party, a definite no-no inside in California, she was smoking pot. Jane was reportedly seen lighting up with her boyfriend and her brother. There was a distinct odor wafting from their corner of the party, where they were giggling hysterically and hoarding several hors d'oeuvres trays. (I made that last part up.)
Forget about plastic surgery and aerobics – Jane Fonda says her real fountain of youth is the occasional puff of marijuana!

The 73 year-old Hollywood legend reportedly was spotted smoking a joint at a post-Oscar party on Feb. 27 – and pals say the counterculture icon credits the illegal herb for helping her grow old gracefully and stay young at heart.

"Jane's always been very frank about being a fan of marijuana," a close pal told The Enquirer. "She thinks pot is way healthier than alcohol.

"Pot helps Jane relax."

Three times married Jane and her music-producer fiance, 68 year-old Richard Perry, stepped out together at the ultra exclusive "Vanity Fair" Oscar party.

According to reports, the smell of wacky weed wafted around Jane, Richard and Jane's brother, "Easy Rider" star Peter Fonda.

Jane, who was seated next to "Glee" star Jane Lynch – covered her mouth while puffing away on what looked like pot, the source said.

"Jane didn't care who saw her," continued the insider. "She thinks marijuana should be legalized."
[From The National Enquirer, print edition, March 21, 2011]
Let's give the old broad the benefit of the doubt. Medical marijuana is legal in California and Fonda, 73, recently had knee replacement surgery. (Ok it was the summer of '09, but still.) She needs a little something to take the edge off and it's better than pain pills or booze. Who am I kidding, she was toking up at a party like so many people do. Apart from the smoking inside part I can't fault her for that.
Jane recently put out exercise videos for older adults and finished a six week performance of the play "33 Variations" in Los Angeles. On her blog she writes that she plans to "take a vacation; begin my next books about adolescent sexuality and gender and start preparing and rehearsing the next 2 Prime Time workouts."
Here's Jane at the VF Oscar party with Richard Perry on 2/27/11. Credit: WENN.com. She's also shown with Ron Kovac, the guy who "Born on The Fourth of July" was based on. That photo is from her website.